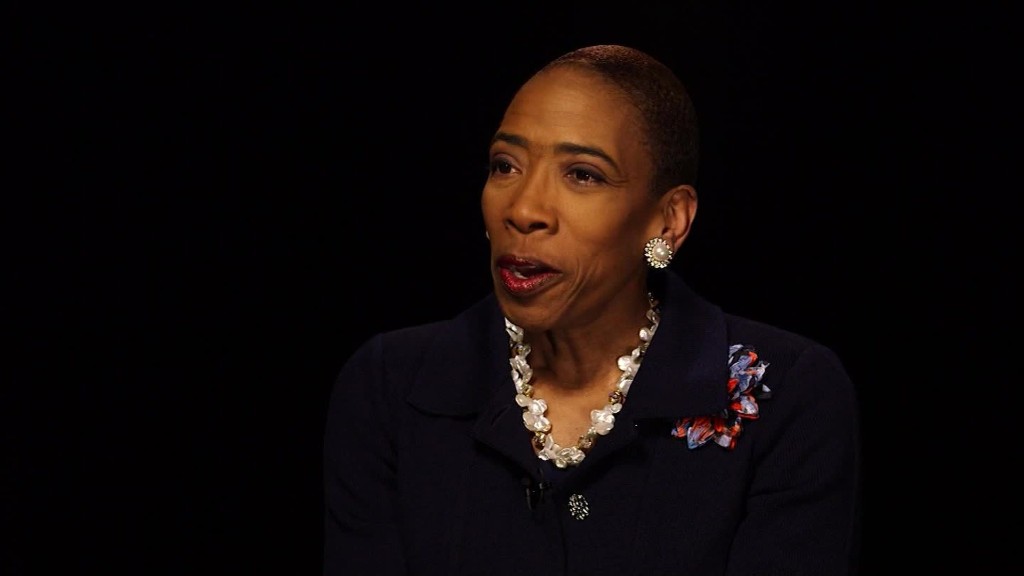 Goldman Sachs may have Treasury Secretary Steven Mnuchin, former COO Gary Cohn and several other alums in President Trump's administration.
But even though Goldman Sachs may be currying favor in Washington, the company not so affectionately known to some as the Vampire Squid of Wall Street may be losing ground to a key rival: Morgan Stanley.
Shares of Morgan Stanley (MS) rose 3% Wednesday on the back of strong earnings and trading revenues for the first quarter.
This comes one day after its direct downtown rival Goldman Sachs (GS) disappointed Wall Street with lackluster results, sending its stock tumbling 5%.
And other banks, most notably Bank of America (BAC) and JPMorgan Chase (JPM), recently reported solid quarterly results too.
Morgan Stanley did particularly well in its bond trading unit. Revenue from fixed-income trading nearly doubled from a year ago.
Morgan Stanley chairman and CEO James Gorman said it was one of the "strongest quarters in recent years" for the company and that the bank remained confident even though "the environment remains uncertain."
Gorman didn't elaborate on what exactly was so uncertain. But concerns about the Trump administration's ability to push through infrastructure spending and tax reform plans through Congress have the potential to weigh on Morgan Stanley and other banks.
Trump had called for Congress to undo much of the Dodd-Frank financial reform laws. It is now uncertain whether that will get done anytime soon though. As such, many bank stocks have pulled back sharply from their post-election highs.
But Gorman seemed confident that changes will still eventually be made to Dodd-Frank.
He told analysts during the company's conference call Wednesday morning that "it is hard to imagine the regulatory burden increasing from this point forward and some of the policy proposals being floated make good common sense."
Turmoil in Europe, where worries about the rising tide of populism in the wake of Brexit and upcoming French elections, also has made some investors nervous.
Related: House GOP bill would give Trump greater power over Wall Street
Morgan Stanley CFO Jonathan Pruzan noted that European elections could impact the environment for new stock and bond offerings, which could hurt Morgan Stanley's underwriting businesses.
Morgan Stanley was one of the leading underwriters of this year's initial public offering of Snapchat parent company Snap Inc. (SNAP)
Still, Pruzan remained hopeful that demand for IPOs should remain healthy despite some concerns about more market volatility.
Investors clearly aren't worried either. Morgan Stanley's stock has outperformed Goldman Sachs this year -- and it has done so since the November presidential election and over the past 12 months as well.
Morgan Stanley's stock is now back in positive territory for 2017 thanks to its rally on Wednesday. Goldman Sachs shares are down 10%, putting it in a virtual three-way tie with oil giants Chevron (CVX) and Exxon Mobil (XOM) as the worst Dow stocks of 2017.
So even though Goldman Sachs has more friends in high places, it doesn't seem as if that's translating into a boost to its bottom line just yet. Morgan Stanley, on the other hand, is just chugging along -- and winning approval from Wall Street in the process.