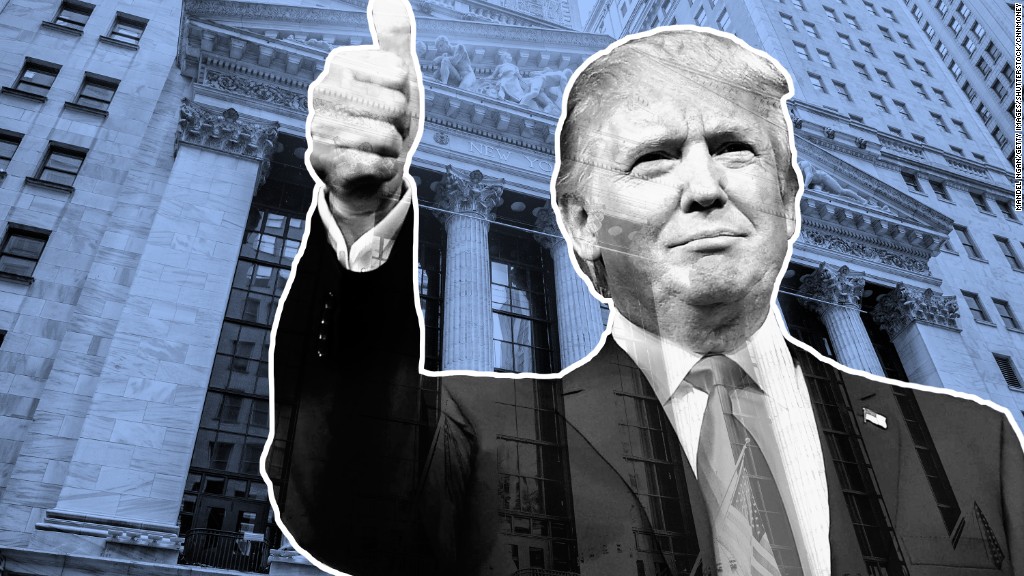 Move over, Bill Gates. You might lose the title of world's wealthiest person.
The net worth of Amazon (AMZN) CEO Jeff Bezos rose nearly $2 billion to about $80.5 billion on Friday after Amazon reported strong earnings and sales and its stock gained 2%.
Bezos is now slightly behind Spanish retail magnate Amancio Ortega, whose Inditex firm owns the Zara clothing stores. Ortega is worth $81 billion. Bezos has at least moved ahead of Berkshire Hathaway (BRKB) CEO -- and Oracle of Omaha -- Warren Buffett.
And Bezos is a "mere" $7 billion behind Gates for the title of earth's richest carbon-based life form. The rankings are based on figures from both Forbes and Bloomberg.
Don't shed any tears for Gates. Microsoft (MSFT) stock was up a bit Friday following that company's solid earnings report. Gates is now worth $87.2 billion.
The tech industry continues to dominate the market. Google parent company Alphabet (GOOGL) reported solid results on Thursday, and that helped lift the net worth of co-founders Larry Page and Sergey Brin by about $1.7 billion apiece in the process.
Two other tech titans, Apple (AAPL) and Facebook (FB), will report their earnings next week.
Related: Amazon stock nearing $1,000 after strong earnings
The surge in Facebook's stock this year has pushed CEO Mark Zuckerberg's net worth up to $62.6 billion, putting him in a tie for fifth-wealthiest person with Mexican telecom mogul Carlos Slim Helu.
And while Apple CEO Tim Cook isn't as wealthy as many of his fellow tech CEOs -- he's not a company founder -- he still is in charge of the world's most valuable company. Apple is worth three-quarters of a trillion dollars. And it has $246 billion in cash.
Much of that is held in overseas bank accounts. Ditto for other tech giants like Microsoft, Google, Oracle (ORCL) and Cisco (CSCO).
And that cash pile is steadily growing. Both Microsoft and Alphabet reported an increase in their cash levels in earnings reports Thursday. Microsoft now has $126 billion, and Alphabet has $92.4 billion.
Tech companies will soon have an incentive to bring a chunk of that cash back to the United States if President Trump succeeds in getting tax laws changed. He's offering a one-time tax break for companies that repatriate cash parked overseas.
Hopes for tax reform are one reason tech stocks continue to lead the market higher. Silicon Valley doesn't exactly see eye-to-eye with Trump on a lot of things. But investors are excited about repatriation.
The strong earnings don't hurt either, of course.
"Tech is pushing the market higher. And it's about more than Trump," said Kate Warne, an investment strategist with Edward Jones. "But Trump's policies should have a positive impact when they get implemented."
Related: Microsoft benefiting from its LinkedIn acquisition
But should investors be worried about how much influence the tech sector has on the overall market?
Apple, Alphabet, Microsoft, Amazon and Facebook are collectively worth $2.8 trillion. These companies will have to continue to innovate to maintain strong earnings and sales growth. Investors won't tolerate missteps.
Just look at what happened to Intel (INTC), another tech giant that reported its latest earnings Thursday. Results were disappointing, and the semiconductor company's stock fell 4%.
But it seems that many investors have faith in the tech sector's Big Five and those company's respective leaders.
Bezos, Zuckerberg, Cook and Page have earned Wall Street's respect. So has Satya Nadella at Microsoft, who has pushed the company further into the cloud computing market as well as social networking with its purchase of LinkedIn.
"Higher quality tech companies continue to get bigger," said Mike Bailey, director of research at FBB Capital Partners. "The probability of any of these companies having a hiccup from our perspective seems small."
Related: Google is proving that it's not a one-trick search pony
Bailey's firm owns stakes in Facebook and Alphabet. And he notes that, unlike in 2000, when tech stocks were trading at insane valuations, nearly all the big tech companies are reasonably valued.
Amazon is the main exception. But it's been trading at a high valuation for almost two decades. Any investors skeptical of Amazon have either missed the rally -- or lost lots of money betting against it.
James Wang, an analyst for ARK Invest, thinks tech will continue to dominate. His firm runs the ARK Web X.0 ETF (ARKW), which has big stakes in Amazon and Facebook, as well as tech leaders Netflix (NFLX) and China's Alibaba (BABA).
"Tech is an area that should be more immune from regulation and politics than many others. And it is benefiting from genuine shifts in the economy," Wang said.
So it looks like Bezos will keep getting richer. But he'll have some company. Gates, Zuckerberg, Page and Brin may also see their bank accounts swell as the tech sector continues to surge.