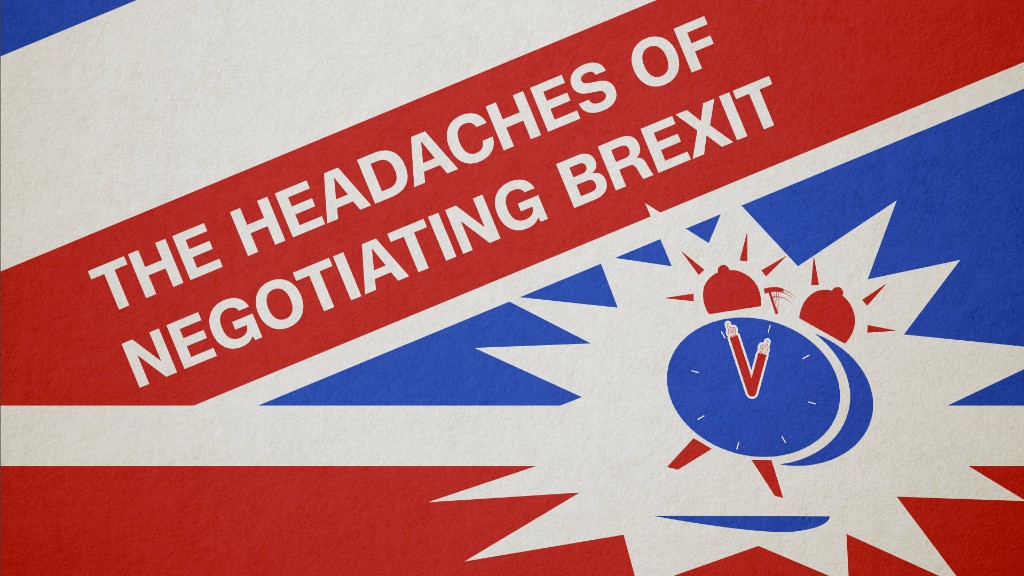 Britain and the European Union kicked off divorce talks on Monday.
The two sides have a huge number of matters to settle and less than two years to negotiate.
Here are the five most pressing sticking points:
1. Trade
Britain will be the first country to ever depart the EU.
While a member, the U.K. enjoyed free trade with the rest of bloc -- a market that buys 44% of its exports and supplies 53% of its imports.
Leaving the EU means that Britain will no longer have free access to the market.
Related: Brexit talks begin with U.K. in disarray
Defining the terms of a new trading relationship is now paramount. Britain might be allowed to pay for access to the EU market, but that would require concessions in other key areas. It could also attempt to negotiate an entirely new trade deal.
Prime Minister Theresa May wanted to immediately start negotiating this new relationship. But the structure of divorce negotiations outlined Monday requires other key issues to be settled first.
If no exit agreement is reached by March 2019, Britain will face the prospect of trading under higher tariffs and more red tape.
2. Migration
May has committed to reducing the number of migrants coming to Britain from Europe.
It's a position that is likely to limit her flexibility during talks. The EU requires nations with access to its free trading bloc to accept the free movement of people.
There is another problem with the promise: Key sectors of the U.K. economy depend on migrants to fill jobs.
Unemployment is at its lowest level in more than 40 years, and many companies in hospitality, healthcare, tech and construction are struggling to find staff.
3. Divorce bill
The EU expects Britain to honor spending commitments it made as a member by settling a final bill.
EU member states pay into a communal budget, which finances infrastructure projects, social programs, scientific research, farm subsidies and pensions for EU bureaucrats. The bloc's budget is negotiated to cover a period of years, with the current agreement extending to 2020.
The EU hasn't put an official figure on the exit bill, but some estimates are as high as €100 billion ($112 billion).
Britain has balked at figures in that range. May has also threatened to walk away from the negotiations without paying.
Bruegel, an influential think tank, estimated the size of the final bill to be between €25 billion ($28 billion) and €65 billion ($73 billion).
4. Rights of citizens
Both sides say they want to safeguard the rights of millions of citizens who have settled in Britain or Europe.
The numbers are huge: Roughly 3 million people from other EU countries live in the U.K., while around 1.2 million Brits reside elsewhere in the EU.
Related: EU citizens are leaving Brexit Britain
In a position paper published earlier this month, the EU said it wants broad rights for citizens of the EU and Britain, as well as their families. These include guarantees of lifetime access to pensions and health care.
May will present her own position to EU leaders later this week.
5. Border with Ireland
The Irish border will be an early priority during negotiations.
Both sides said they want to avoid a "hard border" between the Republic of Ireland, which will remain in the EU after Brexit, and Northern Ireland, which leaves the bloc as part of the U.K.
Residents currently enjoy free movement across the border and many businesses have facilities on both sides.
Free movement across the border was a key part of the Good Friday Agreement, the 1998 accord that brought peace to Northern Ireland after decades of sectarian conflict.
-- Alanna Petroff and Charles Riley contributed reporting.