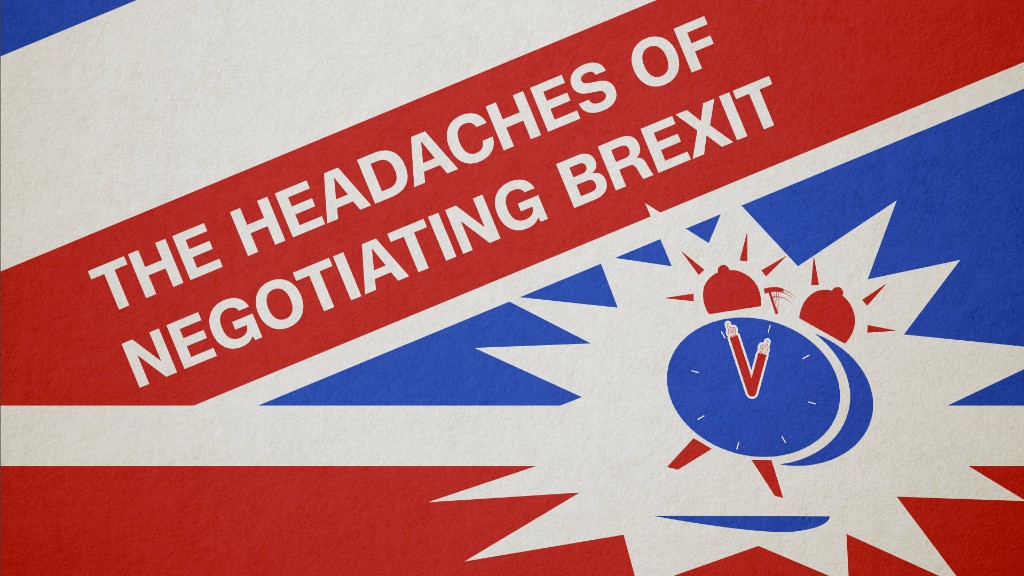 The man running Britain's economy has warned that uncertainty over Brexit is stopping businesses from investing in the country.
"There is a large amount of business investment that is being postponed until business can see more clearly what the likely outcome of [Brexit] is," Treasury chief Philip Hammond said Thursday in a televised interview.
It's not the only warning to sound in recent weeks.
Research from Bank of America Merrill Lynch showed that business investment dropped in the final quarter of 2016 to its weakest level in almost three years. And a recent survey of 700 businesses conducted by the Bank of England indicated that uncertainty was causing some companies to rethink investments.
The British government kicked off divorce negotiations with the European Union on Monday.
But it's still not clear exactly what Prime Minister Theresa May hopes to achieve before the clock runs out on talks in March 2019. May had promised a clean break with the EU, but that was before a disastrous election wiped out her majority in parliament and emboldened rivals who want to maintain closer ties to Europe.
Brexit: The 5 five huge issues Britain and EU must settle
Investors have now been dealing with elevated uncertainty for a year. But huge risks still loom.
"If we leave the single market and the customs union, the costs involved will be significant," said Vicky Pryce, an economist at the Centre for Economics and Business Research. "Businesses have been very worried."
Corporate leaders are most anxious about a scenario in which Britain crashes out of the EU without a deal. They would face new trade barriers and huge amounts of red tape.
Hammond favors a transitional period to help British companies adapt to life outside the bloc.
"The earlier we can give business that reassurance the more quickly we will get businesses investing again," he said on Thursday.
While there have been some big investments announced in the wake of the referendum -- especially in the tech sector, broad momentum appears to be fading.
Several major banks have already announced they will move jobs and investment out of the country. The budget airline Ryanair (RYAAY) said it will pivot investment out of the U.K.
The German car maker BMW (BAYRY) is considering whether to produce the new electric version of its iconic Mini car in mainland Europe rather than at its main U.K. facility in Oxford.
"There have been some purchases, mainly because foreign companies took advantage of the weaker pound, but very little in terms of real investment," said Pryce.
Bank of England Governor Mark Carney also raised warning flags this week. He said that Britain is in a vulnerable position because it imports more goods and services than it exports.
"The U.K. relies on the kindness of strangers at a time when risks to trade, investment, and financial fragmentation have increased," he said in a speech to financial titans.