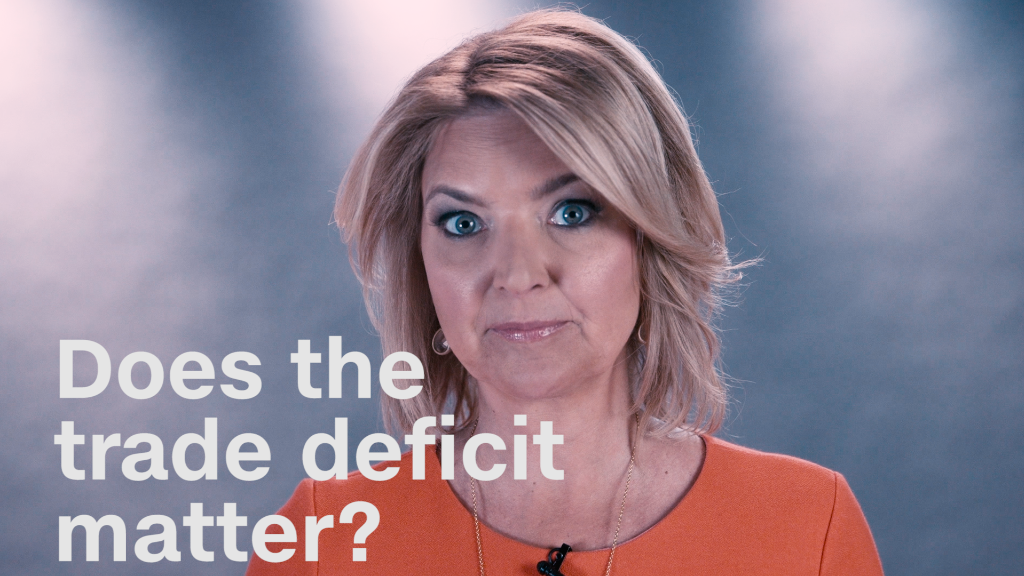 President Trump gave U.S. steel companies a shot in the arm Thursday when he doubled down on his trade threats.
Shares of AK Steel (AKS), Nucor (NUE), Steel Dynamics (STLD) and U.S. Steel (X) all shot up after trade comments President Trump made on Air Force One were made public Thursday afternoon.
Any day, Commerce Secretary Wilbur Ross is expected to announce the results of an investigation to determine whether steel shipped in from other countries is a risk to U.S. national security.
Trump is allowed to raise tariffs as high as he wants, and on as many countries as he wants, without approval from Congress if he cites national security as the reason.
Related: Trump administration seeks to renegotiate South Korea trade deal
Most trade experts already expected Trump to use tariffs or quotas on steel. His comments left little doubt.
Asked about what he would do to imported steel, Trump said "There are two ways -- quotas and tariffs. Maybe I'll do both," according to a White House transcript.
It's still unclear how many countries would be subject to Trump's steel tariffs. But he indicated that it won't just be China, which he routinely criticizes for unfair trade practices.
He added: "Steel is a big problem ... They're dumping steel. Not only China, but others. We're like a dumping ground, okay? They're dumping steel and destroying our steel industry. They've been doing it for decades, and I'm stopping it. It'll stop."
Although Trump often criticizes China on trade, that country was actually the 11th largest exporter of steel to the United States last year. Canada, Brazil, South Korea, Mexico, and Turkey are the top steel exporters, according to Commerce Department data.
The steel issue has some U.S. industries on edge. They fear that other nations will retaliate and slap tariffs on U.S. agriculture goods or other products. That tit-for-tat scenario is a trade war.
Related: Trump could slap big tariffs on steel soon
The U.S. has roughly 200 trade restrictions on certain types of Chinese steel products. Still, those haven't stopped China from selling its steel in the U.S. below market price -- and below where U.S. companies can compete.
American steel companies say China is now sending its steel through Vietnam before it arrives in the U.S. to evade tariffs. Last year, Chinese steel imports to the U.S. plummeted 63% after the Obama administration imposed a 500% tariff on certain Chinese steel. Obama administration officials also opened up an investigation into whether China was going through Vietnam, which saw its steel imports to the U.S. skyrocket nearly 300% last year.
Trade experts say steel imports are not a risk to U.S. national security, and that Trump's reasoning is misguided.
"These kinds of trade restrictions would actually be a net damage to the U.S.," says Phil Levy, a former Bush administration trade official and professor at Northwestern University. "Americans will get hit in the pocket book."
Levy was in the Bush administration when it attempted to apply a broad tariff on imported steel in 2002. The World Trade Organization later ruled against the tariff and it was lifted.
"It gave us no evidence whatsoever that [tariffs] are an effective way to rebuild our domestic steel industry," Levy added.