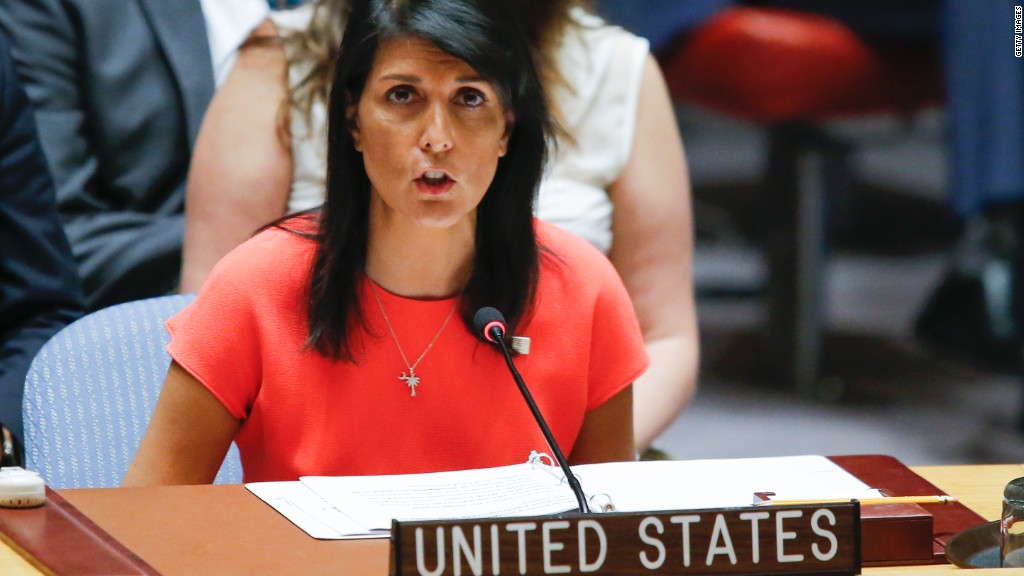 Markets have been quiet for far too long. That finally changed a bit on Wednesday.
President Trump's vow of "fire and fury" in response to North Korea, and its threat to strike the U.S. territory of Guam, was a reminder of how unprepared Wall Street is for a shock.
Stocks have been coasting to new highs day after day. The Dow was on track for a 10th straight record close before Trump's "fire and fury" comments late Tuesday caused stocks to retreat.
Investors aren't freaking out about North Korea, but there was a noticeable shift in sentiment nonetheless.
"I'm concerned. I can't predict a shooting war before it happens, but escalating rhetoric of this type is dangerous," David Kotok, chief investment officer at Cumberland Advisors, told CNNMoney.
The Dow fell as many as 88 points on Wednesday, before ending down just 37 points. The S&P 500 suffered its worst open since mid-June, but closed almost flat.
Of course, North Korea wasn't the only catalyst for the caution on Wall Street. Disney (DIS) shares slumped after it announced plans to pull its movies from Netflix. That news also sent Netflix (NFLX) stock lower. There were also disappointing earnings reports from Fossil (FOSL) and Priceline (PCLN).
But that corporate news doesn't account for the two-month high in the price of gold, which serves as a safe haven during times of worry. The closely-watched VIX volatility gauge remains low, but it's popped 21% since Monday's close. CNNMoney's Fear & Greed index of market sentiment flipped to "neutral" after previously sitting comfortably in "greed" mode.
"The world is getting more dangerous. You don't wait for the tornado. Seeing the cloud is enough to start moving," Kotok said.
Kotok said he's "glad" his asset management firm has been building cash reserves. He's also been buying shares of the VanEck Vectors Gold Miners ETF (GDX) as well as shares of defense contractors -- both of which rallied on Wednesday.
This summer's rally on Wall Street has left the market almost priced for perfection. The Dow is up nearly 12% this year, while the Nasdaq has soared 18%.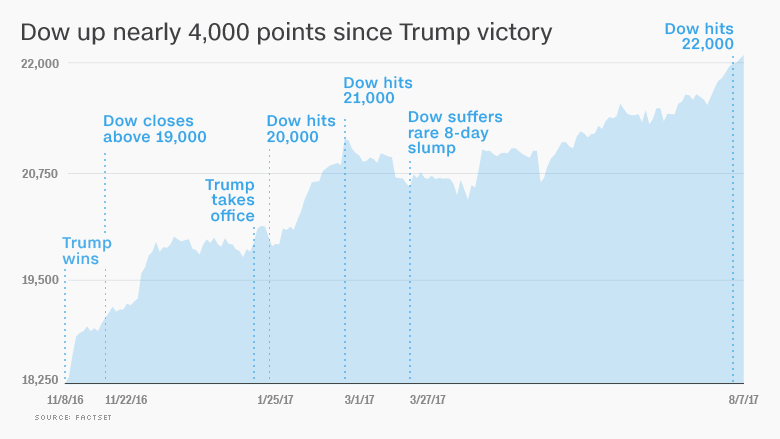 The relentless rise has been marked by unusual calm. Consider that the S&P 500 hasn't suffered a downturn of 5% or more in 408 days, the longest streak since May 1996. Two weeks ago, the VIX (VIX) touched an all-time intraday low.
North Korea worries sent Asian markets sinking overnight. Japan's Nikkei slumped 1.3%, while South Korea's KOSPI closed down 1.1%. The iShares MSCI South Korea Capped ETF (EWY) fell 2%. European markets also dipped modestly.
Investors are worried that the war of words could turn into a miscalculation that spirals out of control.
"The concern is about how this could devolve into a fairly messy state of affairs that would cause markets to sell first and ask questions later," said March Luschini, chief market strategist at Janney Capital Markets.
Related: Millions of Americans can't feel the stock market boom
Kotok said Trump's aggressive threats are a stark departure from Teddy Roosevelt's famous approach of "walk softly and carry a big stick."
"Now we have 'yell loudly and we don't know about the stick.' It's something that just adds to the uncertainty," said Kotok.
But Luschini warned investors not to overreact to the rising tensions with North Korea.
It's "premature to de-risk your portfolio" by dumping stocks, Luschini said, because this threat could fade away.
If there's ultimately no impact on the global economy and corporate profits, it shouldn't disrupt the stock market either.
Indeed, this is hardly the first time that North Korea has threatened stability in the region. And previous incidents had just a fleeting impact on global markets.
For decades, investors who were brave enough to "buy on the dips" caused by North Korea concerns ended up making money, according to Erin Browne, head of asset allocation at UBS Asset Management.
But the flipside to that, Browne said, is that a "general sense of complacency" has crept into global markets about the North Korea risk.