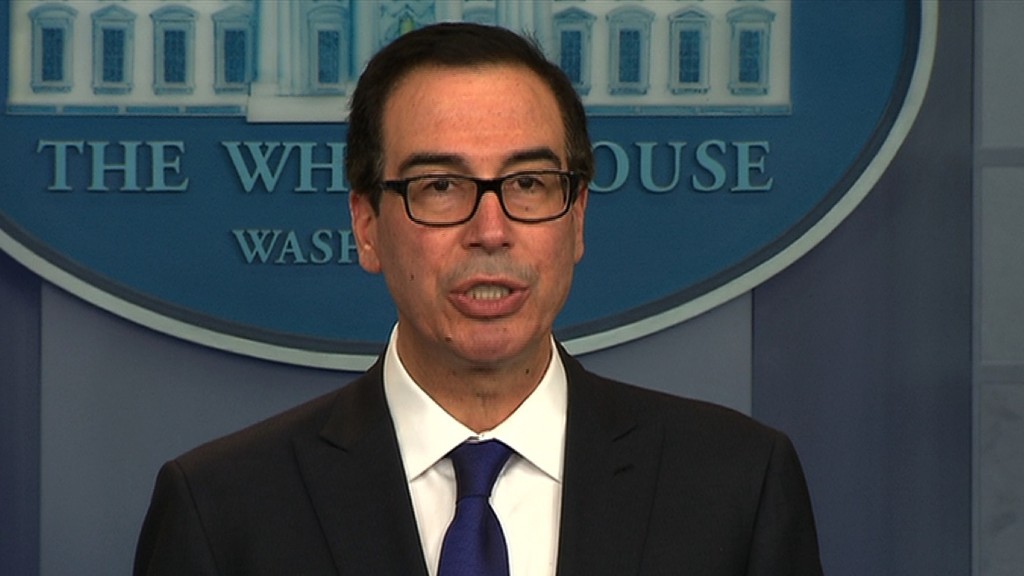 Imagine fleeing your home country because it's running out of food and medicine, then moving to Florida -- only to face Hurricane Irma.
That nightmare is a reality for Emelina and Rosimer Guerra, two adult sisters who moved their families from Venezuela to Florida earlier this year to escape their country's humanitarian crisis.
They had to adjust to a new country, learn a new language, navigate a maze of immigration paperwork and find a place to live. Now a Category 5 storm is barreling toward them.
"Leave your country for one crisis, and then face something that we've never lived through -- it's really difficult," says Emelina, 32, who has a 2-year-old son, Jesus. "We have a lot uncertainty [and] fear." The sisters spoke to CNNMoney on Wednesday.
Nearly six months after arriving, the Guerra sisters are preparing for the first hurricane of their lives in Riverview, Florida, a suburb of Tampa, which, like almost the entire state, is in Irma's general path.
Related: Trump bars bans from buying new Venezuela government bonds
Emelina and Rosimer, along with their husbands and children, are in the dark: They've been trying to cut expenses, so they have little access to even Spanish-language television to keep them informed. Their main source of information is a Whatsapp group chat of 150 Venezuelans in the Tampa area.
The two families are living together, spending their life savings while the U.S. government considers their application for asylum. They need government approval to get work permits. For now, they're on tourist visas.
Thousands of Venezuelans have requested asylum in the United States this year, more than any other nationality. It's the first time Venezuela has topped the list.
Patricia Andrade has seen the wave of arrivals first hand. A Venezuelan who's lived in Florida most of her life, Andrade runs the volunteer organization Venezuela Awareness Foundation in Doral, outside Miami.
Typically, Andrade and other volunteers dole out donated household items, such as kitchenware and kids' toys, to newly arrived Venezuelans who come with little.
This week, Andrade has spent much of her time explaining to new arrivals where to find shelters, where to find food, what to bring to shelters, which shelters accept pets.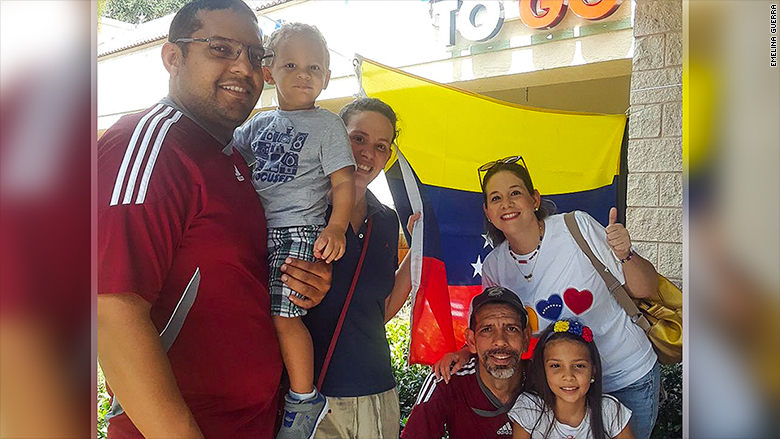 Related: Venezuela is inching closer to default
But just talking about shelters evokes Venezuelans' fears: They have little or no trust for government officials or the police, long wary of the authoritarian tactics back home. Andrade tries to convince them that the authorities in Florida won't deport them.
Last spring, Andrade says roughly 30 families a week would visit her volunteer site. But this week it's been around 50, stretching her and other volunteers' ability to handle all their questions, stress and fears.
"They lived in fear in Venezuela, and the hurricane adds to their fears," Andrade says. "They feel lost. They don't know this country."
Since last October, over 21,000 Venezuelans have applied for asylum in America. That's up from 15,000 in the previous fiscal year and far more than the 5,600 who applied for asylum two years ago, according to the Department of Homeland Security.
About half of all migrants born in Venezuela who now live in the United States reside in Florida, according to the Pew Research Center.
Related: Trump sanctions 8 more Venezuelan leaders tied to Maduro
The soaring asylum numbers illustrate how dire the crisis has become in Venezuela. People there are starving because of food shortages as others die in hospitals that are poorly equipped or lack basic medicine. Crime has skyrocketed, too.
Even as it consolidates power, President Nicolas Maduro's government can't afford to import enough food or medicine. He blames the United States and other nations for starting an "economic war." President Trump, among many world leaders, calls Maduro a dictator.
Like many Venezuelans, the Guerra sisters -- college graduates -- couldn't take it anymore. Emelina and her husband, Miguel, lived without milk, rice and other basic items while the food shortages worsened in Caracas, the capital. Hyperinflation wiped out the value of Venezuela's currency. By the time she left, her government salary was the equivalent of $26 a month.
Rosimer, a lawyer in Venezuela, lived through similar hardships with her husband, Carlos Guzman, who worked as an electric engineer. They have an 8-year-old daughter, Nathali.
On Wednesday, the sisters and their husbands stocked up on water, cereal, canned food and soup. For now, the two families intend to stay home and ride out the storm. It's a situation Rosimer never saw herself in.
"I never imagined leaving my country," she says. "We're hoping to God that the hurricane doesn't pass by here."