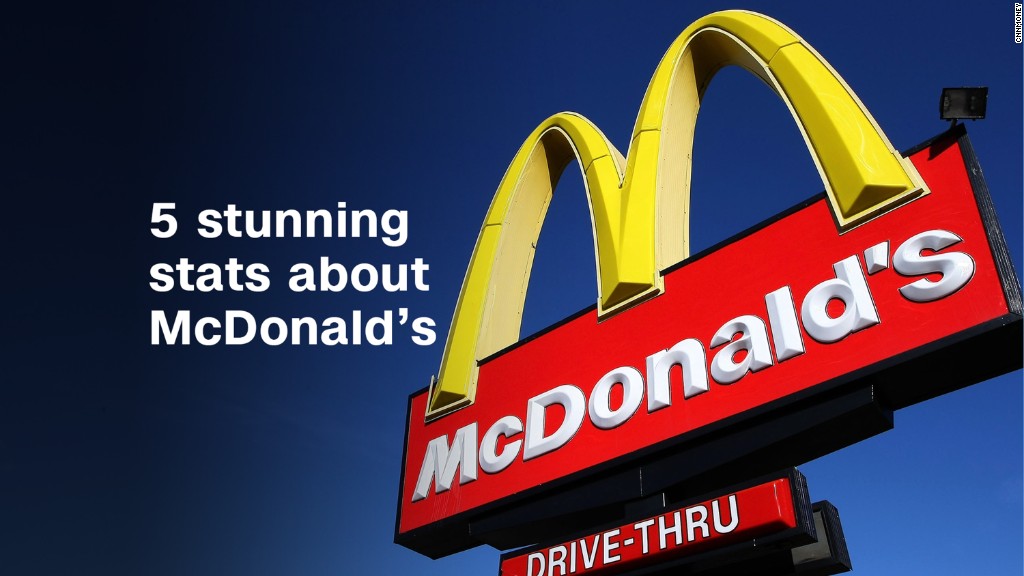 Take some pork, water, salt, dextrose and rosemary extract and slather it up with a sauce made of water, high fructose corn syrup, tomato paste, distilled vinegar, molasses, natural smoke flavor, modified food starch, salt, sugar, spices, soybean oil, xanthan gum, onion powder, garlic powder, chili pepper, sodium benzoate, caramel color and beet powder and what do you get?
The return of a cult classic.
McDonald's is bringing back the McRib, a sandwich that it launched in 1982 and removed from its menu in 1985.
McDonald's has a "coming soon" McRib page on its corporate web site and the company confirmed to CNNMoney that the McRib, which also comes with dill pickles and onions on a toasted hoagie-style bun, is making a comeback for its 35th anniversary.
The Twitter accounts for local McDonald's restaurants in Southern California and Hawaii have been promoting the return, too.
There are some changes though. The bun no longer has high fructose corn syrup --even though the sauce still does. You can also order the McRib and have it delivered via Mickey D's partnership with ridesharing giant Uber's UberEats service.
And there is, of course, a McRib Finder app for iOS and Android phones that also features McRib-themed stickers.
The McRib has occasionally returned to the menu at select McDonald's over the past few years. In fact, it was most recently brought back last December. McDonald's said that the sandwich will only be available for a limited time though.
Still, the comeback is sure to appeal to the sandwich's many fans. The McRib may have not lasted as long as the company's iconic Big Mac, but it's been a pop culture staple for years.
One episode of "The Simpsons" featured a Krusty Burger knock-off called the Ribwich. McRib has been name dropped on "Family Guy" and "The Big Bang Theory" as well.
The McRib's continued allure is yet another sign of the broader turnaround at McDonald's since CEO Steve Easterbrook took over in January 2015.
Related: Big Mac attack! McDonald's is still red hot
Since then, McDonald's has launched fancier signature sandwiches and more premium coffee beverages. But it has also re-embraced the notion that it's a place to get affordable food, too.
The company's McPick 2 menu -- which offers 2 items for $5 -- has fueled the most recent sales growth in the U.S. Easterbrook said on last month's earnings call that it also plans to offer $2 and $3 value menus.
And it seems that both investors and consumers are lovin' it. Shares of McDonald's (MCD) are up nearly 40% this year, making it one of the top Dow performers.
Fast food in general is enjoying a bit of a nostalgic renaissance -- Burger King parent Restaurant Brands (QSR) and KFC and Taco Bell owner Yum! Brands (YUM) have soared too.
Now if only McDonald's would bring back the McDLT. Or not.