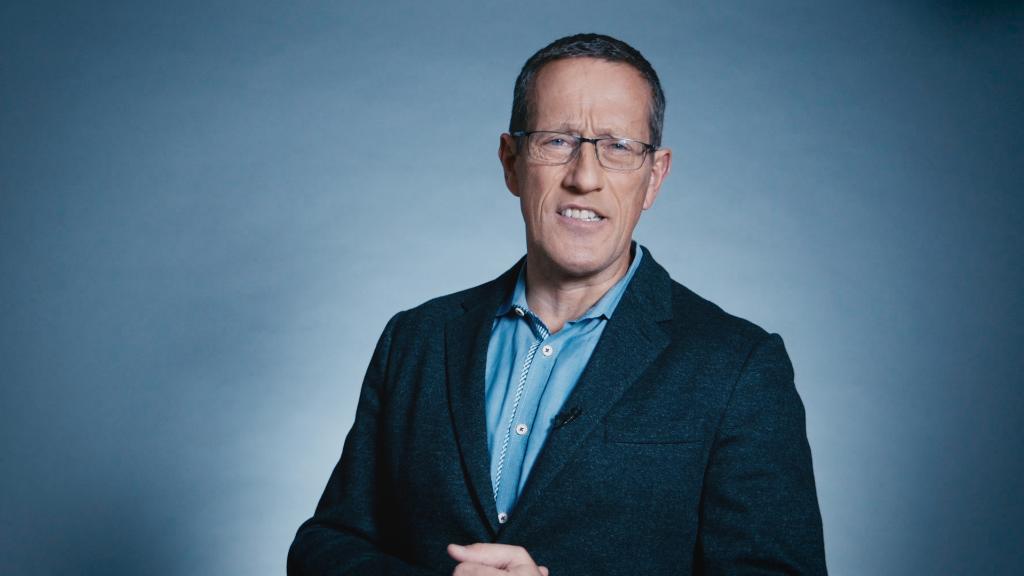 Britain voted to leave the European Union in 2016, and its exit won't be official until 2019.
But this was the year that Brexit began to bite.
The price of consumer goods spiked in 2017, business confidence slumped, growth slowed dramatically and the property market stalled.
One more blow: Britain dropped out of the world's top five economies.
Kallum Pickering, senior U.K. economist at Berenberg Bank, said the country's economy "should be riding high on the back of the ongoing global upswing."
"Instead ... the U.K. has missed out on the fun, with its growth rate slowing," he said.
Related: Why Britain won't have a trade deal before Brexit
The malaise crept in slowly, but has its roots in a sudden event: The EU referendum vote in June 2016, which caused the value of the pound to drop sharply.
"Consumers originally kept on spending after the Brexit vote, because at first, nothing really changed," said Howard Archer, an economic adviser to EY.
But the currency's plunge soon translated into higher prices on imported goods. Inflation, which began the year at 1.8%, had shot up to 3.1% by November.
"Inflation really started to move up late last year and there has been consistent pressure on consumer spending this year," Archer said.
Wages, meanwhile, grew only 2.2% on average in 2017. The squeeze has made consumers poorer in real terms, with less cash to splash out on purchases.
Retailers are now feeling the pain.
Spending in brick-and-mortar stores dropped 3.5% from the previous year in November. Visa expects spending to decline this holiday season for the first time since 2012.
Automakers have also had a terrible year: The number of cars manufactured in Britain fell 4.6% over the previous year in November, according to the Society of Motor Manufacturers and Traders.
Sales of new cars, which have also been affected by confusion over diesel regulations, declined 11.2% in November.
"An eighth month of decline in the new car market is a major concern, with falling business and consumer confidence exacerbated by ongoing anti-diesel messages from government," the industry group said.
The unemployment rate remains very low, but even the labor market is showing signs of wear and tear. Some 65,000 retail jobs have been lost since the Brexit referendum, for example.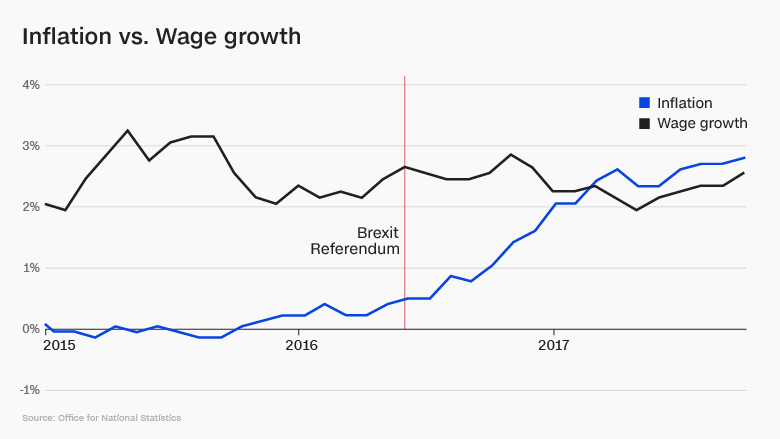 The chances of a quick turnaround appear slim.
The Office of Budget Responsibility has slashed its growth forecast for 2018 to just 1.4%.
The Resolution Foundation says that average earnings, adjusted for inflation, are likely to stay below the level they hit before the global financial crisis until the start of 2025.
Related: The hard work on Brexit starts now
Meanwhile, negotiations between Britain and the EU have now moved on to their second phase, which will include their future terms of trade.
They will also attempt to negotiate a transition of roughly two years that would give British businesses extra time to adapt to life outside the bloc.
Industry groups say they need clarity as soon as possible. But talks could still fall apart.
"The key risk remains that the U.K. will opt for a hard Brexit with few follow-up arrangements for privileged access to the EU market," Pickering said.