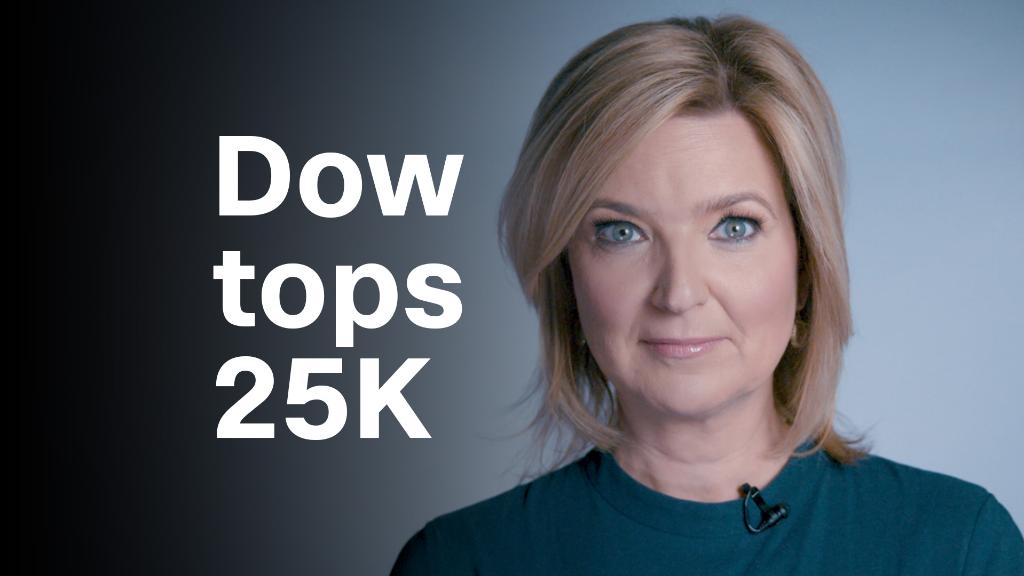 This stock market doesn't obey speed limits. It just blasted through another barrier: Dow 25,000.
The market milestone comes barely a month after the Dow cracked 24,000 for the first time. The 121-year-old index has spiked nearly 7,000 points, or 36%, since President Trump's election, an incredible move in such a short period.
The breathtaking pace of the market's rise shows how excited Wall Street is. Corporate profits are gigantic, American economic growth is accelerating, and Trump just enacted a massive business tax cut that could strengthen both, whether they're needed or not.
"We have been moving up extremely fast," said Howard Silverblatt, senior index analyst at S&P Dow Jones Indices, which owns the 30-stock Dow. "It's amazing and begs the question: How high can this thing go?"
Consider that it took the Dow 14 years to climb from 10,000 to 15,000 and three and a half years to reach 20,000. The ride from 20,000 to 25,000? Not even 12 months. Don't blink or you'll miss another landmark.
The stock market has risen this rapidly without taking any real breathers, but there are good reasons.
The U.S. economy is very healthy, especially compared with the slow recovery from the Great Recession. Unemployment hasn't been this low in 17 years. Economic growth is the best in three years. Equally important, most major world economies are growing at the same time for the first time in several years.
Related: Can the stock market bull keep raging in 2018?
Thanks to those economic gains, corporate profits have never been higher. Companies are sitting on record amounts of cash, a chunk of which is being returned to shareholders. That makes stocks more attractive.
"Unlike the bull market that ended in 2000, this one has earnings behind it," said Silverblatt, alluding to the dotcom bubble that was built on illusory profits at Pets.com and the like. "The fundamentals are good. The economy is strong."
That's a big reason why the Dow soared 25% last year, its best performance since 2013. The Dow's post-election boom has been led by enormous gains from Boeing (BA), Caterpillar (CAT) and Apple (AAPL). All three are thriving because of the economic momentum at home and abroad.
The stock market also owes Janet Yellen some thanks. Under Yellen, the Federal Reserve has kept interest rates extremely low to allow the economy to heal. Low rates have forced investors to take risks by betting on stocks. They've also kept borrowing costs unbelievably low. Although Yellen is leaving, her replacement, Jerome Powell, has promised to raise rates at just a gradual pace.
Trump has frequently cheered the stock market to go higher, and his push for tax cuts has helped make it happen. Analysts say the past few months of gains have been driven in part by increasing signs that tax cuts will become a reality.
Wall Street loves the Republican tax overhaul because it will save companies on what they owe Uncle Sam. The law lowers the corporate tax rate from 35% to 21%. It would also encourage companies to bring overseas profits back home.
Companies are likely to use a big chunk of their tax savings to reward shareholders with fatter dividends and bigger share buybacks, moves that tend to drive stock prices up.
Related: Most Americans aren't benefiting from the stock market boom
Of course, the booming stock market and strong economic backdrop raise the question: Are tax cuts really needed?
By stimulating an already healthy economy, Congress could cause the market and economy to overheat. That would force the Fed to speed up rate hikes, potentially dealing a blow to the recovery. The other concern is whether the tax plan could be so expensive that it leaves United States with less ammunition to fight the next recession.
Nonetheless, many on Wall Street are betting the bull market will continue into 2018, though perhaps at a more modest pace.
After the incredible rise, a pause would be healthy. The S&P 500 hasn't fallen 3% from a previous high point, over one day or several, since November 2016. That's easily the longest stretch on record.
"We are definitely long overdue," said Sam Stovall, chief investment strategist at CFRA Research. "It's just a matter of time."