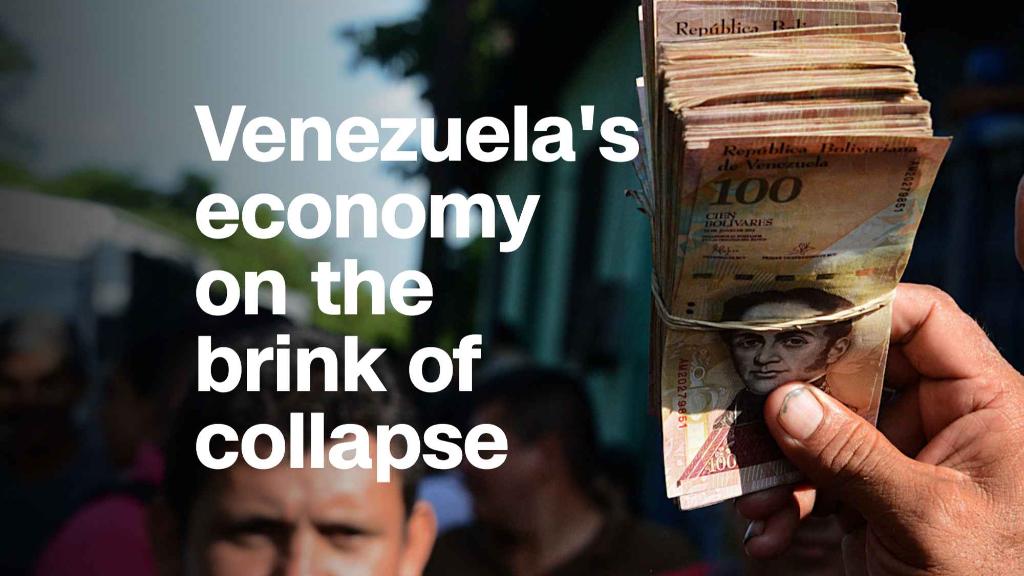 Venezuela's president has a message for President Trump: Don't do it.
President Nicolas Maduro sharply warned Trump on Thursday not to ban Venezuelan oil from the United States. Secretary of State Rex Tillerson said last week that the United States was considering a ban to pressure Maduro to adopt democratic reforms.
The oil embargo would be "one of the biggest mistakes in international politics that @realDonaldTrump would commit," Maduro tweeted Thursday after a press conference. He added: "The oil embargo is an illegal measure in light of international law, [and] an inconvenient measure in light of U.S. interests."
Experts say a U.S. ban would almost certainly choke off the South American nation's main source of income. Crude oil makes up about 95% of Venezuela's exports, and the government makes next to nothing domestically from taxes.
Related: Venezuela's oil production is plummeting
The Trump administration is considering the ban because Maduro's administration scheduled a presidential election on April 22 — without any competitors.
Maduro had blocked prominent opposition leaders from running, noting that they didn't participate in gubernatorial elections last year. Those elections, along with a critical vote in July that silenced the opposition, were dubbed fraudulent by world leaders. Trump and many others have labeled Maduro a dictator.
Trump has already imposed financial and individual sanctions on Venezuela and dozens of its leaders. But they haven't forced Maduro from office or forced him to govern more democratically.
Related: U.S. could ban imports of Venezuelan crude oil
Against that political backdrop, Venezuela is in an unprecedented economic and humanitarian crisis. The suffering of millions of Venezuelans is one reason the Trump administration has stopped short of an oil ban so far.
An oil embargo would certainly undercut Maduro's power, but experts say it would likely exacerbate widespread food and medical shortages. Venezuela uses what little income it makes on oil exports to help pay for food shipped into the country.
Another challenge: U.S. oil companies import lots of Venezuela's heavy crude oil and mix it with their lighter crude to make fuels and gasoline. Valero, Chevron and Citgo are the biggest U.S. importers of Venezuelan oil.
However, U.S. energy firms are already looking elsewhere. Oil exports from Venezuela to the United States were down 32% in the final three months of 2017 to the lowest level in a decade, according to Panjiva, a global trade research firm.
That trend comes as Venezuela's oil production is rapidly declining.