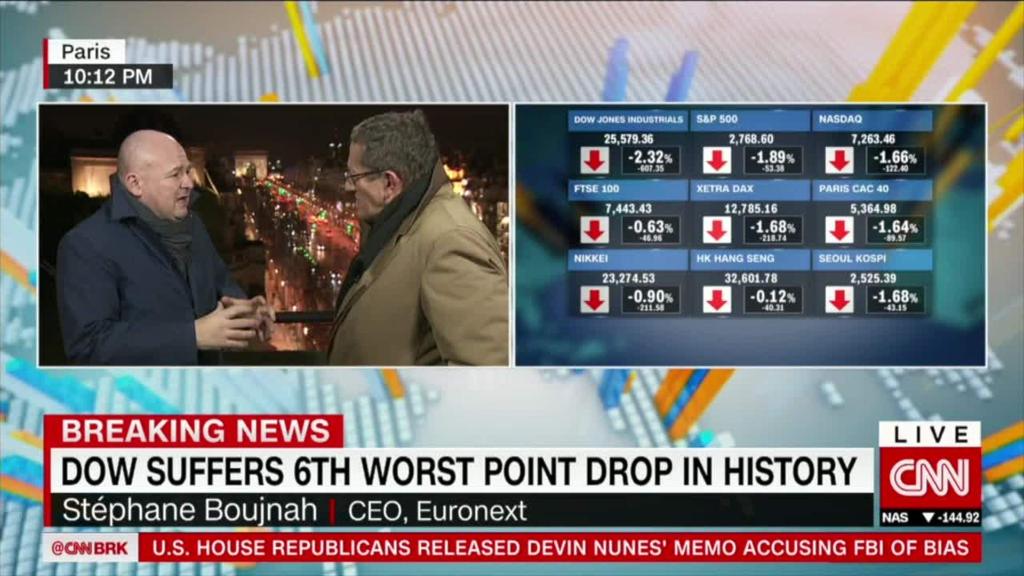 Big changes are coming to the industry that powers Britain.
The United Kingdom and European Union have in recent weeks outlined sharply divergent visions for their future trading relationship, and both plans spell trouble for Britain's massive financial industry.
Big banks, investment firms and insurers concentrated in London have long warned that Britain's divorce from the EU threatens to undermine their businesses. They have lobbied fiercely for a deal that would protect their interests and prevent major job losses.
But their dream agreement has already slipped away.
Prime Minister Theresa May has acknowledged that leaving the EU's unified market means UK-based companies will lose the financial passport that enables them to do business across the EU.
Donald Tusk, president of the European Council, said Wednesday that the red lines outlined by the UK mean the two will inevitably drift apart. The only remaining option, he said, is to negotiate a free trade agreement that will leave Britain worse off.
"Our agreement will not make trade between the UK and the EU frictionless or smoother," he said in a speech on how the EU would approach negotiations. "It will make it more complicated and costly than today."
A report on the consequences of Brexit released by parliament on Thursday said that London's status as a financial center could be "severely eroded" if the EU insists the UK only has the same access to its markets as other third countries such as Canada.
With the divorce deadline just 13 months away, many financial firms are preparing for a traumatic separation. Euroclear, a company that holds huge volumes of shares for stock buyers, told investors on Tuesday that it would shift its legal home from London to Brussels.
"It's strategically important to have the holding company inside the EU," a company spokeswoman said.
Related: Brexit slams UK retailers
Big banks, many of which used London as a springboard into Europe, are moving jobs to cities such as Paris and Frankfurt. Oliver Wyman, a consultancy, has warned that up 75,000 jobs would be at risk from a messy Brexit.
"There will be an impact on the [financial industry]," said Stephen Booth, director of policy and research at Open Europe. "There already is an impact."
The financial services industry is vital to the UK: It employs 2.2 million people across the country, and contributes 12.5% of GDP. It generates £72 billion ($100 billion) in tax revenue each year, according to the City of London Corporation.
The industry is still pressing for concessions that would minimize the pain from Brexit.
"A bespoke deal covering financial services is of vital importance if we want to maintain not only our position as a world leader, but also the relationships we have built over many years," Charles Bowman, the Lord Mayor of the City of London, said Wednesday. "No existing model is adequate."
Related: Brexit dream of 'frictionless' trade with EU is dying
May has said that she wants to remain close to the EU in some economic areas, while other industries will be able to diverge. Her finance minister, Philip Hammond, said Wednesday that financial services is one area where the UK wanted to "collaborate closely."
Hammond said the UK would press for financial services to be included in a new free trade deal, arguing that such a move was also in the interest of the EU.
"This is not a zero-sum game, where any loss of market share in London is automatically a gain to another EU capital," he said during a speech at HSBC in London.
But analysts say that including financial services in a free trade deal would be exceedingly difficult.
The EU's most ambitious trade deal to date, with Canada, took years to negotiate and includes some services. But it's light years away from the relationship that Britain currently enjoys with its top export market.
Hammond also suggested that the EU should give Britain more freedom to set its own regulations, while keeping its financial markets open to London. The EU envisions a much more limited relationship.
Booth said the final impact on the UK financial services industry depends on whether negotiators can "find a middle ground."
Paris and Frankfurt are not waiting to find out the results.
A group representing the French financial industry delivered invitations on Wednesday for a summit in New York that will highlight the benefits of doing business in Paris.
It asked attendees to register using the user name "Brexit." The password was "ParisMarkets."