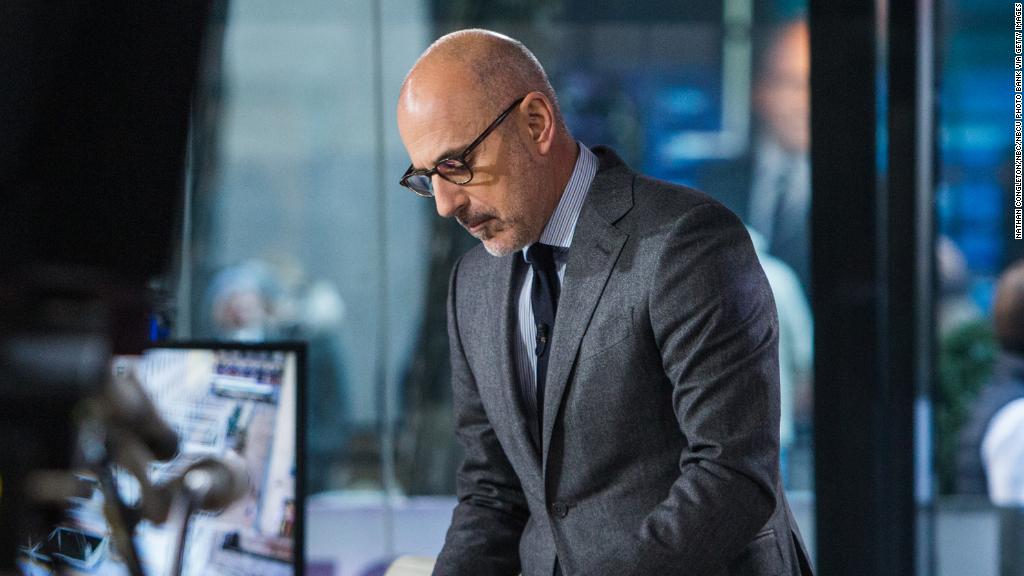 Press Forward, the new initiative devoted to changing newsroom culture after a wave of sexual harassment allegations rocked the news industry, named an all-star board of advisors Tuesday including CNN's Jake Tapper and Alisyn Camerota, PBS' Judy Woodruff and former ABC News anchor Ted Koppel.
It was quite a powerful moment when the group's co-founders, current and former journalists who say they have experienced some form of sexual harassment, shared their personal stories at an event at the National Press Club in Washington, D.C. where the group announced its advisory board (the group informally launched in December).
A few could barely hold back the tears. They spoke about why they are driven more than ever to come up with a "blueprint" for permanent change that executives at every level in the news industry would have to follow.
Lara Setrakian, formerly of ABC News and one of the group's co-founders, is one of the women who accused political journalist Mark Halperin of sexual harassment. She called Press Forward an "all volunteer corps of women" and "kind of an alumni network" for women who have endured some "creepy and abusive behavior" in the news industry.
Addie Zinone, another co-founder, came forward back in December to say she had a secret relationship with Matt Lauer, who was fired as host of NBCs "Today" for "inappropriate sexual behavior in the workplace," when she worked as a young production assistant on the show 17 years ago.
Related: Time's Up teams up with the advertising industry to combat harassment
The Army veteran and mother of two didn't mention Lauer by name but talked about how she "was the most vulnerable" and was violated "by the most powerful." She also talked about how we need to discuss "what consent means where there is a clear imbalance of power."
Carolyn McGourty Supple, another co-founder of Press Forward, got emotional as she talked about leaving journalism partly due to a culture of sexual harassment that's rampant in television newsrooms. The worst thing that can happen in this moment is that sexual harassment is politicized or seen as a gender issue, she said. "It's not," she said. "It's a human decency issue."
The group unveiled its news website and its high-profile advisory board, which also includes former Fox News host Gretchen Carlson, Sara Just, executive producer and senior vice president of the PBS NewsHour, former ABC News correspondent John Donovan, and Allison Stewart, contributor to The Atlantic and PBS.
Woodruff, who moderated a panel on creating safe and fair newsrooms, which included Koppel, Tapper, Just, Ari Wilkenfeld, the employment attorney who represented one of Lauer's anonymous accusers and Press Forward co-founders, said she was shaken when the stories of sexual harassment in the news industry first emerged.
"I continued to be shaken by them," said Woodruff, anchor and managing editor of the PBS NewsHour. "And I was shaken again just now as I listen to these women tell their own stories."
Even after a wave of sexual harassment reports in the news industry in the months since the #MeToo movement gained steam, the problem has not been eliminated in newsrooms across the country, said Tapper, anchor of CNN's "The Lead" and "State of the Union." It's "not as though the cancer is out of the body. It's not," he said.
Related: The media men who have been accused of sexual misconduct
Koppel, who said he was invited as the "old fogey" of the panel, wondered why the women of Press Forward didn't feel they could report the allegations to their senior managers.
He made it clear how someone dresses should not open them up to sexual harassment but said men and women need to come "dressed for work" and that means men not wearing t-shirts and jeans to the office and women not coming to work in a skirt so short as to be "provocative."
The former host of ABC's "Nightline" and current contributor to CBS Sunday Morning also said the women of Press Forward need to invite in opposing perspectives and should not become "extremists."
Setrakian, the chief executive officer, co-founder and executive editor of the digital media company News Deeply, seemed to be responding to Koppel when she said, in her closing comments, "The likelihood of us going extreme is nil."
She and her fellow co-founders are aware of the challenges of implementation and the nature of the problem of sexual harassment, she said.
"We are absolutely intent on building it for a lasting impact," Setrakian said.
Correction: An earlier version of this article incorrectly quoted Carolyn McGourty Supple. She said the recent wave of sexual harassment allegations in the news industry is a "human decency issue," not a "human rights issue."