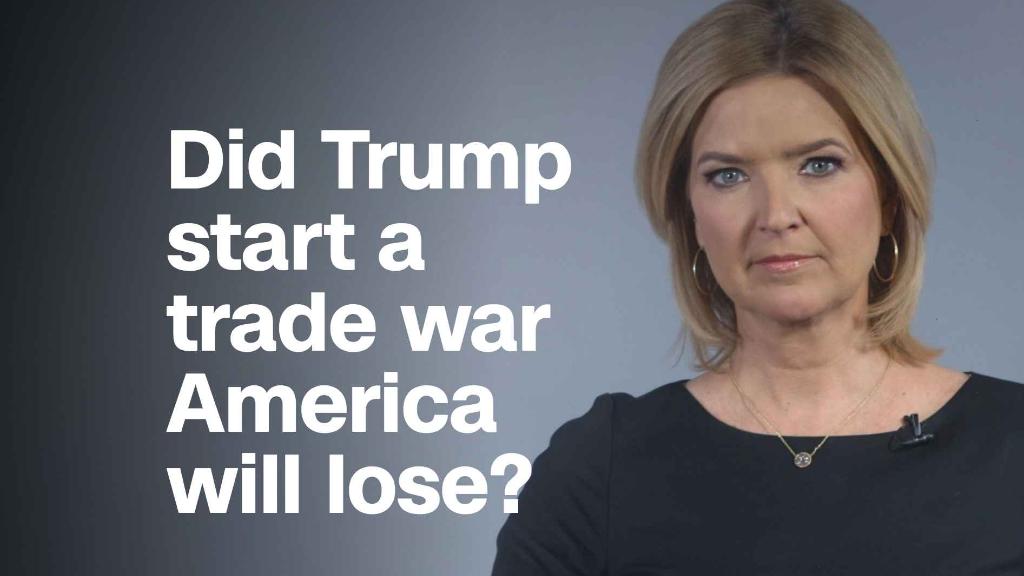 Fears of a trade war are simmering this week as President Trump is expected to impose sweeping tariffs on steel and aluminum.
Those concerns could be cooled or kindled Monday and Tuesday at the G20 meetings in Argentina -- a country infamous for its own tariffs and trade barriers.
After decades of protectionism, Argentina's now business-friendly government has been trying to shed that legacy, embrace free trade and move away from the very policies the United States is promoting.
"The United States is the new Argentina at the G20. It's the skunk at the garden party that disrupts consensus on core issues, trade and climate change among them," says Benjamin Gedan, former South America director on the White House's National Security Council under President Obama. Gedan currently runs the Argentina Project, a research center in Washington.
Related: Trade fight looms over G20 meetings
Finance ministers and central bankers convene this week in South America's second largest nation in what amounts to countries' last major chance to seek an exemption before the tariffs take effect later this week.
Trump will impose a 25% tariff on steel and a 10% tariff on aluminum. He is also expected to impose more tariffs on China this month for its alleged theft of US intellectual property -- software, patents and so on. Administration officials say trade war fears are overblown and everything will be fine.
But the European Union, China and Brazil have hinted or explicitly said they will retaliate with their own tariffs on US goods if they don't receive exemptions. Mexico and Canada are the only nations to explicitly receive exemptions, and Trump even made those contingent on the progress of NAFTA talks. Trump tweeted that Australia would be exempt too.
Argentina's history of tariffs and trade barriers serves as a cautionary, albeit extreme, tale about the perils of protectionism. The country suffers from double-digit inflation, high unemployment and uncompetitive industries controlled by powerful labor unions that have often dictated politics and policies.
Related: European Union reveals long list of US exports it will tariff
Experts say that confluence of forces -- and the false sense of comfort the tariffs provide to industries -- mean Argentine companies aren't ready to face foreign competition.
"If you have a protected market, and you don't have competition, what's your incentive to modernize?" says Alberto Ramos, head of Latin America research at Goldman Sachs. "We are on the right path, but it's going to be a long journey."
Macri has made some progress on his policy. He eliminated some tariffs and is trying to negotiate a trade deal between the European Union and a South American trade bloc. And he's hosting the G20, which has traditionally been a celebration of free trade.
But Macri can't tear down all tariffs overnight without risking manufacturing jobs in Argentina that would be at risk if a flood of cheaper -- and higher quality -- imports came into the country.
Economists say that, in reality, the United States is still far more open to trade than Argentina, even after the steel and aluminum tariffs take effect. The countries' tales of trade aren't an apples-to-apples comparison.
Related: China is cutting its huge stash of US debt
Tariffs in Argentina help to make iPhones cost nearly $2,000
Differences aside, Argentines feel the pain of tariffs at the checkout counter. And the top concern in the United States, at least among businesses and lawmakers, is rising prices on goods stemming from Trump's tariffs.
For example, Argentina is one of the most expensive places in the world to buy an iPhone, according to prices by Apple and certified, third-party vendors of its products.
An iPhone X 64 GB sells for nearly 39,999 Argentine pesos ($1,963) at Claro, one of Apple's vendors in the country. Next door in Chile, a pro-trade nation, the same phone sells at Claro stores for $1,143 -- or 42% less than in Argentina. It sells for $999 in the United States.
The result: Argentines often go to Chile or fly 5,000 miles to the United States to buy iPhones and other electronic goods.
Related: Boeing would be on the front lines of a US-China trade war
The fact that Argentines can buy iPhones at stores is actually new. Stores stopped selling them after the previous government imposed a 35% tariff in 2011 on imported phones. Claro and others only brought back iPhones last year. Macri dropped the 35% tariff on some electronic goods, such as computers and tablets, but it still remains in place for cell phones. Companies expect the cell phone tariff to be dropped eventually too.
The former government, led by Cristina Fernandez de Kirchner, took a similar tactic that Trump is using today.
Kirchner told phone makers to manufacture in the country if they wanted to sell there. Apple passed on the demand. Blackberry opened a plant in Tierra del Fuego, a city closer to Antarctica than Argentina's capital, Buenos Aires. (Kirchner, now a senator, has her core voter base in southern Argentina).
Macri, the current president, says tariffs have badly hurt Argentina.
"Protectionism, isolationism, the last 30 years -- the only [achievement] was consolidating poverty," Macri told CNN in an interview last April.