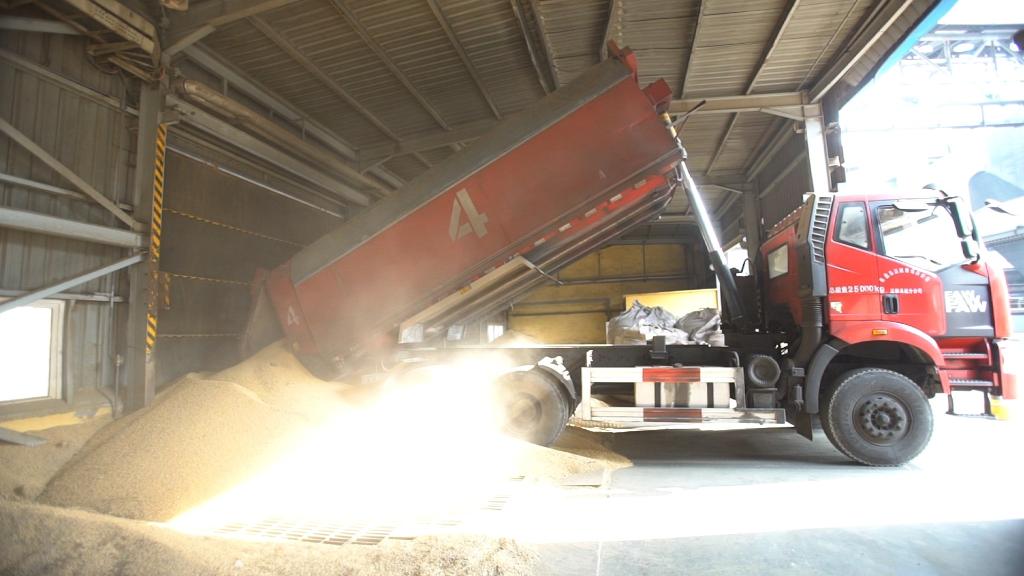 The United States is on the verge of a possible trade war.
The Trump administration imposed tariffs on at least $60 billion in Chinese imports Thursday. Those will come on top of the controversial steel and aluminum tariffs that go into effect Friday.
The moves have producers in almost every state bracing for blowback. Big manufacturers could pay more for the steel they use to make plane engines, auto parts and building materials. And American farmers could be in the crosshairs of China, a big importer of US crops.
While China has not said which US exports it might target, agricultural products have historically been a favorite for retaliation.
Most recently, China launched an investigation into US sorghum exports in response to an earlier round of tariffs imposed on Chinese washing machines and solar panels. The United States sold nearly $1 billion worth of sorghum to China in 2017. Should China impose duties on those exports, states like Kansas, which account for nearly half of the nation's sorghum production, could take a sizable financial hit.
In response to Trump's plan to impose tariffs on steel and aluminum, the European Union published a list of hundreds of US-made products, ranging from peanut butter to pleasure boats, that it would slap with duties.
That would have hurt any number of states that rely heavily on overseas sales of those products. However, on Thursday, US Trade Representative Robert Lighthizer told a Senate committee that the EU, Argentina, Brazil, South Korea and Australia will not be subject to the trade penalties once they take effect Friday.
Based on trade data collected by the U.S. Census, here are the export products each state depends on the most, and which tariffs would have the biggest effect.
Related: EU and others may get tariff exemptions
Trade war targets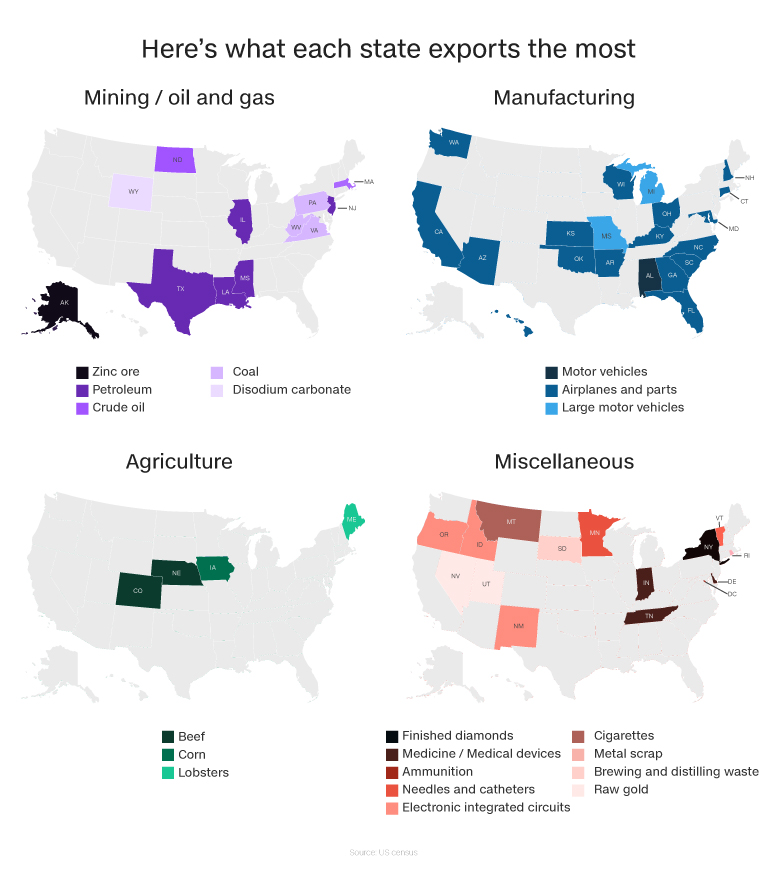 In 2017, airplanes and airplane parts were the top exports for 17 states, by dollar value. That includes traditional aircraft-producing states like Washington, which exported $41.8 billion worth of planes and parts last year, as well as lesser-known aviation hubs like Kansas and Maryland.
Analysts say that Boeing, which sells billions of dollars worth of airplanes to China, could be a top target for retaliation.
These states would also suffer from the steel tariffs themselves, since steel is a main ingredient for airplane manufacturing. A report by a trade consulting firm released this month found that industries that consume a lot of steel and aluminum, including manufacturing and construction, could shed nearly 100,000 jobs as a result of the tariffs.
With the shale revolution of the last decade, oil and gas have also become important US exports. Crude oil or refined petroleum — which may have been made from oil produced elsewhere — is the top export for six states, including Texas and North Dakota.
Related: Trade war would wipe out gains from tax cuts, analysis finds
Meanwhile, coal is still the top export in Virginia, West Virginia, and Pennsylvania. Among the top overseas buyers of US coal is India, which could be stung by the steel and aluminum tariffs if it does not receive an exemption.
Four states have various kinds of electronics as top exports. In Oregon, circuits, processors and controllers are both the state's top export and import, because of all the final production work for semiconductors done by Intel (INTC), according to Business Oregon -- the state's economic development agency. China is the top destination for Oregon's semiconductors, making the state yet another potential target for retaliation.
Many states' top imports are related to their top exports. Utah, for example, imports gold that it refines and re-exports. New York does the same with diamonds, which come in raw and then are shipped as a finished product. Tariffs on any of those imports could make exports more expensive as well.

Does D.C. really love peanuts?
Agricultural products show up as the number one export in only four states: Corn from Iowa, beef from Nebraska and Colorado and lobsters from Maine.
However, that may be skewed by how the Census collects its data: From the "origin of movement," which isn't always the same as the place where something was produced. That's particularly important for crops and livestock, which are often consolidated at a central point before being shipped.
It's also important when thinking about import statistics, since the point of import isn't always where a product ends up. California and Texas import an enormous amount of avocados from Mexico, for example, a large portion of which are ultimately destined for consumers in other states.
Tracking imports and exports according to their origin of movement can turn up especially surprising results in places that don't export much at all in the way of goods. Often, it reflects quirks of accounting more than actual trade with foreign markets.
Take Washington, D.C., for example. Going by the Census data, the capital's largest import is peanuts, whole and processed. But that's only because a peanut importing company called Ingredients Distribution International LLC books all its sales at a second floor office in the city's Dupont Circle neighborhood.
Related: Major retailers to Trump: New China tariffs will hurt American shoppers
"In the District, our entire inventory of peanuts doesn't amount to more than 30 pounds, which is kept on hand in a freezer for sampling purposes only," says Alex Slowatek, the company's president. "We don't distribute anything in D.C., nor do we have any customers in D.C., nor even in the surrounding area."
It's the same story with D.C.'s exports. On paper, D.C.'s top export is ammunition — but that's likely only because of all the procurement orders filed by foreign embassies, says Jonathan Brady, the international program manager at the District's Department of Small and Local Business Development.
"Whoever's filling out that information online now is indicating the origin state as the District, which is inaccurate, because we know that manufacturing isn't taking place here," Brady says.
What D.C. does export a lot of: Services, such as architecture and consulting, that don't show up in the Census' trade data at all.
"Those are the firms that have something exportable and can really compete overseas," Brady says.
So far, those services haven't typically been targets for retaliation in the same way that goods have — so D.C. may come through this imminent trade war relatively unscathed.