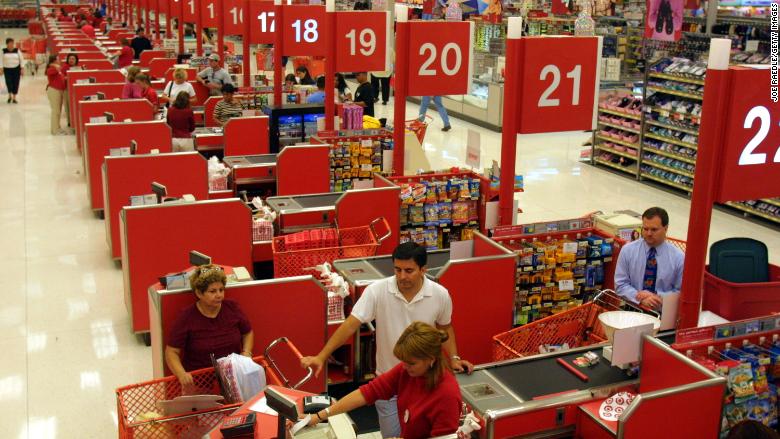 Target reached a $3.74 million settlement in a class-action suit Thursday that alleged the retail giant's hiring process unfairly discriminated against African Americans and Latinos.
The lawsuit, which was filed by the NAACP Legal Defense Fund and two individuals on behalf of a group of job applicants, said the retail giant has used hiring policies that "exclude applicants with arrest or irrelevant conviction records from obtaining employment opportunities" and the process has "a disparate impact on African Americans and Latinos."
The NAACP Legal Defense Fund alleged that Target (TGT) asked broad and outdated questions about job applicants' criminal histories, even if the crimes were not related to the job they sought.
"Target's background check policy was out of step with best practices and harmful to many qualified applicants who deserved a fair shot at a good job," said Sherrilyn Ifill, the president of the NAACP Legal Defense Fund.
"Criminal background information can be a legitimate tool for screening job applicants, but only when appropriately linked to relevant questions such as how long ago the offense occurred and whether it was a non-violent or misdemeanor offense," she added.
Related: Black unemployment is at a record low. But there's a lot more to the story.
Target said in a statement Thursday that it, along with a number of other major employers, began requiring job applicants to answer a question about their criminal history about a decade ago.
"Since then, we've revised our hiring practices, removing the criminal history question from our employment application nationwide," the company said.
Target says it now only asks about criminal history in the "final stages" of the interview process.
"We exclude applicants whose criminal histories could pose a risk to our guests," and applicants "are given an opportunity to explain their criminal history and provide information about the circumstances, mitigating factors, good conduct and rehabilitation," the statement reads.
People covered by the lawsuit's class definition will be able to seek jobs at Target or potentially obtain a cash reward under the settlement, according to the the settlement. The complaint states the class includes "all African American and Latino applicants who sought employment with Target from 2006 through the present, and were denied employment based on application of Target's Adjudication Guidelines and/or review by Target's Screening Team."
Target will also review its hiring policies, and contribute to "several organizations" that help people with criminal records find jobs.
One of the plaintiffs named in the suit, Carnella Times, applied to work at Target in 2006 but was denied employment after the company found she was convicted of two misdemeanors in 1996, according to the complaint.
The other named plaintiff, Erving Smith, applied for a job as a stocker with Target in 2014 but was denied after alerting the company about a 2004 drug-related felony conviction, the complaint said.
"At all times relevant to this Complaint, African Americans and Latinos were arrested and convicted of crimes at more than double the rates of whites," the document reads.
Correction: A previous version of this article misidentified the organization that filed the lawsuit against Target.