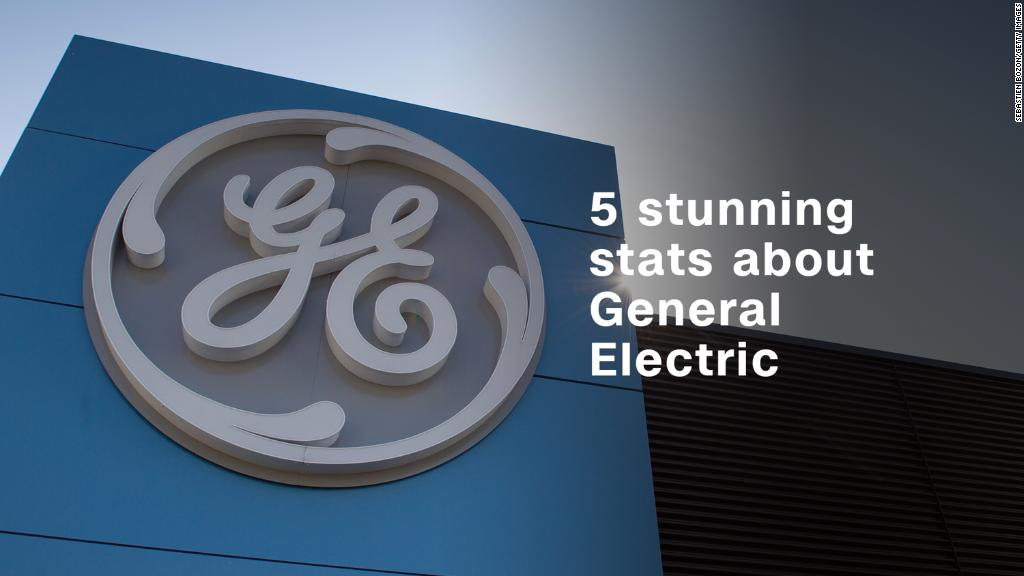 General Electric faces a big test in its quest to restore the shaken confidence of shareholders and employees after a nightmarish year.
Wall Street is bracing for another shoe to drop when the embattled maker of light bulbs and jet engines reports its quarterly earnings on Friday.
CEO John Flannery is racing to clean up the mess left behind by longtime boss Jeff Immelt. That task has brought about a series of alarming announcements in recent months about the depth of the financial and legal troubles at 126-year-old GE.
"What's happening is you're unraveling the Immelt era — and finding the skeletons," said Jack De Gan, chief investment officer at Harbor Advisory. The investment firm dumped its GE stock last fall after 21 years.
Immelt declined to comment.
Flannery shocked Wall Street earlier this year by revealing a $6 billion hit to the long-term insurance business at GE Capital. GE (GE) also disclosed an SEC investigation into its notoriously aggressive accounting. And its power division is in worse shape than many feared.
GE's stock has plunged 18% since its last earnings report on January 24. That's more than four times worse than the S&P 500's drop over that time. GE's stock careened to an eight-year low earlier this month, making it the biggest loser on the Dow for the second year in a row.
But GE shares have since rebounded about 9% amid hopes that the worst could finally be over. The bulls argue that the bad news is already baked in, the turnaround has begun and GE represents a rare value that could lure the likes of billionaire Warren Buffett.
Flannery could provide evidence of a GE comeback on Friday, especially if he voices confidence in the company's 2018 financial targets.
Related: GE's $24 billion buyback boondoggle
Skeptics anticipate GE will need to scale back its profit estimates once again. A year ago, Immelt, the former CEO, was targeting $2 per share in earnings for 2018. Flannery has since cut that to $1.
"We believe that the firm will be forced to capitulate" on its earnings guidance, Cowen analyst Gautam Khanna wrote to clients this week. He warned that GE's dividend, which was cut in half last fall, "may be trimmed again."
JPMorgan Chase analyst C. Stephen Tusa Jr. wrote to clients on Thursday that high levels of debt and "weak" fundamentals are likely to drive GE's 2018 profit lower. "Even without more bad news," he added.
Here are the areas Wall Street is watching for signs of progress:
Power nightmare over? GE's dreadful fourth quarter was driven by an 88% plunge in profit in its power division. GE has been caught flatfooted by a shift in the power business toward renewable energy instead of the coal and natural gas turbines it makes. Under Immelt, GE doubled down on fossil fuels by acquiring Alstom's power business, which makes coal-fired turbines. GE Power announced plans last year to slash 12,000 jobs.
Time to break up GE? Cash-strapped GE is planning to sell $20 billion worth of businesses. In January, Flannery signaled he is willing to go further by breaking up GE's vast empire, which includes everything from MRI machines to jet engines. But no final decisions have been made. Rather than an outright sale, GE is exploring hybrid deals, including a public offering of its transportation business, The Wall Street Journal reported last week.
Legal troubles: GE is grappling with a long list of legal headaches. Wall Street is on guard for new details on the Justice Department's investigation into GE's pre-crisis sale of subprime mortgages. GE has discontinued the mortgage business, known as WMC.
And then there's the SEC investigation. It was focused at first on GE's contracts to service the products it sells, but has expanded to include insurance losses.
Some observers have long been critical of GE's aggressive accounting.
"I'm not going back into GE's stock because of this SEC investigation into accounting," De Gan said. "The complexity of the business and of the accounting made it hard for people like myself to unravel — which is my mistake."