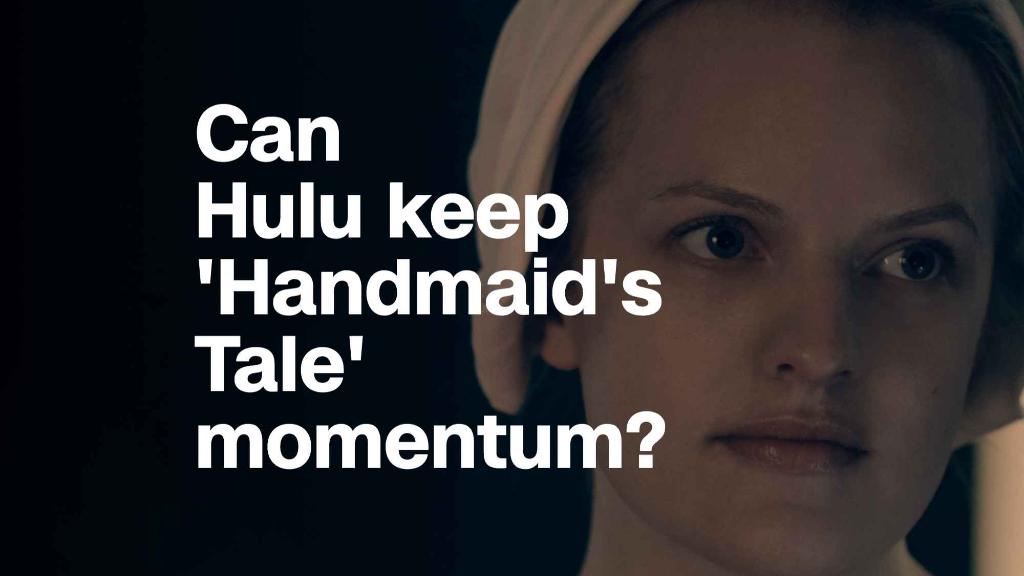 Netflix is running away with the streaming business. But Hulu is making a case that it still belongs in the race.
The company announced Wednesday that it has topped 20 million US subscribers and is adding a slate of new shows and features — including an option to download episodes and watch them offline.
Hulu's numbers still lag far behind Netflix (NFLX), which has about 55 million US subscribers. Unlike Hulu, Netflix also has worldwide reach, with about 125 million total subscribers.
Daniel Ives, an analyst with GBH Insights, said he's still optimistic about the underdog. He expects the company to carve out a niche among its competitors.
"Outside of Netflix, there's there's a battle going on for who can be the No. 2, No. 3 player," Ives said, adding that Hulu recognizes it has a window to "really try to establish itself within Hollywood" as an alternative.
The task is daunting. Netflix, which is expected to spend $8 billion on programming this year, has already snapped up superstars like "Glee" producer Ryan Murphy and ABC showrunner Shonda Rhimes.
Amazon's Prime Video and Apple are also building expensive rosters. While Amazon does not break out its Prime Video audience, Reuters has pegged it at 26 million.
Related: Netflix is unstoppable
Hulu's response? We have our own talent.
Celebrities including Elisabeth Moss, Sarah Silverman and Mindy Kaling joined company executives Wednesday at the Digital Content NewFronts in New York, where the media pitches advertisers on what they have on offer this year.
Moss's "The Handmaid's Tale" was clearly top of mind. Hulu announced a third season for the critically acclaimed show, a breakout success for the service.
"In the race for premium entertainment, Hulu has the creativity and the resources to go head-to-head with anyone and win," CEO Randy Freer told the crowd.
Hulu also announced a deal with the animation studio DreamWorks for exclusive streaming rights to upcoming theatrical releases. The studio behind "Shrek" and "The Boss Baby" will also make original Hulu shows for children and families.
The streamer has other programs, too, including a series from George Clooney based on the book "Catch-22," and a horror anthology from the studio founded by "Get Out" producer Jason Blum.
Even Kaling, who was on hand to promote her upcoming Hulu adaptation of the film "Four Weddings and a Funeral," took jabs at the competition by seeming to allude to, but not name, Netflix and Amazon's (AMZN) Prime Video.
"Hulu doesn't just drown you with 12 episodes of a show all at once, and then an Adam Sandler movie every other week," she said, adding that Hulu "also isn't an add on to the website where you buy tampons and garden hoses."
Related: Hulu's been a breakout success. It also lost $920 million last year
But the company's approach is not just about whether audiences are willing to subscribe to watch marquee productions with buzzy stars. Unlike many of its competitors, Hulu caters to advertisers with a cheaper version of its service that includes commercials. Ads are also part of its live TV package.
"They recognize they have a competitive advantage on the ad front," Ives said. While he acknowledged that ads can alienate some users, he also said that commercials can provide a significant source of revenue if done right.
Hulu executives revealed a couple of tactics they hope will entice advertisers. The service will soon let its users download movies and TV shows to watch offline, as Netflix has for some time. Unlike Netflix, though, the Hulu version will feature ads.
John Wirtz, an assistant professor of advertising at the University of Illinois at Urbana-Champaign, described Hulu's strategy as an attempt to "thread the needle" between Netflix's approach and broadcast TV's heavier reliance on commercials.
That makes sense given Hulu's business model, Wirtz added. But he was skeptical about how well Hulu can pull it off in the long term, considering that younger audiences are usually more averse to ads.
"Their expectations are changing," Wirtz said, adding that "these are people who primarily have grown up with the ability to choose."
There is one other factor to keep in mind. Two of Hulu's owners, Disney (DIS) and 21st Century Fox (FOXA), have been in talks to combine assets for the last several months. If that deal is successful, Disney will take a majority stake in the streaming service.
What that means for Hulu is unclear. Some analysts have pointed out that Disney would still have to contend with Comcast (CMCSA), which has a 30% stake in the business. Time Warner (TWX), CNN's parent company, owns the remaining piece.