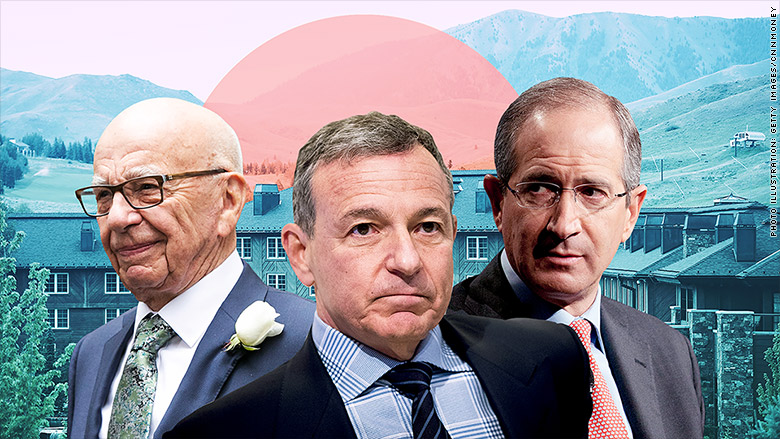 What's Next: Sun Valley. The Allen & Co. conference kicks off tonight with a cookout at the Sun Valley Lodge.
Likely topics of discussion:
• Bob Iger vs. Brian Roberts: The Disney and Comcast CEOs are locked in a bitter bidding war for 21st Century Fox, with just over two weeks left for Roberts to counter Iger's $71.3 billion offer. The Comcast chief is trying to line up buyers for Fox's regional sports networks (which must be spun off) in order to sweeten the deal.
Sign up for PACIFIC: The new CNNMoney newsletter about the center of change and innovation
• Sky's The Limit: Fox's Rupert Murdoch separately sparring with Roberts over rights to Sky Broadcasting in Europe. The Comcast CEO has made a $31 billion bid, and Murdoch is now drafting plans to counter with an even higher offer, per a source familiar.
• Charter's Course: Charter's John Malone has expressed interest in buying regional news and sports networks (we know someone he could talk to), as well as Spanish-language media.
• Les Moonves vs. Shari Redstone: Redstone has been pushing for a CBS-Viacom merger, which Moonves decidedly does not want -- so much so that he and the CBS board sued Redstone's National Amusements to try and dilute her voting shares. She fired back with a lawsuit of her own.
• The Big Fish: Amazon's Jeff Bezos, Apple's Tim Cook and Facebook's Mark Zuckerberg are all among the invited guests and, while there's no sign any are ready to make an offer for a media company, stranger plans have been hatched in Sun Valley.
The Big Picture: This year's Sun Valley dealfest comes on the heels of a judge's ruling in favor of AT&T's Time Warner acquisition, providing a lot of runway for traditional and unconventional M&A. With Silicon Valley advancing on the media and entertainment space, and Hollywood feverishly racing to scale up, the time is ripe for dealmaking.
---
Today's PACIFIC
Welcome to PACIFIC. We land in Sun Valley tonight and will be there through the week. If you're in town and have your ear to the ground, we're at dylan.byers@cnn.com. No fingerprints. Anonymity guaranteed.
Where to Strike Your Deal: Outside. Here's a map of the best hikes around the Lodge.
---
Talk of Tinseltown: What AT&T wants
When AT&T/WarnerMedia chief John Stankey told HBO's Richard Plepler that he wanted the network to generate "more hours of engagement" (see yesterday's PACIFIC), he was really laying out a scale-first strategy: The more customers you have (and the more data you have), the more you can monetize.
The scale-first strategy is easily applied to CNN or Turner Sports, which aim for mass audience. But it's a much harder play when for a boutique operation like HBO, where prestige trumps popularity.
Here's Stankey, via a transcript obtained by Recode's Peter Kafka:
• "You have to be well aware of what your marginal cost structure is. ... If the person you're competing with gets to do high-quality content and amortize it over a base of 300 million customers, the content might not be any better, [but] the marginal cost of doing it is dramatically lower than if you only have 100 million customers. It's a third less."
And this, which, to me, the most telling:
• "The challenge is not 100% of the customers expose themselves the HBO brand. ... We've got to move beyond 35- and 45% penetration to have this become a much more common product, where everybody can understand, "I know I'm going to find good quality, curated content here, and this is where I'm going to go try it."
This is hard. "Premium content" is premium because it isn't common. It's tailored to sophisticated tastes. Trying to turn HBO into a "more common product" is like trying to sell Wagyu beef to everyone at Walmart. Its hard to see how that works without mixing in ground chuck.
And by the way ... the ground chuck isn't necessarily a bunch of new, sub-par shows. It can be bonus content or behind-the-scenes footage for "Game of Thrones" that tries to milk the blockbuster for all its worth. If that dilutes the core offering, it's still chuck.
The Big Question, otherwise: How much cash will AT&T give HBO?
Bonus: FastCompany's Jeff Beer looks at how AT&T will employ AppNexus at HBO.
---
The Oprah Way: Reese adds AT&T
Reese Witherspoon, who already has deals with Apple and Hulu, has now signed with with AT&T to host a weekly interview show with powerful women called "Shine on With Reese":
• The show will live on a new women-centric on-demand channel that Witherspoon's "Hello Sunshine" production company is launching on DirecTV and AT&T U-Verse.
• Early guests include Dolly Parton, Ava DuVernay and Pink.
My colleague Sandra Gonzalez says the deal moves Witherspoon "one step closer to Oprah-dom," as Hello Sunshine" aims to make a name for itself both as a production company and an OWN-like media brand.
Sign up for PACIFIC: The new CNNMoney newsletter about the center of change and innovation
---
BuzzFeed's Next
Speaking of interview shows... BuzzFeed is launching a Sunday evening interview show on Facebook Watch hosted by NPR's Audie Cornish. "Is it the latest example of a new-media company rushing into an old format," Vanity Fair's Joe Pompeo asks, "or Larry King for millennials?"
---
Philo Dough: Streamer raises $40m
Philo, the budget-friendly TV streaming service that has eschewed live sports, has nabbed $40 million in fresh funding, my colleague Jordan Valinsky emails. The Series C round is led by old-media heavyweights including Discovery, Viacom and AMC Networks, and brings Philo's total fundraising to more than $90 million.
How They'll Spend It, via Variety's Todd Spangler:
• Marketing.
The Big Picture: The digital pay-TV space is really, really crowded: YouTube TV, Sling TV, DirecTV Now, Hulu With Live TV, PlayStation Vue and FuboTV. While we're bearish on its lack of sports, the lower price point -- $16-a-month for 40 channels; $20 for 49 channels -- may help it attract more customers.
Sign up for PACIFIC: The new CNNMoney newsletter about the center of change and innovation
---
What will consumers pay?
Axios' Sara Fischer reports that "digital content bundles that Americans are using in the place of cable packages are significantly hiking their prices as they grow and hook consumers."
How much are consumers willing to pay?:
• "Most consumers end up subscribing to more than one of these skinny bundles in order to access both live and on-demand programming."
• "Eventually, consumers could expect to pay more for digital programming in total than they do now for their traditional cable or satellite package."
• "The bigger picture: Regulators at the FCC and FTC can't stop these services from raising their prices, even if they collectively end up one day costing consumers more than they pay now for hundreds of cable channels."
---
The Trust Crisis: YouTube fights 'fake news'
YouTube says it's taking action against the prevalence of misinformation during breaking news situations, my colleague Brian Stelter reports:
• "YouTube chief product officer Neal Mohan ... said YouTube's recommendation engine has been tweaked so that news-related searches will show results from more reliable outlets."
• "Something Mohan called 'a new information panel' will appear at the top of search results around developing news stories."
• "Rather than recommending a video first, the algorithm will point to a text-based story surfaced by Google News. Results will be accompanied by a label reminding users that the story is still developing, and the info is 'subject to change.'"
Sign up for PACIFIC: The new CNNMoney newsletter about the center of change and innovation
---
The Local: A tram to the stars
Fun one: "Warner Bros. wants to build a $100-million aerial tramway to the Hollywood sign," by LAT's Ryan Faughnder:
• Warner Bros. "told city officials it would foot the bill for an aerial tramway to transport visitors to and from the Hollywood sign, starting from a parking structure next to its Burbank lot."
• "The effort, dubbed the Hollywood Skyway, would cost the studio an estimated $100 million, according to a person close to the company who was not authorized to comment."
• "The tramway would take visitors on a 6-minute ride more than 1 mile up the back of Mt. Lee to a new visitors center near the sign, with pathways to a viewing area."
Until then, here's your trail guide.
---
What Next: So yesterday here we noted that Facebook is in talks with Ronaldo to acquire a 13-episode reality series about him for Facebook Watch. Today we've learned that will mean shooting in Turin, not Madrid. The world's most famous soccer star has just signed a deal with Juventus for ... wait for it ... £105m, or almost $140 million.
See you tomorrow, from Idaho.
Want this in your inbox every morning? Sign up for PACIFIC: The new CNNMoney newsletter about the center of change and innovation