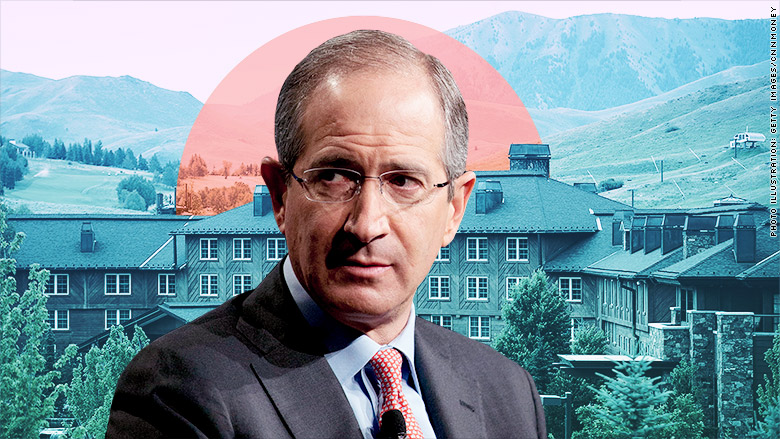 What's Next: Brian Roberts' Worst Sun Valley Yet: The Comcast chief now stands to lose the bidding wars for both 21st Century Fox and Sky Broadcasting to the Bob Iger-Rupert Murdoch power couple:
• Murdoch upped his bid for Sky to $32.5 billion last night, outdoing Comcast's $31 billion offer.
• Roberts is expected to respond with a new bid this week, a source familiar with the matter confirms. But sources close to Murdoch say they have no intention of ceding the fight.
• Meanwhile, sources close to both Iger and the Murdochs tell me they're skeptical Roberts will be able to best Disney's $71.3 billion offer for Fox. The Fox shareholder vote is July 27.
• Roberts walked out of the Sun Valley Lodge yesterday and almost began to talk to reporters. "He had the look of a man who wanted to say something but changed his mind," Variety's Cynthia Littleton tweets.
A Silver Lining?: Some say Roberts has succeeded in forcing his rivals to cough up tens of billions extra for the assets. That's true, but at the end of the day you either have the assets or you don't.
Disney + Fox + Sky would put Iger in a whole different league.
Sign up for PACIFIC: The new CNNMoney newsletter about the center of change and innovation
---
Today's PACIFIC
Is Sun Valley fun? We put that question to a few execs and aides who attend regularly. Here's the gist:
• It's work. Everyone is on all the time, and angling for something.
• It's optics. If you're there, you're a player. If you're not, you're not. People who have been invited before and don't get invited back freak out and take it personally.
• It's exciting. There is no comparable event that brings together this many titans of media in such an intimate setting.
Spotted So Far: Herb Allen, Sheryl Sandberg, Rupert, Lachlan and Jerry Hall, Brian Roberts, David Zaslav, Jeffrey Katzenberg, Brian Grazer, Barry Diller and Diane von Furstenberg, Bobby Kotick, Daniel Ek, Shari Redstone, Kaz Hirai, Steve Case, Susan Wojcicki, Anne Wojcicki, Michael and Eric Eisner, Thomas Staggs, Michael Ovitz ... and (this is the best): Twitter's Omid Kordestani watching the World Cup on his iPad.
Agenda: Jeff Bezos will be interviewed by former CIA director George Tenet. Mark Zuckerberg will be interviewed by The New Yorker's Evan Osnos.
---
New New TV: ESPN adds eSports
Just in ... Disney's ESPN has signed a deal with Bobby Kotick's Activision Blizzard for TV rights to the Overwatch eSports league -- a landmark moment in the rise of eSports, or people watching other people play video games.
• ABC's broadcast of the Overwatch playoffs will mark the first time eSports have aired on the broadcast network, while ESPN's broadcast of the finals will mark the first time eSports have been broadcast on the channel in primetime.
Reminder: eSports is huge:
• More than 360 million people watched a 2017 "League of Legends" eSports competition. Comparisons between digital and television broadcasts are typically apples to oranges, but that eclipses the 111.3 million who watched that year's Super Bowl and the 30 million who watched that year's NBA Finals.
The Big Picture, via ABC/ESPN: "The International Olympic Committee [has stated] its interest in adding video games last fall, [and] is set to host an eSports forum this month to explore adding video games to the Olympics."
Sign up for PACIFIC: The new CNNMoney newsletter about the center of change and innovation
---
New Old TV: Facebook's new shows
Facebook has announced a new slate of shows from ABC Owned Stations, Bloomberg, BuzzFeed, McClatchy, NowThis and TEGNA that will air on its Watch platform. These join previously announced shows from ABC News, CNN, Fox News, ATTN: and Mic.
A few observations:
• Facebook is bankrolling all these shows, which makes this a net win for everyone involved. The social media network can claim that it's making a dedicated investment in trusted, reliable news (at a time when it desperately needs it) while the media organizations get a major platform to extend their reach, for free.
• Facebook is winning over the media. It's really hard for media companies to complain about Facebook's effect on the news industry, or society generally, when they're agreeing to accept Facebook's cash to promote their programming.
• Facebook's audience is old. The decision to broadcast conventional television programming -- ABC, CNN, Fox, Bloomberg, etc. -- is a reminder that Facebook's audience is skewing older and older by the day. Even BuzzFeed's show is hosted by NPR great Audie Cornish.
Bonus: Facebook is adding AR ads to News Feed.
---
What Hollywood is Reading
"Hunting the Con Queen of Hollywood" by THR's Scott Johnson: "For more than a year, some of the most powerful women in entertainment — including Amy Pascal, Kathleen Kennedy, Stacey Snider and a 'Homeland' director — have been impersonated by a cunning thief who targets insiders with promises of work, then bilks them out of thousands of dollars."
---
Leap of Faith: AT&T bets on 'Magic' AR
AT&T has announced a strategic investment in Magic Leap, the augmented reality startup that has raised more than $2 billion in funding to date. The deal will make AT&T the exclusive wireless distributor of Magic Leap products in the U.S.
The Gamble:
• The jury is still (way) out on augmented reality headsets as they exist today. "Magic Leap One," the headset the company plans to release later this year, still has to be connected to a small computer that users will wear on their hips.
• AT&T Communications CEO John Donovan says the company is "designing and offering the future of entertainment and connectivity, and this exclusive arrangement -- in combination with our 5G leadership position -- will open up new opportunities and experiences."
The Big Picture: AT&T is on an aggressive spending run, buying up content and ad inventory (Time Warner); a digital ad exchange (AppNexus) and now a future-facing distribution hardware (Magic Leap) in the span of weeks.
Sign up for PACIFIC: The new CNNMoney newsletter about the center of change and innovation
---
Dept. of Offloading: Univision to sell Gawker sites
Univision Communications is officially looking to sell Gizmodo Media Group, the sites it acquired for $135 million after the bankruptcy of Gawker Media, as well as its 40% stake in the satirical website The Onion.
My colleague Brian Stelter reports:
• "Previous management had grand aspirations for the portfolio of websites. But Univision is now going through a drastic overhaul, partly due to challenges in its broadcast television business and broader struggles to satisfy its private equity owners."
• "The portfolio of brands, from Deadspin to Splinter, AV Club to Lifehacker, are well known parts of the digital ecosystem. But they have faced some of the same uphill battles as other digital media businesses. More than 40 staffers at GMG reportedly took buyouts last month as part of budget cuts ordered by Univision."
So, who wants these brands? We don't have a clue.
---
The Art of Closing: How Magic landed LeBron
Keeping in the spirit of Hollywood M&A ... Magic Johnson tells Spectrum SportsNet how he closed the deal to bring LeBron James to Los Angeles:
• "Johnson arrived an hour early for his scheduled meeting with LeBron ... and waited in his car outside James' California home until the moment arrived."
• "Johnson said his conversation with James, which began at 9:01 p.m. PT [on June 30], when free agency began, was mostly two guys talking about basketball."
• "Lakers general manager Rob Pelinka said he received a text from James' agent ... the next day. 'The text just said 'Congrats,' and it had balloons,' Pelinka said. 'It was one of those moments in life you'll never ever forget. Everything went in slow motion.'"
The Big Picture: Respect.
Sign up for PACIFIC: The new CNNMoney newsletter about the center of change and innovation
---
Russia Problems: Fox loses on World Cup
The absence of the US Men's National Team from this year's World Cup has been a blow to the Murdochs' bottom line at Fox, per WSJ's Joe Flint and Suzanne Vranica:
• "Without a US team, early World Cup rounds on Fox's networks drew nearly a third fewer viewers than in 2014."
• "The company is now expected to lose money on the 2018 tournament, according to people familiar with the situation."
The Big Picture: "The ratings ... are a reminder that big-ticket sports media deals, seen as among the safer bets in a pay-TV industry buffeted by viewership fragmentation and cord-cutting, can carry risks. Ratings for this year's Winter Olympics were down, and the Super Bowl had its smallest audience in nearly a decade."
---
What Next: Photos from Sun Valley, via ... who else? ... The Daily Mail
See you tomorrow.
Sign up for PACIFIC: The new CNNMoney newsletter about the center of change and innovation