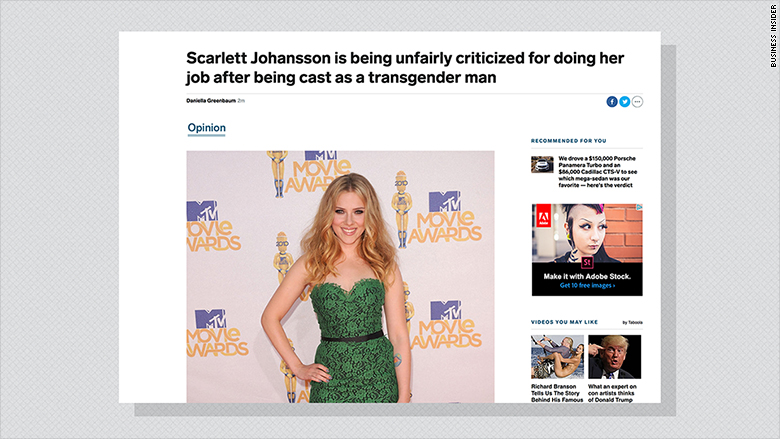 Daniella Greenbaum, the Business Insider columnist whose piece defending Scarlett Johansson's upcoming role as a transgender man was removed from the website, said Thursday that she is resigning from her post.
In a letter addressed to Business Insider global editor-in-chief Nicholas Carlson, Greenbaum said that the decision to take down her column represented "the tarring of a commonsensical view as somehow bigoted or not thought out; the capitulation on the part of those who are supposed to be the adults to the mob."
"Can an actor act? That is the question I wanted to weigh in on when I saw the brouhaha about Scarlett Johansson's role in the upcoming movie 'Rub and Tug,'" Greenbaum said in the letter, which she posted on Twitter. "My judgment: Yes. A woman can play a man or a trans man."
She continued: "Apparently, that radical view -- that actors should be free to act -- is beyond the pale of acceptable opinion, as just a few hours after it went up, the piece was erased from the site following a campaign against me."
Greenbaum declined to comment further.
Related: Business Insider introduces new guidelines after deleting story about Scarlett Johansson
The column was originally published on July 6, and was removed sometime thereafter. Business Insider has since placed a statement on the column's URL, explaining that it was deleted "because, upon further review, we decided it did not meet our editorial standards."
Carlson made the decision to remove the column, and on Monday he issued a lengthy memo to Business Insider editors outlining a new policy for opinion pieces covering "culturally sensitive topics, such as marginalized communities, race, or LGTBQ+ issues."
The Business Insider spokesman said earlier this week that Greenbaum stood by the column and disagreed with its removal.
Regarding her resignation, the Business Insider spokesman said, "we wish her the best." Carlson echoed that response in a subsequent email.
Greenbaum, previously an assistant editor at the conservative magazine Commentary, joined Business Insider in April.
In her resignation letter, she detailed her conservative positions on a host of issues that she said "some might consider 'controversial'" -- among them her belief that "'safe spaces' are an inane concept that belong nowhere near our institutions of higher learning" and that "people should be admitted to universities on the basis of merit, not depending on the color of their skin."
"I had hoped to be able to write about these and other issues as a columnist here, and for a while, I did," she said. "I have enjoyed the few months I have worked here and I am really disheartened about what has transpired in the past few days. I wish I could say I am surprised."