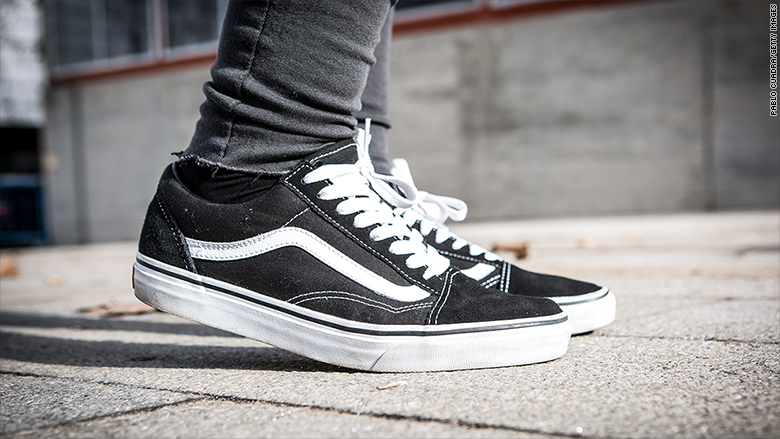 Vans continue to bring "Off the Wall" skateboarding culture to the center of fashion.
The brand's shoe and apparel sales rose 35% last quarter, parent company VF Corp (VFC) announced on Friday.
Sales surged at wholesale retailers such as Nordstrom (JWN). Vans' direct-to-consumer physical stores and digital channels also performed well -- good news for Vans, since those sales are more profitable.
The strong quarter helped the company raise its forecast for Vans' 2018 sales growth to 15%. Last year, Vans' sales climbed 19%.
VF Corp. owns a number of popular brands, including The North Face, Timberland, and Wrangler and Lee jeans, but Vans are the company's prized asset.
Vans have taken advantage of two trends shaping athletic looks: Athleisure and people's desire to wear retro styles.
Related: Lululemon has made a big comeback since its sheer pants nightmare
"People are wearing athletic apparel now for all kinds of occasions — work, play, and school — without any intention of using them for athletic purposes," said Matt Powell, a sports industry analyst at market research firm NPD Group. "The more casual, lifestyle categories have been on fire."
Vans has adeptly marketed its classic Old Skool and Ward side-striped shoes to fit the consumer turn. Authentic and Slip-On low-top classic lines have also resonated with shoppers.
Last year, it debuted a new comfort shoe, UltraRange, which offers more cushion and grip than traditional brands.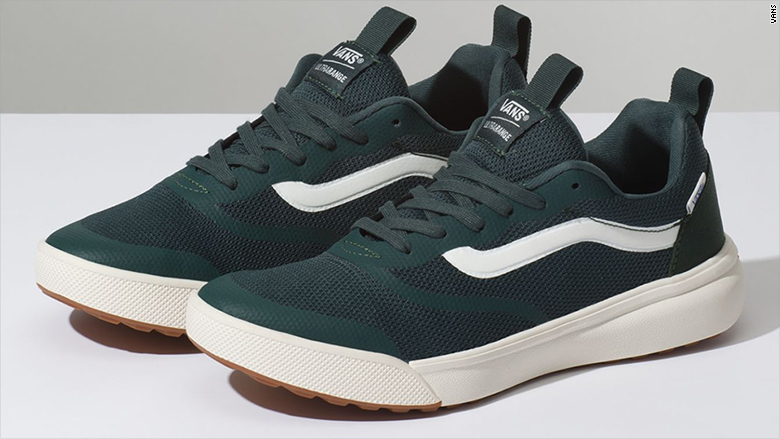 Although the brand is much smaller than Nike and Adidas, Vans wants to become a "top provider of active lifestyle footwear," CEO Steven Rendle told analysts on Friday.
The shoes run cheaper than its biggest rivals' lines, allowing the company to distribute it heavily through mid-market specialty and department stores. The majority of shoes on its website sell for $50 to $75 a pair.
Related: Nike's digital reboot is working
Although Vans have been around since the 1960s, the brand has achieved staying power by maintaining an authentic appeal, Powell said. The company has successfully leveraged its skating roots to appeal to new customers and enter fashion-centric circles.
"There's a lengthy heritage around California lifestyle here. Most people who buy Vans don't have a clue about how to skateboard."
Doug Palladini, Vans' global brand president, said last year that the shoes weren't just for teens and people in their twenties in the United States. Sales in Europe and Asia are growing, and older shoppers want a piece of Vans' youthful look.
"We all remember our first rock concert, our first kiss," he said. "When you put on Vans, it brings you back to that feeling."
Correction: A previous version of this article incorrectly stated where Vans' sales are surging. The story also incorrectly identified one of Vans' wholesale retailers in the United States.