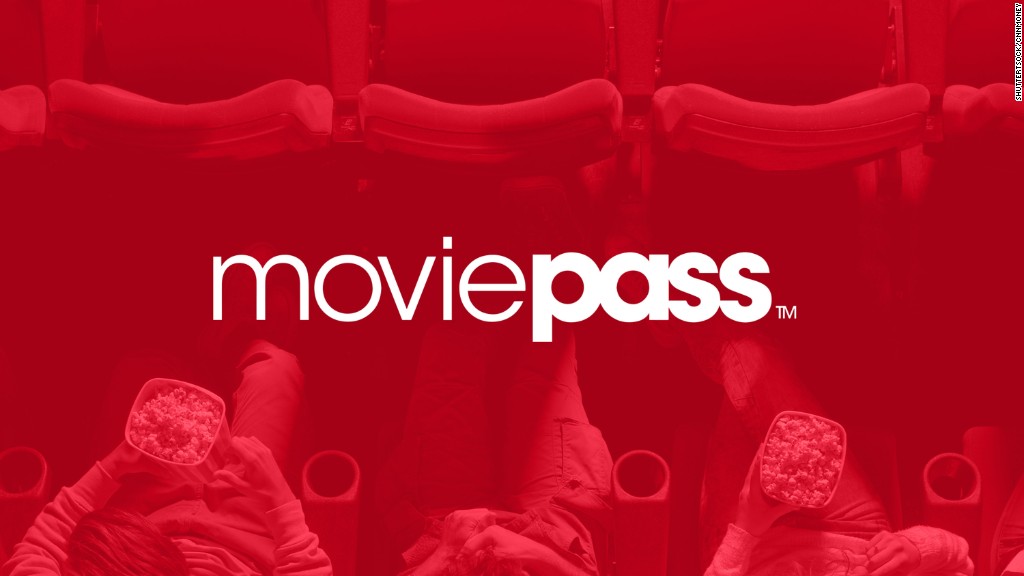 After months of turmoil and speculation, the popular subscription-based movie ticketing service MoviePass appears to be on its last legs.
Subscriptions boomed when MoviePass introduced a flat rate of $9.95 last summer. But majority owner Helios and Matheson Analytics warned in April that it needed more funding, and the stock won't stop falling.
Now MoviePass is raising prices and cutting access to blockbuster movies.
So what's next for the service and how will this affect its subscribers? Here's what we know so far.
1. Is MoviePass going out of business?
To be determined. MoviePass has been burning through cash in recent months paying for the movie tickets of its more than 3 million subscribers.
Analysts have questioned whether it can stay in business. The stock of Helios and Matheson (HMNY) has fallen more than 99% since last fall.
So while MoviePass is technically still in business, the future of the service is in serious doubt.
Related: MoviePass: 'Talk of our demise is greatly exaggerated'
2. Why are MoviePass prices going up?
MoviePass CEO Mitch Lowe, however, is much more optimistic about the company's future.
"Today, the company has implemented several elements of a long-term growth plan to protect the existing community and set it up for future sustainable growth," he told CNNMoney in an email.
The "elements" include a price increase to $14.95 a month from $9.95 within the next 30 days.
MoviePass is hoping that this will stem the bleeding. It has been blowing through $20 million to $40 million each month, according to regulatory filings.
3. Why are some movies not available on MoviePass?
This is another cost-cutting measure.
First run films opening on 1,000 or more screens will be limited in their availability for the first two weeks, MoviePass said on Tuesday. It's not clear just how "limited" those films will be to users, but the company did say that big films will be made available on a promotional basis.
Subscribers are already seeing the effects of the new restrictions. "Mission: Impossible — Fallout," which opened last Thursday, was unavailable for some customers over the weekend.
Related: MoviePass introduces surge pricing
4. Why is my MoviePass not working?
MoviePass had a service outage last Thursday because, well, it couldn't pay for tickets.
Helios and Matheson missed a payment to one of its fulfillment processors, and that contractor temporarily refused to process payments for MoviePass. This prompted the company to borrow $5 million in cash to pay its bills.
MoviePass had more outages over the weekend. The company tweeted an apology to its users on Saturday saying that it was "working towards a fix on this technical issue."
Related: MoviePass is raising its price and cutting access to blockbusters
5. What happens if MoviePass goes under?
It's possible that MoviePass could weather its problems, but it will be difficult to bounce back at this point. Lowe told told CNNMoney on Tuesday that the price increase and movie restrictions are "essential" to keeping the service alive for its users.
"Our community of more than 3 million members has shown an immense amount of enthusiasm over the past year, and we trust that they will continue to share our vision to reinvigorate the movie industry," he said.
Even if MoviePass shuts down, the service has already inspired similar deals that appear to be thriving.
AMC Theatres, the largest movie chain in America, announced in June that it was creating its own monthly plan for $20. AMC's service has enrolled 175,000 members after five weeks. That's ahead of expectations, according to the company, which hopes to have 1 million members by June 2020.
6. What does MoviePass have to say about all this?
"Talk of our demise is greatly exaggerated."
That's how MoviePass responded on Thursday to reports of its problems. It also said that it is an industry pioneer that is responsible for as much as 6% of the movie industry's total box office receipts.
"Exhibitors know that without MoviePass they will be able to continue to charge exorbitant prices for theater tickets and gouge customers with overpriced concessions," the company said. "This is exactly the attitude the taxicab industry took when Uber entered their market."
The company did admit that it is "going through a rough patch not unlike what other disruptive enterprises experienced in their early days."
Helios and Matheson stock closed at 10 cents on Thursday.