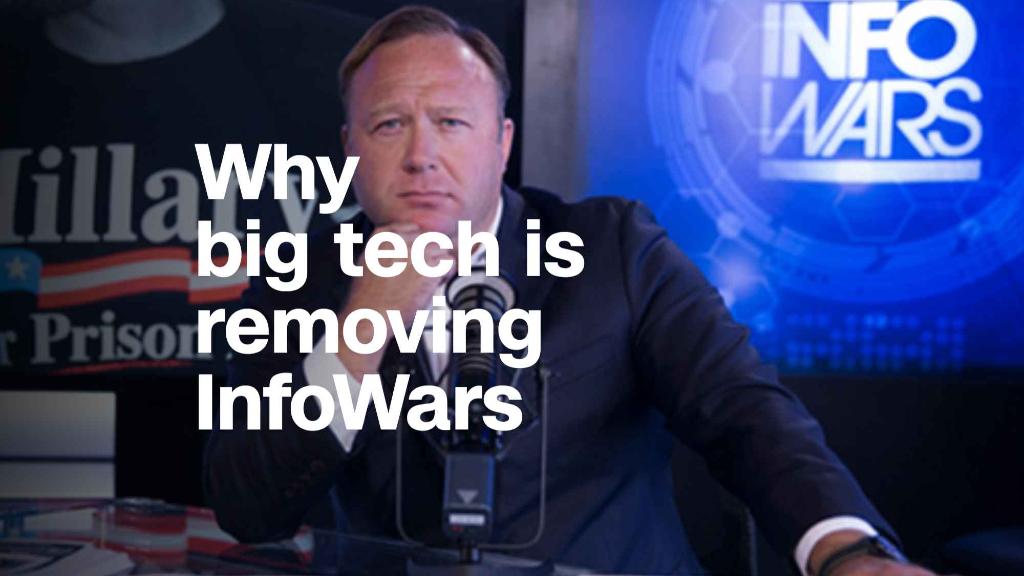 YouTube, Facebook and Apple have taken steps to remove content associated with InfoWars and its founder Alex Jones.
Each social media platform said Monday that it had removed content from Jones or InfoWars because it had violated their policies. The companies' moves shut down key distribution channels that had given the controversial media figure easy access to millions of internet users.
The most dramatic action came last, from YouTube, which is owned by Google (GOOGL). It removed many top channels associated with InfoWars, including The Alex Jones Channel, which had 2.4 million subscribers and videos that were viewed over 1.5 billion times.
"When users violate ... policies repeatedly, like our policies against hate speech and harassment or our terms prohibiting circumvention of our enforcement measures, we terminate their accounts," said a spokesperson for YouTube.
Some channels for some of InfoWars' top personalities were still on the platform, however.
InfoWars is notorious for spreading demonstrably false information and conspiracy theories on a host of issues. It has suggested that the Sandy Hook massacre was a hoax, and that the September 11 terrorist attacks were an inside job orchestrated by the US government.
InfoWars did not respond to a request for comment.
But in a message posted Monday on Twitter, Jones encouraged users to access live streams directly from the InfoWars website. He described it as "the one platform that they CAN'T ban."
Earlier on Monday, Facebook removed four pages associated with InfoWars and Jones for repeated violations of its policies.
The social media platform said in a statement that it had "unpublished" the Alex Jones Channel Page, the Alex Jones Page, the InfoWars Page and the Infowars Nightly News Page.
Facebook (FB) removed four videos from the pages last week after determining that they violated its hate speech and bullying policies. It also suspended the personal profile of Jones.
The company said that more content from the pages had since been reported, and it had decided to remove them for "repeated violations of community standards and accumulating too many strikes."
"Upon review, we have taken it down for glorifying violence ... and using dehumanizing language to describe people who are transgender, Muslims and immigrants, which violates our hate speech policies," said Facebook.
Related: Facebook suspends personal profile of InfoWars founder Alex Jones
The pages displayed the following message when accessed Monday: "Sorry, this content isn't available right now."
Facebook said the page administrators would be able to appeal its decision. In the absence of an appeal, or it the appeal fails, the pages will be permanently deleted.
The moves by Facebook, YouTube, and Apple left Twitter as the only major tech platform not to take some action against InfoWars and Jones over the past day.
A Twitter spokesperson told CNN that neither InfoWars nor any of its associated accounts are currently in violation of Twitter rules.
For weeks, Facebook has suffered a public relations crisis over how it handles misinformation and false news on its platforms. The company said the removal of the four pages on Monday was unrelated.
"While much of the discussion around InfoWars has been related to false news ... none of the violations that spurred today's removals were related to this," it said in a statement.
Related: Facebook and Instagram now reveal how much time you spend in each app
BuzzFeed News reported on Sunday that Apple (AAPL) had removed five podcasts associated with InfoWars from iTunes and its podcast app.
"Apple does not tolerate hate speech, and we have clear guidelines that creators and developers must follow to ensure we provide a safe environment for all of our users," it said in a statement provided to BuzzFeed News.
"Podcasts that violate these guidelines are removed from our directory making them no longer searchable or available for download or streaming. We believe in representing a wide range of views, so long as people are respectful to those with differing opinions."
Apple confirmed the accuracy of its statement to CNN.
— Paul P. Murphy and Oliver Darcy contributed reporting.