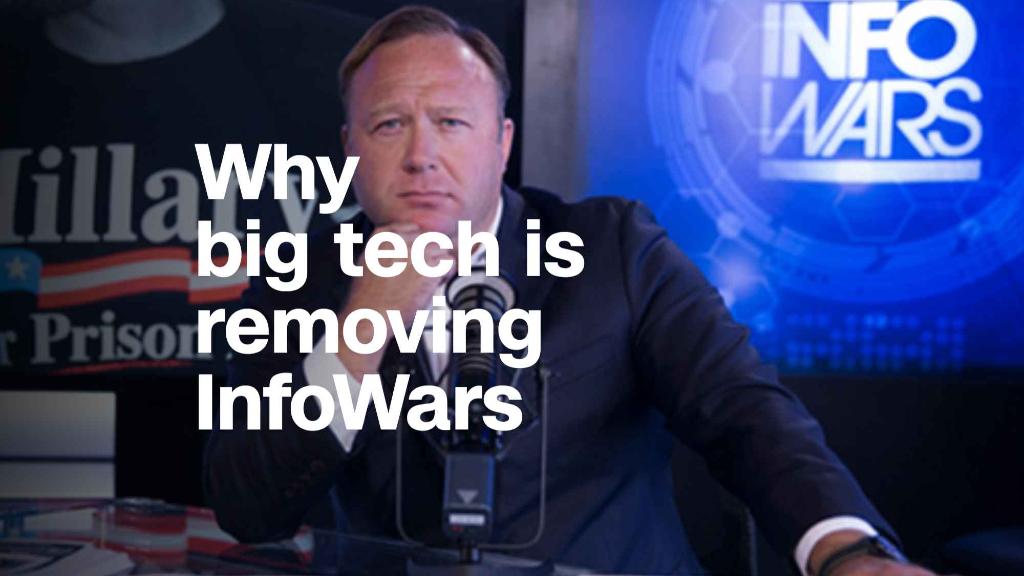 Twitter said Friday that the accounts belonging to far-right conspiracy theorist Alex Jones and his fringe media organization InfoWars would, for now, remain online, one day after a CNN investigation found that Jones' Twitter accounts appeared to have repeatedly violated the company's rules.
A Twitter spokesperson said that the company concluded that of the more than a dozen tweets included in CNN's Thursday report, seven were found to have violated Twitter's rules. Twitter would have required those tweets to be deleted, if they were to have remained up.
But after CNN's investigation was published, the tweets cited in it were almost immediately deleted from the social media website. Jones said on his program Friday that he had instructed his staff to do so and "take the super high road," though he contested whether the tweets violated any Twitter rules.
Among the seven tweets found to have violated Twitter's rules, the spokesperson said, two of the tweets occurred recently enough that Twitter could cite them in the future to take additional punitive action against Jones' accounts.
The other five tweets occurred before a set of bolstered Twitter rules were put into place in December 2017. While Twitter required those tweets be deleted, the company cannot use them as grounds to take further action against the accounts, the spokesperson said.
The Twitter spokesperson was not immediately able to provide CNN with the specific tweets the company had determined to have violated its rules.
"We will continue to review any content that is flagged to us and take action as appropriate," the Twitter spokesperson said.
CNN's investigation found that InfoWars' and Jones' Twitter accounts had published content that degraded groups of people on the basis of their religion and gender identity, engaged in the harassment of individuals, glorified violence, and promoted conspiracy theories about the Sandy Hook and Parkland shootings.
Previously, Twitter CEO Jack Dorsey had maintained that Jones and InfoWars had not "violated our rules." He had vowed, "We'll enforce if he does."
CNN's examination of Jones' and InfoWars' accounts also found that the same content that led other tech companies to take action against Jones had been posted on Twitter by both Jones and InfoWars. Earlier in the week, a Twitter executive strongly suggested such content had not been posted, and said that had it been posted, it would have "violated our policies" and "we would have taken action."
The Twitter spokesperson said Friday that the executive, Del Harvey, had only intended to specifically reference Jones' personal account, not the InfoWars account as well, and that the company should have "been more explicit about that."
Twitter is one of the only major social media companies that has not scrubbed its platform of Jones or InfoWars in the last week. Since Sunday, Jones has seen the vast majority of the social media infrastructure for his media empire crumble. Apple has removed the full library of his podcasts, Facebook has unpublished his pages, YouTube terminated his account, and other technology companies took similar action. InfoWars apps remain available through the Google Play store and Apple's app store, however.