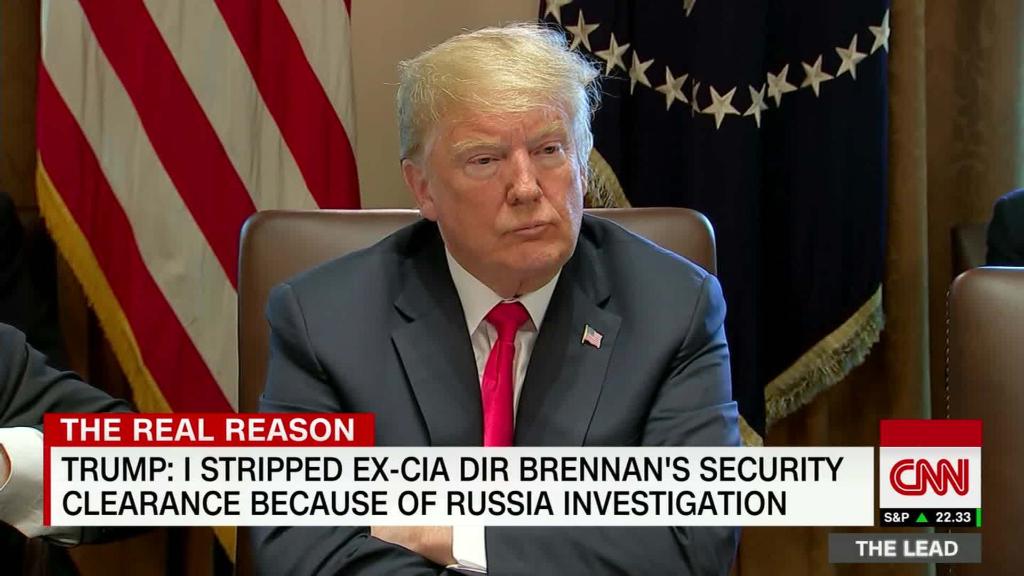 The Wall Street Journal fired back at Rachel Maddow on Thursday, after the MSNBC host said that newspaper "tried to bury" a story detailing President Trump's rationale for his decision to revoke the security clearance of former CIA Director John Brennan.
"Rachel herself credited WSJ for 'a heck of a scoop,'" the Journal said in a statement. "We appreciate the credit, but we'd also appreciate accuracy and fairness."
The story, originally published Wednesday, was based on Trump's interview with Wall Street Journal reporter Peter Nicholas. In it, the president tied his decision to revoke Brennan's security clearance to the investigation into Russia's alleged meddling in the 2016 election.
On her program Thursday night, Maddow expressed bewilderment that the Journal hadn't played up its exclusive.
"In a story that, interestingly, the Wall Street Journal has sort of tried to bury online today ever since they first published," Maddow said. "This is a heck of a scoop the Wall Street Journal has, but they have already taken it off their front page. I don't know why."
Within hours of the show airing, the paper issued a rebuke. In a detailed statement, the Journal said the "exclusive ran at the top of WSJ.com on Wednesday night and led the site for much of the day on Thursday," and that it "ran on the front page as the lead story of the print Journal Thursday morning."
The statement also noted that the story was highlighted in the "Most Popular Articles" section of the Journal's website as Maddow's show was airing Thursday, and that Nicholas appeared on MSNBC earlier in the day to discuss the article.
"That is not burying a story," the Journal's statement said.
MSNBC did not respond to multiple requests for comment.
The Journal, owned by the conservative media mogul Rupert Murdoch, has drawn scrutiny over its Trump coverage in the past -- both internally and throughout the news media industry at large.
Former Editor-In-Chief Gerard Baker, who stepped down from the top post earlier this year to become editor at large, frustrated some staff members with his objections over the way the newspaper's reporters covered the Trump administration. In emails that leaked last year, Baker urged editors to tone down a story about a Trump speech, calling the piece "commentary dressed up as reporting."