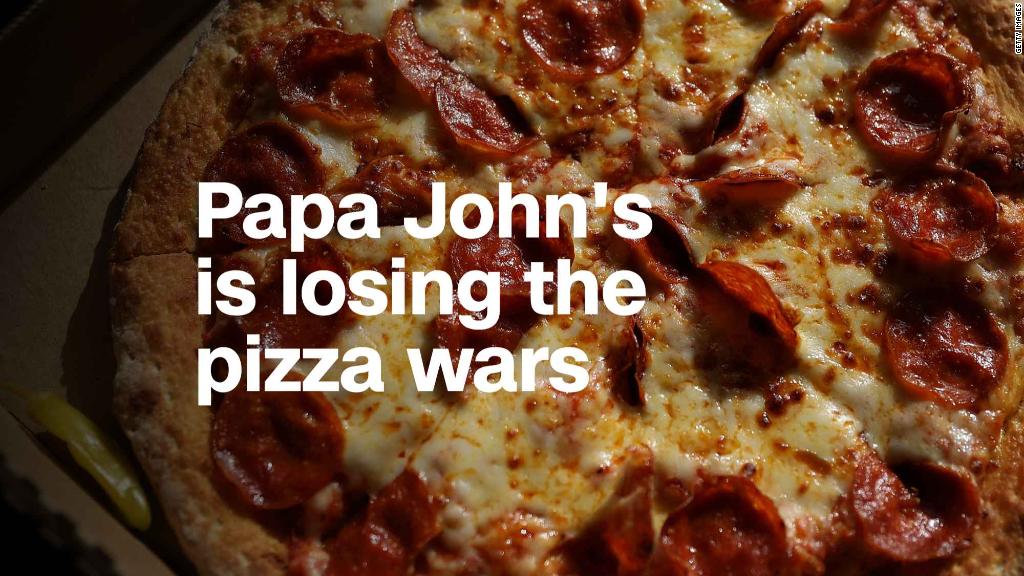 Papa John's is confronting its crisis: Customers think it has a racism problem.
In a new ad, the pizza chain shows some of the furious messages it received after its founder blamed NFL protests for poor sales and later admitted using the N-word.
"Racism is disgusting and I won't support it," one person wrote. Another said that "blaming players for poor sales with dog whistle racism was a hack move."
Between the messages, words from the company appear on the screen.
"You expected better from Papa John's. So did we," the company writes. "Thank you for your honesty ... It is making us better."
Papa John's is struggling with declining sales, especially since founder John Schnatter was forced to resign as chairman in July, after his use of the slur came to light.
Schnatter has since said it was a mistake to resign, and is now attacking CEO Steve Ritchie in an apparent bid to regain control.
The ads recall those put out by Facebook (FB), Uber and Wells Fargo (WFC) after PR crises at those companies. All of those ads acknowledged customer concerns, although with varying degrees of directness.
The company has taken great pains to distance itself from Schnatter, removing his image from marketing materials, kicking him out of his office and trying to stop him from gaining more control of the company.
"The video produced by the Company represents another example of the Company attempting to hide the true facts," a spokesman for Schnatter said in a statement. He added that fans have called for Schnatter's return to the company.
Papa John's also announced Friday that it will roll out mandatory bias training for its workers.
Training will start in October at the corporate office and at corporate-owned stores, which make up about 20% of its the chain's US restaurants. The Papa John's leadership team finished their own training two weeks ago.
The program will include conversations about unconscious bias, racial and cultural sensitivity and managing bias.
In an open letter, Ritchie said Papa John's is also conducting an internal audit on diversity and inclusion practices, launching a program to support minority-owned franchises and starting a foundation focused on local communities.
Ritchie said he was "personally committed to adding more diversity to the leadership team of Papa John's."
Papa John's has hired Bank of America and Lazard to help stabilize the business, a source told CNNMoney on Friday. The source declined to give further details, and Bank of America and Lazard declined to comment. The news was reported earlier by Reuters.
Papa John's also seems to be following a similar playbook to that of Starbucks (SBUX), which mandated anti-bias training after two black men were arrested while waiting for a friend at a Philadelphia location.
Starbucks closed about 8,000 stores for an afternoon to conduct the elaborate training, which tapped the musician and activist Common as a virtual session leader and relied on the guidance of more than 30 experts.