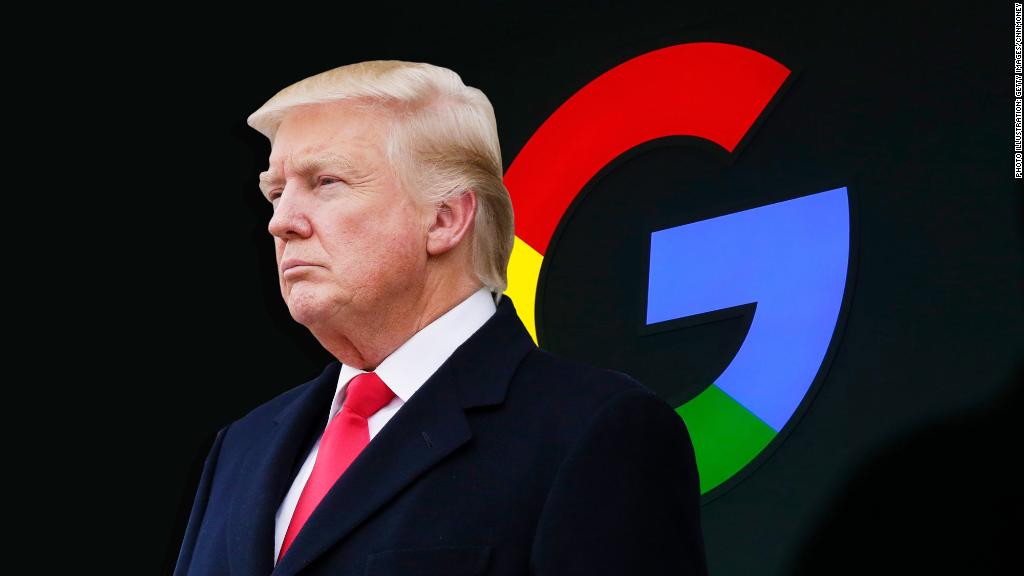 A version of this article first appeared in the Reliable Sources newsletter. You can sign up for free right here.
Hey there -- This is Oliver Darcy, your media sherpa for the day. I'm continuing to fill in for Brian Stelter.
Trump continues war on Big Tech
Trump is once again lashing out at Big Tech. This time, he spent Tuesday with Google in his sights. The President baselessly accused the search-engine giant of rigging its results to show "bad" stories when users search for "Trump news." He added that "Google & others are suppressing conservative voices" and suggested what the company was doing could be "illegal." Trump said the situation would be addressed, and Larry Kudlow said the administration would be "taking a look" at Google search results. Hadas Gold has the full story here...
Google's response
Google responded in a statement Tuesday noting that its goal is always to ensure that the search engine returns the most relevant results for its users. Specifically, a Google spokesperson said, "Search is not used to set a political agenda and we don't bias our results toward any political ideology. We continually work to improve Google Search and we never rank search results to manipulate political sentiment."
Remember, it's all about that base
Of course, Trump's accusation was nonsense -- but that nonsense thrives in the right-wing media universe of Fox News and the Drudge Report, where Big Tech is portrayed as waging a war on individuals and organizations with conservative views.
As I wrote in my CNN.com story on Friday, Trump has signaled that he and his Republican allies will continue to paint tech giants as villains in a longstanding culture war used to excite the conservative base. Like the press, big tech can be characterized as a powerful opponent unfairly pushing a supposed liberal bias on consumers. This plays very well with Trump supporters.
>> Stelter put it well: "He's not just running against the media now, he's running against Silicon Valley..."
Has Shep Smith watched his own channel?
Following Trump's pool spray in which he attacked Google and other Big Tech companies for supposed bias and censorship, Fox News anchor Shep Smith -- seemingly stunned -- asked, "What is [Trump] talking about?" It was almost as if Smith was perplexed as to where Trump would get such information. Which is interesting, considering Smith's place of employment. Given his statement, I have to wonder if Smith ever bothers to watch the other programming on his network?
Because if he did, he would see countless examples of Fox News pushing this narrative that Big Tech censors and has bias against conservatives. Remember the Diamond & Silk fiasco? In fact, just hours after Smith's statement, on Bret Baier's "Special Report," Fox News gave a platform to right-wing blogger Mollie Hemingway who asserted that Google has an "extreme left-wing bias." Hemingway suggested Google was even down-ranking Fox News links. After a long list of assertions, she faced almost no pushback from Baier, who only said Google had pushed back against such claims before moving on to another guest.
Speaking of Fox...
The most ironic part about Smith's shock is that it was perhaps a segment from Fox Business Network host -- and big pro-Trumper -- Lou Dobbs who catapulted a bogus study from the fringes of the Internet into the White House. BuzzFeed has a great explainer showing how a PJ Media post traveled from the Drudge Report to Dobbs' program to Trump's Twitter feed...
The irony of Trump's tweet
CNN national security analyst Sam Vinograd emails: The unfortunate irony in Trump's tweet against tech is that he's right - someone is trying to "rig" the internet -- and that's Vladimir Putin. The president's intelligence team has consistently raised Russia's ongoing information warfare attack on the US, and tech CEOs have shared the ways that the Russians (among other state actors) have manipulated content on the internet to affect how users are exposed to content.
Read more of Tuesday's Reliable Sources newsletter... And subscribe here to receive future editions in your inbox...
Putin has directed his team to use every rigging tool in their toolkit - ads, bots, trolls, and more. Trump's Helsinki shuffle on Russian election interference aside, he's mum on what he's doing to address the real rigger -- Putin...
The right-wing war on tech is here to stay
This narrative is unlikely to go away anytime soon. The politicians and media outlets on the right that push it do not seem persuaded by the facts. The facts don't move the needle. Instead, they seem more interested in a narrative that resonates with and whips up the conservative base. Prepare yourself to see a lot more of this in the weeks and months ahead...