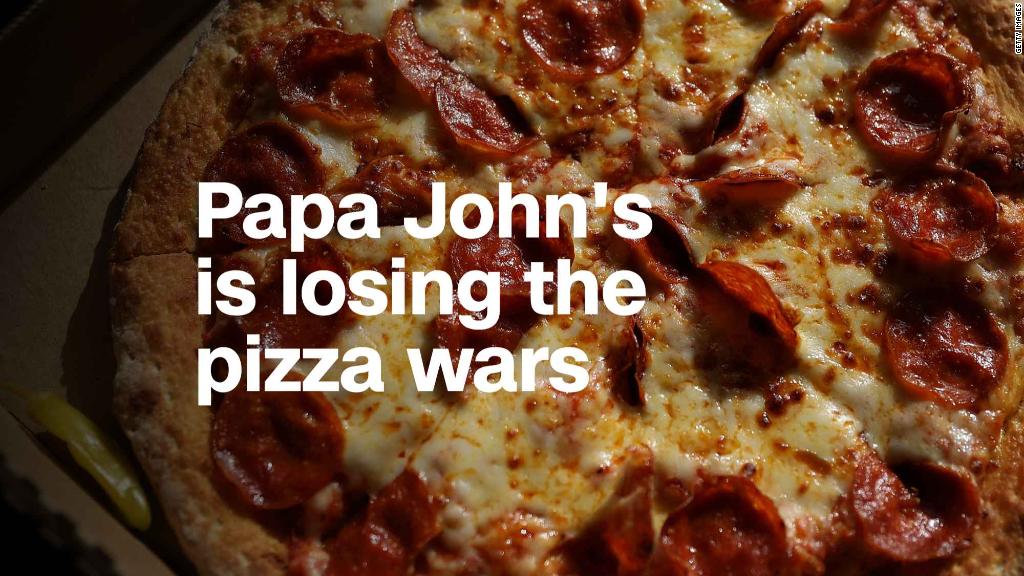 Papa John's has issued a scorching condemnation of its founder.
A special committee of the company's board of directors accused founder John Schnatter of disobeying the board and undermining CEO Steve Ritchie, including by going off script during a conference call last fall when he blamed the NFL for poor pizza sales.
"The Board specifically directed John Schnatter not to talk about the NFL controversy related to the National Anthem on the 2017 third quarter earnings call," the committee wrote in an 806-word letter addressed to the Papa John's community on Wednesday. "In direct defiance of these instructions, John Schnatter made unscripted comments."
Last year, some NFL players knelt during the National Anthem in a controversial protest over the treatment of black Americans, particularly by police.
Schnatter's words spurred a backlash on social media, made the company the butt of jokes on late night shows and forced it to distance itself from neo-Nazi groups. Papa John's apologized, saying it hadn't meant to be divisive. Sales fell in the following quarter, and the company ended its NFL sponsorship in the wake of the controversy.
"Schnatter has demonstrated a continued pattern of ignoring decisions of the Board, both in his role as CEO and as non-executive Chairman of the Board," the committee wrote.
The directors said they would defend the company against Schnatter's actions and "continue to do what is right for Papa John's and our stakeholders."
Schnatter declined to comment for this story through a representative.
Wednesday's letter is the latest salvo in an increasingly heated exchange between Schnatter and Papa John's current leadership. Schnatter stepped down from his role as CEO soon after the NFL scandal. Ritchie took over in January.
The committee also said that Schnatter produced commercials in which he starred after "independent market research showed that a change in spokesperson and advertising strategy was warranted," and that he reportedly met with management and staff behind Ritchie's back.
Schnatter stepped down from his role as chairman in July, after he admitted to using the N-word on a conference call.
Since then, the company has tried to distance itself from Schnatter by stripping his image from its marketing materials. It has also taken the unusual step of approving a provision that would prevent him from gaining more control of the company. Schnatter is still the largest shareholder and owns almost a third of the company.
And he's not backing away.
Though Schnatter says he doesn't want to get his job back as CEO, he's called Ritchie a poor leader and accused him of creating a toxic environment for workers. He also thinks that Papa John's has allowed his comments about the NFL and on the conference call to be misrepresented in the press.
Earlier this week, Schnatter posted a letter to franchisees on his website.
"This June, I told the Board that Steve needed to go," he wrote. "At the time, the Board agreed — and asked me to become Executive Chairman."
In response, the company said that Schnatter was making "untrue and disparaging statements in a self-serving attempt to distract from the damaging impact his own words and actions have had on the Company and our stakeholders."
The company added that "at no time has the Board asked John Schnatter to become Executive Chairman."
Schnatter's lawyer fired back, saying that a board member had suggested bringing Schnatter on as executive chairman on a call with the rest of the board, and that there were no objections to the offer.
In Wednesday's letter, the company responded. "It's simply not true that the Board asked John Schnatter to become Executive Chairman," the committee reiterated, adding that "John Schnatter's assertion that the Board agreed with him that Steve Ritchie 'needed to go' is not true."
The company is trying to move forward by a mandating bias training for all employees, promising to increase diversity among staff and commissioning an investigation into its diversity and inclusion practices.