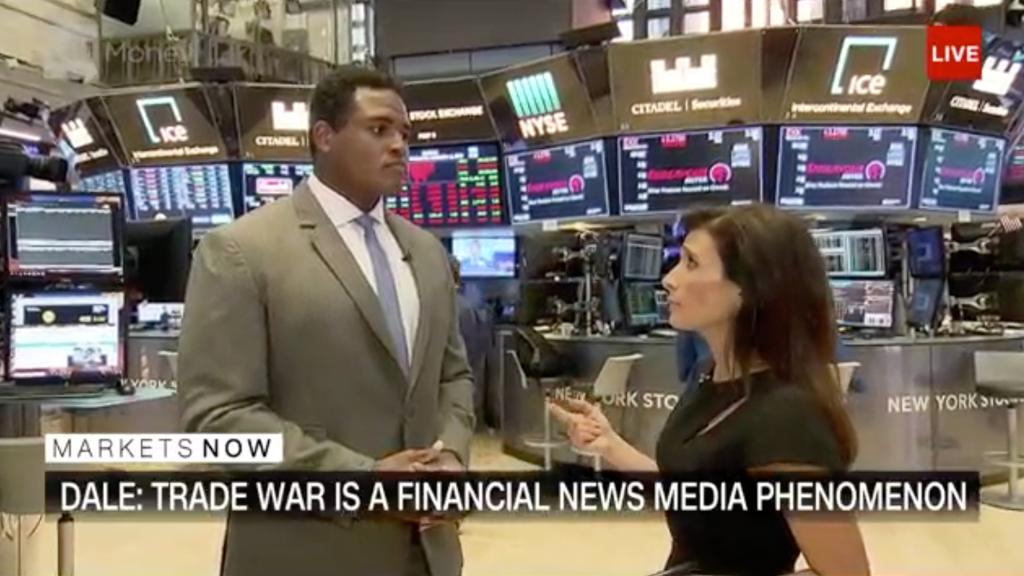 Investors shouldn't waste time worrying about the trade war.
So says Darius Dale, managing director at Hedgeye Risk Management.
"The only thing that the markets really care about is the rate of change in things like growth, inflation and profits," he told CNN's Paula Newton on "Markets Now" on Wednesday.
The United States and China have imposed tariffs on more than $50 billion of each other's goods, and are threatening a lot more. US tariffs on another $200 billion of Chinese goods could go into effect as soon as Friday.
The Federal Reserve has warned that an escalating trade war could damage the economy by raising prices for businesses and making their materials harder to obtain. Businesses could scale back spending.
But Dale said that additional tariffs would be a drop in the bucket compared with the size of the US economy. Rather than focusing on trade, investors should keep an eye on the economic fundamentals at home, he said.
"What really matters is the fact that growth in the United States is peaking, and it's about to decelerate for the next three to four quarters," he said.
"Inflation's peaking and profits are peaking as well," he added. "so that's what the markets are really keying off of as it relates to any future volatility."
CNNMoney's "Markets Now" streams live from the New York Stock Exchange every Wednesday at 12:45 p.m. ET. Hosted by CNN's business correspondents, the 15-minute program features incisive commentary from experts.
You can watch "Markets Now" at CNNMoney.com/MarketsNow from your desk or on your phone or tablet. If you can't catch the show live, check out highlights online and through the Markets Now newsletter, delivered to your inbox every afternoon.