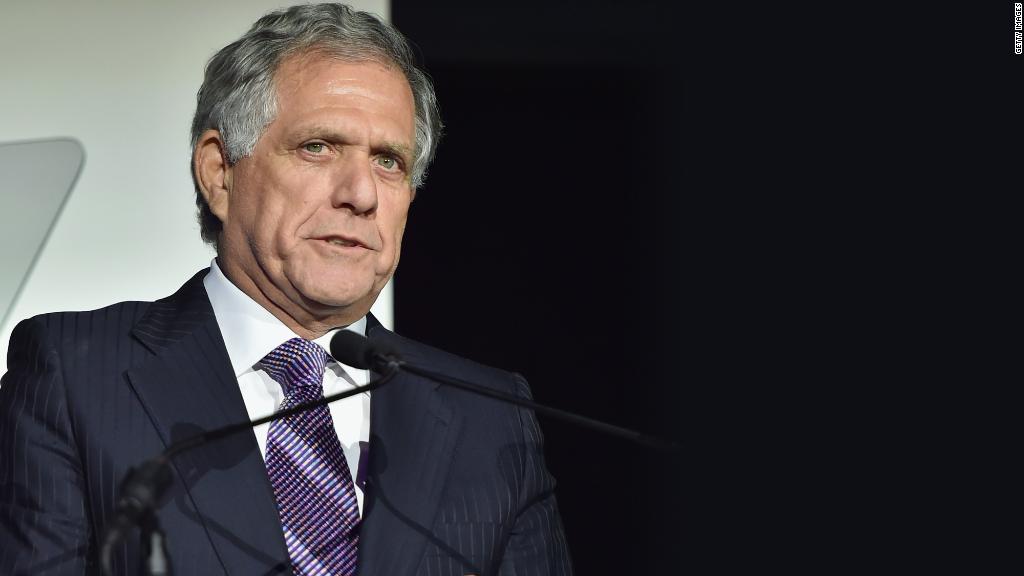 A version of this article first appeared in the Reliable Sources newsletter. You can sign up for free right here.
Moonves exits
The two words that keep coming to mind are "stunning downfall." Sunday night's announcement by CBS is FIVE stories in one:
-- It's a stunning downfall for Les Moonves after nearly 20 years at the top of CBS and the top of the broadcast TV business... He has exited the company "effective immediately..."
-- It's a critical moment of accountability in the #MeToo age...
-- It's a resolution to a months-long tug of war between Moonves and Shari Redstone...
-- It's a complete makeover of the CBS board, seemingly with an eye toward selling the company...
-- And it's a tale about money and power. Just how much severance, if any, will Moonves receive? The range is between $0 and $120 million...
"Like a head falling off Mt. Rushmore"
"Leslie Moonves has sat atop entertainment industry power lists for years, and become a model for corporate stability in his more than two decades overseeing CBS," Brian Lowry writes. "In a business known for change and turnover, his forced departure from the network -- to use an oft-referenced expression in showbiz circles -- is like a head falling off Mt. Rushmore." Here's Lowry's full story...
His statement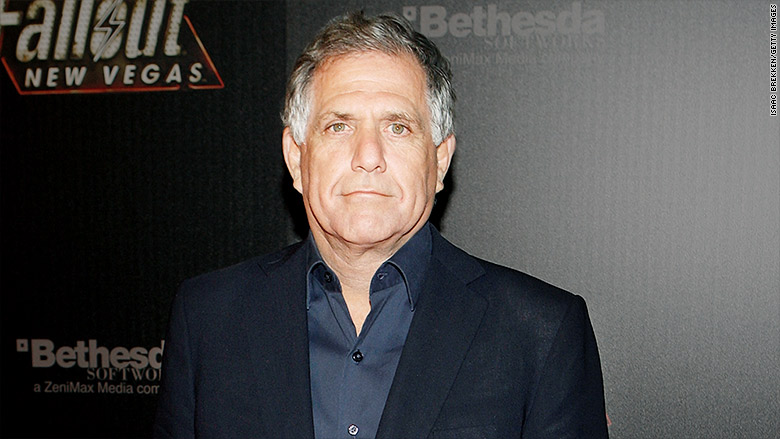 "For the past 24 years it has been an incredible privilege to lead CBS's renaissance and transformation into a leading global media company," Moonves said Sunday night. He said "untrue allegations from decades ago are now being made against me that are not consistent with who I am."
His last line: "I am deeply saddened to be leaving the company. I wish nothing but the best for the organization, the newly comprised board of directors and all of its employees."
How we got here
Step way, way back. Moonves' name was mentioned in the immediate aftermath of the Harvey Weinstein scandal and the birth of the #MeToo movement. Moonves, it was whispered, was vulnerable. But it was only whispered. Months and months went by without any reporting. Farrow was said to be working on something about Moonves as early as January, but CBS skillfully waved off reporters' inquiries. Some people stopped believing that there was any "there" there. But the women who were eventually identified in Farrow's story believed Moonves should be held accountable.
Fast forward to July 27. The New Yorker published Farrow's first story about Moonves. It was shocking. Farrow included accounts from six women, and insiders knew he was speaking with others. The pro-Moonves CBS board kept him in place while hiring two law firms to investigate. One month came and went. Fed up, some of the other women decided to go on the record.
Right after Labor Day, Farrow began contacting folks in the CBS orbit for comment on his new reporting. Within a day or so, news outlets reported that Moonves was in talks to exit the company. Those stories (including my own) now read a little differently on light of Farrow's reporting...
Sunday's tick-tock
Reporters were hearing that action from the CBS board could be imminent. The New Yorker obviously did not want to be caught flat-footed.
Farrow's followup story was published at 11:09 a.m. ET and it hit my inbox at 11:28 a.m. ET. I was in a commercial break on "Reliable Sources." I sent a string of texts to New Yorker PR. Within minutes we scrapped my essay segment and lined up a live phone interview with Farrow. He said "these women are coming out now" because "they have been extraordinarily frustrated by what they perceive to be inaction on the part of CBS and its board. And that really is integral to what prompted this followup story."
By noon, Variety's Cynthia Littleton said Moonves' tenure was expected to end within 24 hours. At 12:30, CNBC's David Faber said a "global settlement" was likely by the morning. At 2 p.m., I reported that Moonves, in fact, was leaving CBS, and it was just a matter of some signatures on the paperwork. The press release landed at 7:21. These things take a while, and then they happen quickly...
What now?
-- Moonves and six other board members are out. Six new members are in...
-- CBS will file an 8K first thing Monday...
-- Various units of CBS can hopefully start to get back to normal...
-- Joe Ianniello will be the acting CEO...
-- Ianniello will meet with his division chiefs in NYC on Wednesday...
-- The new board will conduct a search "for a permanent successor," and the chairman position will remain open in the meantime...
-- Norah O'Donnell will make her first comments about the scandal on Monday's "CBS This Morning." Gayle King would, too, but she was already scheduled to be off...
-- Farrow will be on CNN's "New Day" in the 7 a.m. hour...
-- And fall premiere season on CBS is exactly two weeks from now...
How will this day be remembered?
...As the first #MeToo case to topple a Fortune 500 CEO?
Quoting from Monday's WSJ: Moonves "becomes the most prominent and powerful entertainment executive to be forced from his job" in the #MeToo age.
Or was this a corporate coup — a successful effort by Redstone to gain a tighter grip on CBS by ousting Moonves?
Two sides, two different storylines. I think there's some truth to both -- this was a boardroom battle royale AND a C-suite harassment scandal. "Les did this to Les," one side says. "This was all about Shari," the other side says.
WHAT WE KNOW FOR SURE: Moonves and Redstone were set to face off in court this fall. Through Sunday evening's settlement, all of those suits will be dismissed...
FROM AN EMAILER: "When you try to kill the queen, you better succeed..."
Two conspiratorial theories
I'm sharing these not because I believe them, but because the people closest to this mess are talking about 'em, so you should know, too...
Theory 1: Redstone was somehow involved in Farrow's reporting. People on Team Moonves have dropped hints about this for months. To be clear, Team Redstone has flatly denied it...
Theory 2: Moonves, knowing he could be exposed by the #MeToo movement, decided to pick a fight with Redstone over the future of CBS...
Outstanding Q's
-- Those two law firms retained by the CBS board are still investigating. When will they finish up their work?
-- Future payments to Moonves "will depend upon the results of the independent investigation and subsequent board evaluation." What will the board do?
-- What's worse: Bad press and shareholder lawsuits for paying Moonves or a protracted legal fight with Moonves?
-- Where will the $20 million go? CBS says that Moonves and CBS will donate $20 million, deducted from any of his severance, "to one or more organizations that support the #MeToo movement and equality for women in the workplace."
-- Times Up said "we will accept nothing less" than "a commitment to real change across all levels of CBS management." What will that look like?
-- Brian Lowry emails: "With her husband leaving, will Julie Chen stay at CBS?"
-- What does Moonves want to do next? Does he have investors lined up for something new?
-- Another one from Lowry: "With this story unfolding now, how much #MeToo talk will there be during Sunday's Emmy telecast?"
-- Two years from now, who will own CBS?
Meanwhile, CBS News had a really strong day...
CBS News continues to vigorously cover the scandal within its own house -- both on TV and on the web -- a fact that should be commended. On Sunday the news division cited its own sources re: the possible payout to Moonves.
Putting all this to the side for a second, if that's possible, the news division also had two big interviews on Sunday: VP Mike Pence on "Face the Nation" and Bob Woodward a few minutes earlier on "CBS Sunday Morning."
--> ICYMI, Pence had to do some cleanup... At first, he said "I wouldn't know" if anyone on his VP staff wrote the NYT op-ed... After the interview, he asked for a redo, and when the cameras were rolling again, he said, "I thought you were speaking about the administration staff. Let me be very clear, I'm 100% confident that no one on the vice president's staff was involved in this anonymous editorial..."
CBS's books division is about to have a great week...
"Fear" is a product of Simon & Schuster, and it's one of the biggest publishing success stories of the year. According to CBS, nearly one million copies have already been printed to meet demand. The book hasn't budged from No. 1 on Amazon since the excerpts came out on Tuesday. But here's the even more impressive stat: The book is already the sixth biggest seller of 2018, on Amazon, based solely on pre-orders. "Fire and Fury" stands firmly at No. 1 on this list. John Oliver's parody of the Pence bunny book is No. 2. The only other Trump-related book is James Comey's "A Higher Loyalty" at No. 5. And I expect Woodward to overtake Comey soon.
WHAT THIS MEANS: On Amazon, "Fear" has already surpassed almost every other Trumpy book this year, from pro-Trump tomes like "The Russia Hoax" to take-downs like "Unhinged..."
WHAT'S NEXT: Woodward will be on NBC's "Today" in the A.M...
For the record, CBS edition
-- William D. Cohan's latest for VF: Moonves has admitted to kissing his doctor without consent 19 years ago. The doctor apparently accused Moonves of doing more than that...
-- New statement from NOW: "Moonves should face justice for his crimes, not receive a payout to go away..."
-- Who are the new board members? What will they bring to CBS? Brian Steinberg says "many of them specialize in M&A or new media..."
End of a TV era, and...
Moonves has been one of the most powerful men in media for many years. One of the best-paid men in media, too. He has built up an incredible amount of respect in the industry. And that's partly why Sunday was such a shock. He was accused of horrific misconduct.
Bill Carter said it really well on Twitter: "I have known and covered Leslie Moonves for 30 years. He was accessible, candid, professional with outstanding skills as an entertainment exec. The revelations about him depict a disturbed individual and leave me shocked and sickened. He does not deserve, much less need, a rich payout for resigning."
Carter and I will be talking more about this on "New Day" in the morning...
"Real change remains a myth"
-- Variety's Caroline Framke tweeted: The new accusations in Farrow's story "confirm one of the most infuriating patterns: powerful men who preyed on women trying to break into the business often succeeded in driving them out of it..."
-- Former Variety TV critic Maureen Ryan responded: "Women are driven out at all levels all the time & institutions within the industry HAVE STILL NOT CHANGED when it comes to consistently doling out consequences. One year on, real change remains a myth.."
-- Yashar Ali wrote a story along these same lines the other day: "Exclusive: Les Moonves Was Obsessed With Ruining Janet Jackson's Career, Sources Say..."
What about Fager?
Moonves was not the only name in Farrow's original story. "60 Minutes" boss Jeff Fager figured prominently in the story too. Fager stayed on vacation for a while... But eventually came back to work... And he's been overseeing the show's next season, despite being accused of wrongdoing by multiple individuals.
Read more of Sunday's Reliable Sources newsletter... And subscribe here to receive future editions in your inbox...
Conventional wisdom has been that CBS News couldn't take any action against Fager until the Moonves situation was cleared up. Now, we may be hearing more from the news division soon...
What will Colbert say?
Frank Pallotta emails: "The Late Show with Stephen Colbert" will be must see TV on Monday night for two reasons. The first we knew last week: Bob Woodward will be on to talk about "Fear."
The second became apparent Sunday... How will Colbert react to his boss stepping down? Colbert had one of his best "Late Show" moments in recent memory when the allegations against Moonves first broke. "Accountability is meaningless, unless it's for everybody," he said of Moonves in July. It'll be interesting to see what more he'll say on Monday night...
And what about Viacom?
Brian Lowry emails: CBS won't be running Viacom, but that still leaves Shari Redstone with a problem — namely, that Viacom is running Viacom, which has been a laggard among the major studios. The talk of combining the two was a matter of seeking scale amid a wave of consolidation, and the question now is whether she'll seek a separate deal, which seems inevitable...
"In the spirit of the new year..."
Rachel Bloom is the co-creator and star of "Crazy Ex Girlfriend" on the CW, which is half-owned by CBS. On Sunday afternoon, she shared Farrow's story on Twitter and said, "As an employee of CBS, I would just like to say that Les Moonves should be fired without getting a f---ing dollar. The actions described in this article are those of sexual assault and shame on anyone else in the corporation who knew about his crimes."
After his exit was announced and CBS said he wouldn't be getting any severance for the time being, Bloom posted a new message: "Good." To CBS, she said, "in the spirit of the new year, let's make this the beginning of a new era."