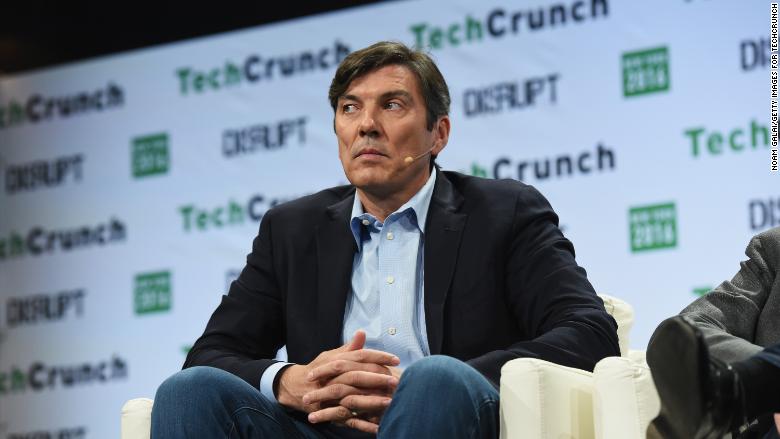 A version of this article first appeared in the Reliable Sources newsletter. You can sign up for free right here.
Another ouster at CBS
Jeff Fager's tenure as the powerful E.P. of "60 Minutes" appeared to be over as soon as Ronan Farrow's first article about CBS came out in July. But Fager held on for more than a month, in part because Les Moonves held on too. And when Fager was fired on Wednesday, the official reason was a violation of "company policy," not the accusations of unwanted touching and other inappropriate conduct.
New must-read in the NYT
James B. Stewart has a bombshell story about Moonves in Thursday's NYT. He details what happened at the CBS board level... and reveals that Moonves tried to keep one of his accusers quiet by trying to find a job for her.
"In the end, it was the evidence that Mr. Moonves had misled his board -- even more than the allegations of abuse from multiple women -- that doomed him," Stewart reports...
Linda's column
Brian Lowry emails: "Designing Women" creator Linda Bloodworth-Thomason had a contentious relationship with Moonves when he took over CBS, and she used the occasion of his ouster to do a bit of score-settling, penning a Hollywood Reporter guest column where she, among other things, compared him to Charles Manson. This isn't the first public airing, it's worth noting, of the acrimony between Moonves and the Thomasons; indeed, reports surfaced in 2001 that President Clinton contacted the then-CBS chief asking him to "be nice" to the couple, who were longtime friends of his from Arkansas and produced the famous "Man From Hope" campaign video. Read on...
Tim Armstrong out at Oath
"Our enthusiasm for Oath's potential has never been greater," Verizon chairman Lowell McAdam said Wednesday. But that's hard to believe on the day when CEO Tim Armstrong's departure was announced.
Oath COO K. Guru Gowrappan "will take over as CEO on October 1," Jill Disis reports. "Armstrong will stay on as an adviser until the end of the year."
--> As The Information Martin Peers wrote Wednesday evening, "It's easy to see Verizon disposing of Oath at some point in the future. More interesting now is what Armstrong does next..."
Jacob Weisberg out at Slate
After 22 years at Slate, Jacob Weisberg says he's leaving to "launch a new audio company with Malcolm Gladwell." Weisberg announced the move via Twitter on Wednesday. He's been the chairman and EIC of the Slate Group for a decade.
WHAT HE'S DOING NEXT: "The new audio venture, which doesn't have a name yet, will be funded by Mr. Gladwell and Mr. Weisberg at the outset. It will focus on creating new podcasts, audiobooks and short-form audio content," Jaclyn Peiser reports. Gladwell has been doing a pod called "Revisionist History," and it will move over to the new company...
WHAT'S CHANGING AT SLATE: There's no change in strategy. Slate leadership will now report directly to Graham Holdings. Slate's president Dan Check is now interim CEO. But there is a big change at Slate's sister company Panoply: It's getting "out of the content business," as Nicholas Quah reports here...
Two new columnists at Medium
Medium is adding columnists, and on Thursday the site is adding two big names: Jessica Valenti and Douglas Rushkoff. Both of them will be writing exclusively for Medium.
Read more of Wednesday's Reliable Sources newsletter... And subscribe here to receive future editions in your inbox...
Medium says Valenti will be "focusing on feminism, culture, and politics..." Rushkoff "will be focusing on the intersection of tech and society..." Look out for Valenti's debut column on Thursday...
For the Record
-- "Magazine giant Meredith swung the ax again on Wednesday, lopping about 200 jobs and merging its Cooking Light title into EatingWell and chopping the frequency of Coastal Living to a newsstand-only quarterly..." (NYPost)
-- MDC Partners CEO Scott Kauffman is stepping down... (AdAge)
-- Anthony Crupi tweeted: "OK, so this is weird: Including the Thursday night NFL Kickoff Game and the two Monday Night Football telecasts, all seven Week 1 TV windows averaged 16.4 million viewers and a 9.4 HH rating, which is *exactly* what the averages were for Week 1 of the 2017 season."