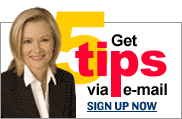 CNN's Gerri Willis shares five tips on how to get the best results from your gripes.

Play video

NEW YORK (CNN/Money) - It can be so infuriating when the dry-cleaner ruins another pair of your pants. And what about those annoying spam e-mails you get everyday? Or maybe your car has a major flaw, like the recent one Ford Explorers are being recalled for: an incinerating engine.
Sound familiar? It all just stinks, and you have the right to complain, complain, and complain, my friends. As a smart consumer, it's your job to keep businesses and services in line.
In today's Top Five Tips, find out where to take your consumer gripes.
1. Get on the list.
If your mailbox is jam-packed with catalogues and credit card offers, your e-mail inbox is loaded with spam, and your voicemail has been taken over by telemarketers, it's time to say no.
Unfortunately, there is no general "do not harass me" list; there are three separate ones for snail mail, e-mail and telephone. You've probably already heard of www.DoNotCall.gov to halt those phone calls in the middle of dinner.
You can you can make a one-stop shop for all three types of solicitations by logging on to the Direct Marketing Association's (DMA) Web site: www.DMAconsumers.org.
But be aware that address, e-mail and phone number each have their own form. Within three months, you should see a drop in solicitations. You will be registered for five years and can renew.
Keep in mind, however, that charities, non-profits, alumni associations, and companies you have established a business relationship with are still allowed to contact you while you're on either do-not-contact list. If you are still being solicited, contact the Federal Trade Commission at www.ftc.gov.
2. Let the damages be known.
Thousands of products are recalled every year: toys containing lead, electronics that start fires, vehicles that lose steering control.
If you believe you have a product, toy, or electronics item that is faulty and may require a recall, log on to the Consumer Product Safety Commission (CPSC) Web site at www.CPSC.gov.
Search for the item first on the Web site's recall and warning lists, as there may already be information and directions posted. Still, fill out a complaint about your own incident.
If you believe your vehicle needs to be recalled, check out the National Highway Traffic Safety Administration's Web site at www.NHTSA.gov. Again, look to see if your vehicle is already on a recall list, and also file a complaint. When buying a new car, the site also offers crash test ratings.
3. Go ahead, tattletale.
A blushing bride has found her perfect dress for the big day. The store offers a price quote, she buys the dress, but leaves it for free altering. When she returns for it, they want an additional $1,000 because she asked for something "not in their contract." They hold the dress ransom with a no return policy. She just wants her dress. That is called a "bait and switch" move and it is highly illegal.
If you were a victim of bad business practice like "bait and switch" or another scam, contact your state's Attorney General. Most AG offices will allow you to make consumer complaints online. Many will offer a mediation service to help consumers handle their disputes with businesses.
Many major investigations into companies begin with an AG, as in the example of New York's Attorney General Eliot Spitzer's rampage on the insurance companies' alleged bid rigging scandal.
By the way, Marsh & McLennan, the company at the center of that investigation, agreed to pay $850 million dollars to settle the case. The money went to policyholders hurt by their alleged deceptive pricing and fees. Payouts might be small, but some justice was served.
You might also take your complaint to the Better Business Bureau. Visit www.BBB.com. The BBB keeps track of complaints and will help consumers resolve an issue with a business. BBB Reliability Reports are also a great resource to find a dependable business or service in your area. These reports have every complaint made with the BBB about a business in the past 36 months.
One other alternative to calling out a business for its bad service is hitting them where it hurts: reviews. Many people use online resources to find a good hotel, restaurant, even a hair salon. So if the hotel was gross, your waiter was really rude, or your haircut was a nightmare, let the world know. Try CitySearch.com, TripAdvisor.com, and Zagat.com to fill out online reviews.
4. Fight Internet fraud.
E-mail and online scams are hurting consumers daily. If you think you've been the victim of Internet fraud, file a complaint with the FBI. The FBI has an Internet Fraud Complaint Center at www.IFCCFBI.gov, where you can fill out a complaint online.
The FBI can refer you to the right local, state, or federal agency to handle your claim. The Center also keeps tabs on complaints and sends out warnings to the public on growing scams.
5. Let the airline have it.
The Department of Transportation is the government agency that handles airline gripes. You can file a complaint about your late arrival, lost luggage, or cancelled flight with the Aviation Consumer Protection Division through their Web site at airconsumer.ost.dot.gov.
But Bill Mosley, public affairs specialist at the DOT, advises you take your issue to the airline first so you can get an immediate remedy. The DOT just passes on complaints to the airlines for them to act on, and you may never hear anything in response.
So, as frustrating as it is, you will have to wait in that ticketing line to ask for some sort of compensation: a free round-trip ticket, a new suitcase, extra frequent flier miles. Don't be afraid to bargain. However, remember airline personnel are always dealing with angry travelers. So try to be the nice one, it may take you further.
The Consumer Protection Division meets monthly with representatives with the major airlines to discuss complaints. So if a free ticket or another perk can't remedy your complaint, it's important to voice your concern. Recently, the DOT launched into an investigation because a number of complaints showed violations of rules regarding disability and race.
Any sort of safety complaint is sent immediately to the Federal Aviation Administration (FAA). You can also make a complaint directly with the FAA at www.FAA.gov. If you felt disrespected or violated during your airport screening, you can also report it to the DOT or the Transportation Security Administration directly at www.TSA.gov.
---
Gerri Willis is a personal finance editor for CNN Business News and the host for Open House. E-mail comments to 5tips@cnn.com.