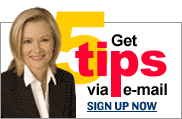 CNN's Gerri Willis shares five tips on what you should know when buying a big screen TV.

Play video

NEW YORK (CNN/Money) - If you're not one of the 1.4 million people who went out and bought a new, big TV for yesterday's Super Bowl game, maybe you found yourself ogling at your buddy's big-screen TV. And you got the great idea of getting one of your own.
Oh it will fit so nicely in your living room...imagine what the wide screen will do for your DVD collection.
Snap out of it! These puppies can cost you about half of what you paid for your last car. A big TV is a big ticket item and an investment.
What do you need to know about buying a super-sized TV? Here are today's top five tips.
1. One size does not fit all.
Before you even start dreaming of owning the largest TV in your neighborhood, think about exactly where you will be putting it. Consumer Reports, which is offering a great guide to buying big TVs on its Web site at www.ConsumerReports.org, says that even though the really big screens are becoming more affordable, don't assume bigger is better.
To get the most out of the TV, you need to fit the TV to the room. The general rule of thumb: the bigger the screen, the bigger the room you need. Consumer Reports says you need space for the TV and enough viewing distance for optimal picture quality. It makes sense -- think about why no one wants to sit in the front few rows at the movie theater.
To figure out the best size TV for your room, check out Samsung's Web site, www.Samsung.com, which offers a guide on choosing the optimal TV size for your room.
Samsung's expert recommends you calculate your TV size based on its distance from where you will sit to view it. The distance between your viewing point to the TV should be three to four times the screen height.
Be aware that the screen height is not the size of the TV. The size is actually the length of the diagonal of the screen. For example, a "64-inch" TV might have a height of 33 inches. By the experts' advice, you would need a room that would allow you to sit about 8 to 11 feet from the TV for optimal viewing.
2. Read up and shop around.
Consumer Reports' online guide is really handy. Not only does it boil down the logistics of the different types of flat panel TVs (LCD and plasma), it also offers test scores and ratings on the different brands. Much of the information is free to look at; some requires membership, which will cost around $4 per month.
Shop around. Flat panels are getting larger and larger in size. Their price tags have also been growing with them: NPD Group says TV prices have risen 22 percent since 2001.
But now is a great time to be looking into buying a new TV: Experts are predicting steep price cuts for both types of TVs this year. Consumer Reports says some of the best big screens will sell for less than $5,000.
Yes, that is quite expensive, but that's the lower end of prices. Samsung just released an 80-inch plasma that is expected to be priced between $40,000 and $50,000.
3. Shop online.
It's a great idea to go into the store to see what you're really looking at. But with the Super Bowl craze, many stores have sold out of popular models. Also, many retailers have a wider selection online.
Shopping over the Web can also offer you a couple of benefits. Right now, most major retailers are offering free shipping, so you won't have to worry about carrying the box to and from your car. Plus, some are throwing in extra perks for shopping online.
For example, Best Buy is offering a complimentary DVD player and three DVDs with any purchase of an HDTV that costs more than $1499.
4. Figure out your financing.
With such steep price tags on flat panels, many retailers try to lure in buyers with store financing. Several deals actually offer zero-percent financing -- seems like a great deal. You can get your hands on a big-ticket item for a fraction of the cost now.
Wait. Stop to think about the reality here. Taking the store's financing puts you in debt with a retailer. This is not an ideal match. Read the fine print: many retailers have nasty penalties for missed or late payments.
Instead of taking on some debt, maybe you should rethink your investment. Downsizing a bit on size of the TV or changing to an older model probably won't kill you.
Best case scenario: You pay with cash; second best, use a low-rate credit card. And avoid the temptation to tap your home's equity to pay for your new toy. After all, you don't want to risk your home for the pleasures of a television set.
5. Go for the bells & whistles.
Before sealing the deal, do yourself a favor and add in the bells and whistles. Consumer Reports highly suggests you purchase two add-ons with your new flat panel TV: an extended warranty and professional installation.
Since flat panels are being built with all the latest gee-whiz new technologies, any number of things that could break. Consider buying a service plan that can give you a few more years on your warranty.
As for hooking it up -- let someone who really knows where all those wires go install the big guy for you. For one thing, these TVs are really heavy. Secondly, a professional installer can also help you make sure you know how to use your new system -- remotes and all.
---
Gerri Willis is a personal finance editor for CNN Business News and the host for Open House. E-mail comments to 5tips@cnn.com.