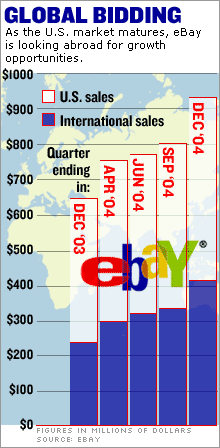 More about Internet stocks
NEW YORK (CNN/Money) – eBay had a pretty rough first quarter...and that's putting it mildly. Shares, once thought to be the safest play among Internet companies, plunged 35 percent.
The carnage began in mid-January when eBay released fourth quarter earnings that were two pennies below expectations and issued guidance for 2005 that was lower than consensus estimates.
There have also been concerns about eBay losing customers after raising fees in January. Worries about CEO Meg Whitman leaving -- she was said to be a leading candidate for the CEO job at Walt Disney (Research) -- also rattled some investors.
"This is a company that people bought and put away. But it was made clear in January that you couldn't do that. There is increased skepticism about eBay," said Scott Kessler, an analyst with Standard & Poor's.
So is this the end of the road for eBay as a top growth stock on Wall Street? Don't bet on it.
30% sales growth is lackluster?
When eBay gave its outlook for 2005, the following words were used often to describe the forecast: weak, disappointing, lackluster.
But let's put the new guidance into context. Its lowered outlook for revenue growth still assumes a 31 percent jump. And it's predicting a 23 percent increase in pro-forma earnings per share.
You want lackluster? Look at Microsoft (Research) and its expected earnings growth rate of 2 percent this year. Or how about projected sales growth in the high-single digits for IBM (Research) and HP (Research)?
eBay is not on the verge of becoming stodgy. The problem is that analysts -- as they often do with momentum stocks -- simply got a little too excited.
"eBay's problems to date are not a fault of Whitman or bad execution by management," said Martin Pyykkonen, an analyst with Janco Partners. "The fault was analysts jacking up numbers."
Still, many rushed to criticize Whitman and eBay for raising listing fees for some of the more expensive items sold on its site and hiking monthly subscription rates for stores hosted on eBay.
All of a sudden, some started to worry that loyal eBay users would balk at the higher fees and take their business to other online retailers like Amazon.com (Research), Overstock.com (Research) and uBid as well as search engines like Yahoo! (Research)
But Pyykkonen thinks that these fears are baseless.
"Most eBay sellers, until there's another channel that has significant volume, will stay. They may grumble and complain about fee increases but eBay is in the driver's seat," Pyykkonen said.
Auctions abroad
Skittish investors are also missing that the company is aggressively expanding internationally, with acquisitions in Europe, India and South Korea.
International operations are growing faster that those in the United States and now represent 45 percent of eBay's total sales, up from 38 percent a year ago.
But the problem for short-term traders is that eBay seems willing to at first sacrifice profits to build interest in lucrative new markets. In China, for example, eBay does not charge fees.
"China is one very large-scale market research project which, unfortunately for investors, has a certain dollar loss price tag associated with it," said David Garrity, an analyst with Caris & Co.
Still, the payoff from China and other Asian markets could be huge. So Richard Skaggs, co-manager of the Loomis Sayles Growth fund, which owns eBay, thinks the company is taking the right approach to international expansion and that the stock is now a decent value.
"The eBay franchise has so much meat on the bones and is so solid," Skaggs said. "eBay realizes that you need to go where the people are and management has earned a bit of time to execute on their plan."
So what about eBay's valuation? Sure, it is still a very expensive stock, trading at 49 times earnings estimates for 2005. But that's just 1.6 times the long-term estimated growth rate of about 30 percent annually. That's in line with Amazon, which has a P/E of 32 and growth rate of 20 and it's a discount to Yahoo!, which has a PEG ratio (P/E divided by the long-term growth rate) of 2.2.
What's more, eBay looks reasonably attractive when compared to the overall market. The PEG ratio for the S&P 500 is 2.8.
Doubts about how long eBay's stock could remain a market leader have been around since the company went public in 1998. But every time it has suffered a big setback, it's bounced back and gone on to set new highs.
And with Meg Whitman deciding to stick around instead of trying to rebuild the House of Mouse, that's all the more reason for investors to feel confident about eBay's future.
Analysts quoted in this story do not own shares of the companies mentioned and their firms have no investment banking relationships with the companies.
For a look at eBay and other Internet stocks, click here.
For a look at one unusual eBay auction, click here.
---
Sign up to receive the Tech Investor column by e-mail.
Plus, see more tech commentary and get the latest tech news.