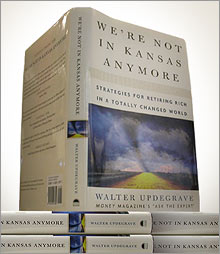 More information on Updegrave's new book.
 
 
Age 70 
Age 75 
Age 80 
$250,000 
HECM 
$144,980 
$157,599 
$170,605 
 
Private [1] 
$57,248 
$73,298 
$93,223 
$750,000 
HECM 
$183,247 
$198,948 
$215,099 
 
Private [1] 
$176,664 
$224,794 
$284,569 
 Notes: [1] Private loans offered through Financial Freedom, an Irvine, Calif. lender. Amounts based on homes in Sacramento. Loan amounts vary by location. HECM is the Department of Housing and Urban Development's home-equity conversion mortgage.
 Source: Financialfreedom.com.
NEW YORK (MONEY Magazine) - If your nest egg isn't big enough to support the retirement lifestyle you aspire to, you may be sitting on a valuable asset that can help you bridge the financial gap: your house.
Buoyed by the 65 percent increase in home prices over the past five years, a growing number of retirees are tapping the home-equity wealth they've accumulated by taking out reverse mortgages. Last year there were more than 40,000 such borrowers, nearly five times the number in 1999.
Reverse mortgages are essentially mirror images of regular mortgages. You don't make payments to the lender; instead, the lender makes payments to you based on your home's value.
You can take the cash as a lump sum, monthly installments, a line of credit or some combination of these. The money you receive is tax-free and doesn't affect your Social Security payments.
And you don't have to repay the loan as long as you live in your home; the loan is repaid using the proceeds from the sale of your house after you move or die. If its value at that time doesn't cover the balance, well, that's the lender's problem.
But reverse mortgages can be an expensive way to generate income, particularly compared with options like a home-equity line of credit or trading down to a smaller home. And their complex features can make them tricky to evaluate.
These questions can help you understand how reverse mortgages work and decide whether one is right for you.
Why do you need the money?
Reverse mortgages generally make the most sense if you're looking for an ongoing source of income throughout retirement or you need a large lump sum.
A reverse mortgage doesn't make sense if you might move in a few years or just need cash for some relatively small bill. That's because the stiff up-front expenses on these loans -- origination fees, closing costs and mortgage insurance -- can total 5 percent of the value on a $250,000 house, driving the effective short-term loan rate into the stratosphere.
How big a loan can you get?
The amount you receive through a reverse mortgage depends primarily on your age (you must be at least 62 to qualify), your home's market value, prevailing interest rates and any other home loans you have. Generally, the older you are, the more your house is worth, and the lower interest rates are, the larger the loan you'll be able to get.
But the size of the loan will also depend on the specific reverse-mortgage program you select.
Most homeowners qualify for the biggest cash advances under the Department of Housing and Urban Development's home-equity conversion mortgage (HECM) program. But if the market value of your home is well above the average house price in your area, you may get a larger loan from a private lender (see the table).
How can you find the best deal?
Ideally, you want the biggest loan at the lowest cost. But the two don't always go hand in hand. For the typical borrower, the HECM will be the least expensive option, but you may qualify for more money with a private loan.
For help figuring out the best terms overall, you can contact AARP's Reverse Mortgage Education Project, which provides personalized comparisons of the options and costs (those depend on the interest rates and fees that the lender charges, how you tap the money and the length of the loan).
It's taken years to build up your home's equity; it's worth a little more time to make sure you get the most value out of it.
For more of MONEY Magazine's special, Your Home 2005, click here.
Sign up for Updegrave's weekly e-mail newsletter at money.com/expert. E-mail him at longview@moneymail.com.