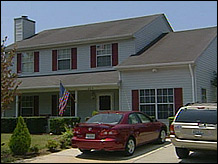 We compare what you get in different areas for $207,000 when buying a house.
Play video

NEW YORK (CNN/Money) - The median home cost nearly $17,000 more in the first quarter than it did a year before. According to the National Association of Realtors, the median house sold for $188,800 this winter, nearly 10 percent higher than 12 months ago.
(House prices accelerated even more in April. Click here for that story.)
But price increases varied enormously around the country with Florida, California and the coastal Northeast leading the charge. Many post-industrial metro areas lagged behind. Some cities even experienced decreases in home prices.
The NAR found that the most expensive metro area, San Francisco, had a median home price of $689,200, more than eight times the price of the median home in Youngstown, Ohio.
Bradenton Florida was the fastest appreciating market over the 12 months ending March 31. The average home there went up 45.6 percent. Other hot Florida locations included Sarasota (36 percent), West Palm Beach (35.9 percent), and Ft. Lauderdale (31.8 percent).
Outside the Sunshine State, Las Vegas saw appreciation of 29.4 percent and Riverside/San Bernardino 32.6 percent. Atlantic City led the Northeast with an increase of 23.2 percent.
More affordable markets included Beaumont, Tex., where house prices fell 6.5 percent to $90,000, and Waterloo/Cedar Falls, Iowa, which saw decreases of 2.6 percent to $86,500.
Other areas showing declines included Canton, Ohio (minus 4.5 percent) and Syracuse, N.Y. (down by 2.6 percent). Median home prices in those locations were all less than $120,000.
The lowest-priced housing market the NAR listed was in Youngstown, Ohio, where the median home sold for $82,400.
See examples of homes for sale in the markets mentioned above.
-------------------------------
For a look at the housing prices in your metro area, click here.
For a look at houses in some of the country's hottest zip codes, click here.