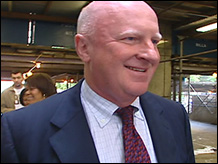 Ex-Tyco's CEO Dennis Kozlowski is found guilty of grand larceny. CNN's Allan Chernoff takes a closer look at the former high flying executive.
Play video

NEW YORK (CNN/Money) - In a major victory in the government crackdown on corporate corruption, former Tyco CEO Dennis Kozlowski and ex-CFO Mark Swartz were found guilty Friday of stealing hundreds of millions of dollars from the manufacturing conglomerate.
A jury of six men and six women deliberated 11 days before finding Kozlowski and Swartz guilty on 22 of 23 counts of grand larceny and conspiracy, falsifying business records and violating general business law. They face 15 to 30 years in prison.
Kozlowski, 58, and Swartz, 44, were accused of taking bonuses worth more than $120 million without the approval of Tyco's directors, abusing an employee loan program, and misrepresenting the company's financial condition to investors to boost the stock price while selling $575 million in stock.
After the verdicts were read in court Friday afternoon, Dennis Kozlowski's face was scarlet red and his daughter buried her face in her hands, according to an eyewitness. Swartz' wife appeared to be in shock and Kozlowski's wife was crying.
The Tyco verdict comes as jury deliberations continue in Alabama, where former HealthSouth CEO Richard Scrushy is accused of directing a $2.7 billion accounting fraud. Ex-WorldCom CEO Bernard Ebbers was found guilty in March over his role in an $11 billion accounting scandal at the telecommunications giant now known as MCI.
Other high-profile trials loom. Former Enron chairman Kenneth Lay and his key deputies have a 2006 court date for their role in the Houston energy giant's late 2001 collapse.
Friday's win was crucial for Tyco prosecutors, whose first trial against Kozlowski and Swartz ended in a mistrial in April 2004 after the sole juror holding out for an acquittal reported receiving threats. In July 2004 former Tyco general counsel Mark Belnick was acquitted of securities fraud and grand larceny in a separate, but related trial.
Not a huge surprise
The reaction among legal experts was mixed Friday, but many said the verdict was expected given that 11 out of 12 jurors voted to convict in the first trial.
The defense had a difficult case, said former federal prosecutor Jerry Bernstein. Both Kozlowski and Swartz maintained that Tyco's board of directors and its auditors were aware of and authorized the bonuses they received as part of their compensation packages. The duo ran the company for most of the 1990's through 2002.
But they were unable to prove it, said Bernstein. Five former Tyco directors testified they never knew of the disputed payments.
"It's always a difficult defense when a corporate executive gets a lot of money and there isn't a sufficiently clear paper trail showing the executive was entitled to that money," said Bernstein, a partner in Blank Rome, a New York-based law firm.
Both the defense and the prosecution changed their strategies in the second trial, which began in January. Prosecutors left out sordid details about Kozlowski's lavish spending during his tenure as Tyco's top executive, including a $2 million birthday party he threw for his wife on the Italian island of Sardinia and a $6,000 shower curtain allegedly purchased with company funds (see correction).
"While it's hard to compare-and-contrast (the two trials), there's no question that prosecutors tried a more streamlined case this time," said Jacob Frenkel, a former prosecutor now in private practice in Maryland.
Kozlowski, meanwhile, testified in his own defense during the second trial after declining to take the stand before. Swartz testified at both trials.
Legal experts said it was hard to say if Kozlowski's decision to testify backfired until jurors are interviewed in coming days. His testimony clearly did not help his case.
After the verdict, the government requested mandatory jail time of 15 to 30 years in state prison.
New York State Supreme Court Judge Michael Obus set an Aug. 2 sentencing date and allowed both men to remain free until their sentencing. Kozlowski and Swartz will appeal their convictions.
A different kind of corruption case
The Tyco case differs in a few key respects from other recent high-profile trials involving once-powerful corporate executives.
While all of the cases contain elements of self-dealing, Kozlowski and Swartz were not charged with accounting fraud -- unlike WorldCom's Ebbers, Scrushy's HealthSouth, and Enron's Lay.
The trial of Kozlowski and Swartz was solely about the improper use of company funds -- in other words, greed.
Kozlowski and Swartz face time in state prison, which tends to be grittier, with more violent inmates, than the federal system.
For an update on Tyco and other high-profile corporate scandals, click here.
Correction: An earlier version gave an incorrect value for the Sardinia birthday party that Kozlowski threw for his wife using Tyco funds. The party cost $2 million, not $1 million. CNN/Money regrets the error.