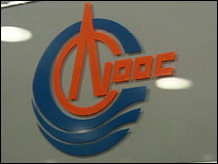 A Chinese state-controlled oil company has put in the highest bid for Unocal. U.S. lawmakers seek to block sale. (June 23)
Play video

NEW YORK (CNN/Money) - The mood on Capitol Hill was angry Thursday as Fed Chairman Alan Greenspan and Treasury Secretary John Snow arrived to defend the Bush administration's policy toward China.
Greenspan and Snow, testifying before the Senate Finance Committee, came under fire from some legislators impatient over the administration's handling of U.S.-China trade relations, which the lawmakers consider too accommodating.
The complaints about China's trade policies are well-known: At a record $162 billion in 2004, the U.S. trade deficit with China is the country's biggest by far. The main culprit: cheaper Chinese goods -- the result, critics say, of China pegging its currency, the yuan, to the dollar at an artificially low rate.
Meanwhile, rampant counterfeiting in China of American goods costs U.S. industry billions of dollars in lost sales every year.
But fears over China's growing economic muscle boiled over Thursday.
On Wednesday, one of China's largest oil producers, state-owned CNOOC Ltd., made an $18.5 billion unsolicited offer to buy Unocal, the nation's ninth largest oil and gas company. The overture renewed concerns about foreign ownership of critical U.S. resources -- especially by China.
"The problem once again is fairness and reciprocity," said Charles Schumer, the Democrat senator from New York who has co-sponsored a bill with South Carolina Republican Lindsey Graham to impose stiff tariffs on China over its trade policies.
China, continued Schumer, would not allow a U.S. company to take over a major Chinese operation. "We know countless instances where that hasn't been allowed," he said, pointing to the many hoops that U.S. companies often have to jump through to invest in China, including partnering with local companies or getting permission from China's military brass.
The hearing comes as Chinese interest in buying American companies appears to be growing. Earlier this week, a top Chinese appliance maker joined in a $1.3 billion bid for Maytag Corp. And in April IBM completed the sale of its personal computer business to China's Lenovo Group.
"There's broad discomfort in Congress about China's growing role globally and regionally and what that means for the U.S.," said Mikkal Herberg, the director of the Asian Energy Security program at the National Bureau of Asian Research, a Seattle-based think tank.
The prospect of a CNOOC-Unocal deal "simply adds another set of concerns," said Herberg, who predicted that Unocal's U.S. assets would be carved out of any deal.
No obvious solutions
Schumer wasn't the only senator to express outrage at Thursday's hearing over the state of U.S.-China economic relations. And while everyone agreed that the trade imbalance, intellectual property rights and China's currency continue to be serious problems, there was considerable disagreement -- mostly along party lines -- about the best solution.
A series of pending legislative proposals, including the Schumer-Graham bill, call for across-the-board tariffs against Chinese imports, spurred by U.S. manufacturers who say China's imports are undervalued by as much as 40 percent -- and that tens of thousands of U.S. jobs have been lost as a result.
Several Democratic senators said it's time to force China, which joined the World Trade Organization (WTO) in 2001, to play by international rules.
Greenspan and Snow, clearly worried that spiraling U.S. deficits are driving Congress toward trade action against China, sought to soften the angry mood by pointing out the possible consequences should the U.S. retaliate.
Greenspan warned lawmakers that moves to limit China's involvement in the U.S. economy with tariffs could end up backfiring.
A U.S. policy of protectionism, he said, would threaten the growth in worldwide living standards since the end of World War II. He noted too that moves by China toward a more market-driven economy have benefited the world, and the United States in particular.
"My basic concern," said Greenspan, "is that, if we are forced to implement a very significant unilateral tariff, the dangers to the overall international financial system, in my judgment, are very large."
Also worth noting: China has become a big buyer of U.S. Treasury securities in recent years, which in turn has helped the U.S. keep interest rates low and fund its ballooning trade and budget deficits.
While that means China has a vested interest in the overall health of the U.S. economy, it conversely gives Americans an incentive not to anger the Chinese.
As for China's monetary policy, Greenspan said a more flexible currency "would be helpful to China's economic stability" and hence to that of the global economy, given its rising importance as a world trading power.
But he also questioned the idea that a higher-valued yuan would give the U.S. economy the boost that proponents expect.
"Some observers mistakenly believe that a marked increase in the (yuan's) value relative to the U.S. dollar would significantly increase manufacturing activity and jobs in the United States," said Greenspan. "I'm aware of no credible evidence that supports such a conclusion."
Moving toward a float?
Snow has led the Bush administration's push to get China to ease the yuan's peg at about 8.28 to the dollar -- in place for nearly a decade. He said financial diplomacy was working and that China could and should adopt a more flexible currency, which, if it made Chinese goods more expensive in the United States, could help U.S. manufacturers compete.
Snow said Thursday that he believes China is prepared to introduce some flexibility to its currency now, paving the way to an eventual shift to a full float system.
Tariffs are not the way to go, he said.
"Action on any of the punitive legislative proposals before Congress now would be counterproductive to our efforts at this time," Snow said.
Several legislators scoffed at the pleas by Greenspan and Snow to let the WTO and other existing venues for trade disputes handle the battle over China's economic policies.
"(T)his problem (is) getting worse and worse and worse," complained Sen. John Kerry, the Massachusetts Democrat. He said the discussion about China's currency policy has gone on for too long. He called the easy availability of counterfeit Hollywood movies on China's streets a "joke," but one that has "serious consequences" for U.S. companies.
"Are you powerless (to do anything about these issues) or are you oblivious or is it a combination of the two?" Kerry demanded of Snow.
The Treasury secretary responded: "We're not satisfied with this situation at all."