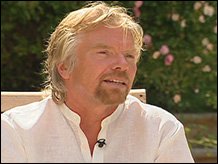 Richard Branson, founder of Virgin Group, talks with CNN's Matthew Chance about his vision for a new airline venture in Nigeria.
Play video

NEW YORK (CNN/Money) - The "rebel billionaire" Richard Branson started out some 30 years ago with a small company that he turned into one of the world's most recognizable brand names -- in part by making sure no one else used the word "Virgin" to sell their wares.
But Branson's latest target is an unlikely foe: Jason Yang, the sole proprietor of Virgin Threads, an online clothing retailer he runs out of his home. Last year, Virgin Group Ltd. had $8.1 billion in sales, according to Hoover's. Virgin Threads, which sells merchandise created by independent fashion designers, recorded about $105,000 in sales over the same period.
In a complaint filed late last year in federal court in New York, Virgin claimed the owners of Web sites like virginthreads.com, online cigar merchant virgincigar.com, and publishing outfit virginpublishing.com are committing "cyberpiracy" by using the word "virgin" in their domain names.
Attorneys for Branson's Virgin Group demanded that the companies named in the suit turn over their domain names to Virgin Group, and so far, every defendant has done just that – except Yang.
"At this point, I have to do something," Yang said of his decision to keep fighting the lawsuit. "There are over 6,000 pages that link to my Web site. Almost all the fashion publications out there have mentioned Virgin Threads at some point or another. I think that would really be a burden to my business. Morally, I don't feel it's right for me to just give up my name."
Virgin and its lawyers say that when consumers think "Virgin," they think Branson – and that any consumer who hears a company using that word in its name will think it's affiliated with Virgin Group Ltd. In legalese, this is called "secondary meaning."
But Yang and his attorney argue that "virgin" is a common English word. They say that unlike "made-up" names like Altria, for example, companies shouldn't be able to lay claim to common words like "virgin."
U.S. corporations may soon have even broader latitude to pursue these claims.
The Senate is expected to vote on a bill that would apply dilution protection not only to trademarks that are "coined" but to trademarks that are not. Under the proposed bill, for example, Virgin would not be able to prevent the use of a phrase such as "virgin Mary" to describe a bloody Mary without vodka, but would be able to stop other companies from using it in their branding.
The bill has already passed the House with support from both parties and is now being reviewed by the Senate Judiciary committee.
Paul Levy, attorney for the non-profit public interest group Public Citizen, said that with business so competitive, it's understandable why Virgin would pursue this kind of claim. But he also said it's debatable whether companies with common words in their trademark should be able to afford the same benefits as companies with "coined" names.
"This is a legal question that has to be answered in the context of the litigation under trademark law, and it's a social policy question," Levy said. "In theory a famous trademark can be enforced against anybody who uses it commercially. Should Madonna not be able to have a song that uses 'Like a Virgin' in the title on the theory that Virgin record company is actually the owner of the song?"
David Bollier, author of the book "Brand Name Bullies: The Quest to Own and Control Culture," puts it more bluntly. "If anyone can lay claim to that word, shouldn't it be the Catholic church?" he asked.
Elizabeth Ann Morgan, a trademark and copyright attorney in the Atlanta office of law firm Hunton and Williams and a professor at the Emory University School of Law, noted that under the trademark statute, owners have a duty to police their trademark; failure to do that could mean they abandon their trademark rights.
Morgan, who is not involved in the Branson suit, said Virgin may have a strong case under the law, noting these types of cases raise two issues: traditional trademark infringement, or whether consumers are likely to be confused by a rival company using a trademarked name, and the issue of "dilution," or whether a company can stop someone from using a name that is too close because it diminishes the original brand.
"You have to look at how long the second company has been in existence," Morgan said. "Virgin has been in business for a fairly long time, so they probably have trademark rights that are pretty broad in terms of the types of things consumers expect them to produce."
Bollier said such lawsuits are becoming increasingly frequent as corporations seek to trademark their domain names.
"It generally comes down to who has more lawyers and money as opposed to who is morally right," he said. There have been just a "handful of cases where the little guy was stubborn enough to find pro bono resources to go to court," he added.
James Dabney, an attorney at New York law firm Fried, Frank, Harris, Shriver and Jacobson, which is representing Virgin, argued that since Virgin also sells clothes in the United States, the case is a clear infringement of Virgin's brand name.
A number of similar cases have hit the headlines in recent years, with mixed results.
In 2003, actor Spike Lee unsuccessfully tried to stop Viacom from naming one of its networks "Spike TV". The case was settled out of court, and Viacom got to keep the Spike TV name.
Also that year, the Fox network, which uses the phrase "Fair and Balanced" as a branding slogan, sought to stop the distribution of comedian and author Al Franken's book "Lies and the Lying Liars Who Tell Them: A Fair and Balanced Look at the Right."
The network claimed Franken's use of the phrase might confuse consumers and cause them to think the book was affiliated with Fox. A federal judge threw out the case.