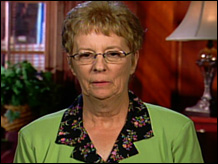 Carol Ernst is suing Merck, claiming its painkiller is responsible for her husband's death.
Play video

NEW YORK (CNN/Money) - The first Vioxx lawsuit against Merck & Co. begins Monday in a Texas state courtroom and the implications could be huge for the embattled drugmaker.
One Wall Street analyst, Chris Shibutani at J.P. Morgan Securities, estimated that Merck's liabilities from Vioxx range from $8 billion to $25 billion, far higher than the $4 billion to $18 billion estimated by Merrill Lynch analyst David Risinger in November. Shibutani rates the company "neutral."
"The first case has a lot of impact on what comes afterward," Chip Babcock, a partner at Houston law firm Jackson Walker LLP, told Reuters. Babcock said the lawsuit could influence impending litigation in state courts in New Jersey, California and Texas, as well as the U.S. federal court in New Orleans, the news agency reported.
Merck pulled Vioxx, a $2.5 billion arthritis painkiller, off the market on Sept. 30, 2004, in response to concerns the medication could cause heart attacks and stroke. The company, however, has never conceded there were risks. Since the recall, more than 2,300 lawsuits have been filed against the Whitehouse Station, N.J.-based company by more than 4,600 plaintiffs. Jury selection got underway Monday in the first civil trial at Texas Superior Court before Judge Ben Hardin.
Carol Ernst has sued Merck in the Angleton, Texas court and blames the company for the 2001 death of her husband, a Vioxx patient. Her lawyer, W. Mark Lanier of Houston, said that Vioxx caused the fatal cardiac arrhythmia of Robert Ernst and that Merck suppressed information about the dangers of the drug.
"I believe they took the three monkey approach," said Lanier on Friday. "They covered their eyes because they didn't want to see anything that would hurt the sale of Vioxx, they covered their ears because they didn't want to hear anything that would hurt the sale of Vioxx, and they covered their mouth because they certainly didn't want to say anything that would hurt the sale of Vioxx."
Merck has consistently denied charges that Vioxx caused deaths, on the grounds that these charges have never been proven. Merck has also denied allegations that it concealed information, noting that the company voluntarily withdrew Vioxx from the market.
"Merck believes that in upcoming cases it will be proven that Vioxx was not the cause of injury or death claimed by plaintiffs," said Kent Jarrell, spokesman for Hughes, Hubbard & Reed, national counsel for Merck, in a recent interview.
As for allegations that Merck concealed evidence, Jarrell said, "Merck's actions were appropriate from beginning to end."
Media coverage has played a factor ahead of the trial. Risinger's damage estimate has often been cited in the press since it was published last year. Lanier's comments, including his reported comparison of Merck to Saddam Hussein, have been rich fodder for quotes.
"Not unexpectedly, pre-trial rhetoric has amounted to bullying and posturing in the media's eye," wrote Shibutani, the J.P. Morgan analyst. Shibutani said that Lanier's "prominent reputation includes no apparent lack of shyness as far as communicating with the media and outside observers is concerned."
Coverage from CNN and other news agencies prompted Merck to request that Judge Hardin of Texas Superior Court postpone the Ernst trial by 60 days, on the grounds that negative publicity had rendered a fair trial impossible. Merck made the request on July 1, the day after Texas Attorney General Greg Abbott sued Merck for allegedly misrepresenting the safety of Vioxx. Abbott is seeking $168 million in damages because the Texas Medicaid program reimbursed pharmacists for Vioxx prescriptions.
Judge Hardin denied the request, allowing jury selection to begin Monday.
In September, Merck faces more lawsuits in New Jersey Superior Court. James McHugh, a partner with The Beasley Firm of Philadelphia, represents about 2,000 Vioxx plaintiffs in about 200 cases, mostly in New Jersey. McHugh, who brings his first case to New Jersey Superior Court on Sept. 12, accused Merck of behaving recklessly with the lives of a "relatively fragile" patient population that it targeted with direct-to-consumer advertising in order to bolster sales.
"It is not OK to say they were going to have a heart attack anyway," said McHugh, who compared Merck to the Ford Motor Co. of the 1970s with its fatality-prone Pintos. "A company like Merck, you have to really hit them in the pocketbook."
Vioxx is not the only trouble-prone drug in the class of cox-2 inhibitors, which kill pain by blocking enzymes that inflame arthritic joints. On April 7, the Food and Drug Administration asked Pfizer to take Bextra, a $1.3 billion drug, off the market and said it was considering a black box, its most serious warning, for Celebrex, a $3.3 billion blockbuster. The FDA approved all these drugs before they entered the market.
Shibutani does not own Merck stock but J.P. Morgan does have business relations with the company.
For more stories about Fortune 500 companies, click here.