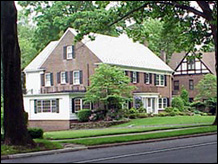 More and more Americans are taking out interest-only mortgages. Is this a recipe for a financial disaster?
Play video

NEW YORK (CNN/Money) - The Mortgage Bankers Association raised its outlook for home sales through 2007 on Tuesday, although the trade group still sees a slowing in the real estate market in 2006 and 2007.
"Housing will continue to be a major contributor to economic growth," said a statement from Doug Duncan, the group's chief economist. "We expect the string of record-high home sales to continue for a fifth consecutive year."
The group's forecast said that it now expects existing home sales to be up 2 percent this year, then fall 3 percent in 2006 and decline another 2 percent in 2007. New home sales also are expected to post a 2 percent gain in 2005, then decline by 4 percent in 2006 and about another 3 percent in 2007.
In the group's original forecast in January it projected declines in both types of homes sales this year, followed a sharper fall offs in 2006 and 2007, with 2007 sales levels then seen as falling to the 2002 pace of sales.
The new forecast projects a stronger employment outlook and a more modest rise in mortgage rates than originally projected, both of which can support continued strength in the housing market.
The forecast now calls for the average 30-year fixed-rate mortgage edging up to 5.7 percent in the fourth quarter of 2005 from the current 5.6 percent level. It then sees mortgages at 6.2 percent during the fourth quarter of 2006, and 6.3 percent in late 2007.
"Despite a moderate increase from a currently low rate environment, interest rates will still be quite low by historical standards."
In January the group was expecting rates to be above 6 percent by the end of 2005 and above 7 percent by 2007.
The group originally expected the unemployment rate to decline slowly to 5.2 percent by 2007. But with the current unemployment rate already at 5.0 percent in the government's June jobs report, the bankers are now seeing unemployment falling to 4.9 percent by early 2007.
Some other economists argue that home prices are over-valued and could see a sharp decline due to rising interest rates or other economic problems. But the trade group's forecast foresees continued increases in home prices, albeit at a slower pace than the recent rise.
Its forecast now calls for median existing home prices increasing by 6.8 percent during 2005, and 5.5 percent for new homes. Existing home prices gained 9.3 percent in 2004, while new home prices rose 13.3 percent. The forecast said price gains in 2006 and 2007 are expected to slow further to a more sustainable pace of 4 to 5 percent.
But even that slower growth is faster than what it projected in January, when it was looking for 4.7 percent gains in existing home prices this year and new-home prices increasing 3.7 percent. It also was projecting growth of 3 to 4 percent in 2006 to 2007.
For more on the real estate market and what it means for you and your finances, click here.