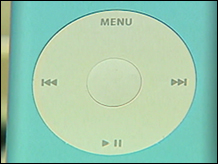 CNN's Andy Serwer talks about strong demand for iPod and Apple's record sales. (July 14)
Play video

NEW YORK (CNN/Money) - Apple Computer continues to hear the sweet sound of cash registers ringing up strong sales of its iPod digital music player. But some analysts are concerned that momentum may be slowing ahead of the key back-to-school shopping season.
Apple, also known for its Mac line of personal computers, reported fiscal third quarter earnings per share that were six cents better than expected thanks to record sales of the iPod. Apple shipped 6.2 million iPods in the quarter, which ended in June, up from shipments of 5.3 million in the second quarter and 860,000 a year ago.
The company's total sales were $3.52 billion, up 75 percent from a year ago.
The market loved the results and Apple stock (Research) spiked up nearly 8 percent on Thursday.
But despite this success, Apple issued guidance for its fiscal fourth-quarter, ending in September, that was slightly below what analysts were forecasting. The company said that it should report earnings of 32 cents a share and sales of $3.5 billion. Consensus estimates called for profits of 33 cents per share and revenue of $3.58 billion.
Still, some analysts expressed concern about demand for Macs. During a conference call Wednesday, UBS analyst Ben Reitzes said he did not understand why revenue guidance was flat compared to the fiscal third quarter since the fourth quarter is typically stronger due to increased demand for computers in the back-to-school shopping season.
Reitzes pointed out during the call that the last time Apple didn't report a sequential increase in revenue from the third quarter to the fourth quarter was in 2001, when sales were disrupted later in the fourth quarter due to the 9/11 attacks.
Apple chief financial officer Peter Oppenheimer responded by saying that one reason the company did not raise its fourth quarter sales forecast was because Apple's third quarter sales were a little higher than expected due to the release of Apple's latest operating system, Tiger, during the third quarter.
He added that the company was also being prudent with its guidance for the quarter since it will be the first full quarter since the company announced that it will switch from using chips made by IBM (Research) and Freescale Semiconductor (Research) in its Macs to processors manufactured by industry leader Intel.
Apple announced in June that it will begin selling computers using chips from Intel (Research) next year and that it would soon make available a transition kit to developers so they can prepare software that will run on Macs that operate on both Intel chips and the PowerPC chips that currently power Macs.
To be sure, the new guidance isn't exactly a sign of major weakness at Apple. The company still expects sales to be up 50 percent from the same period a year ago.
Bill Fearnley, Jr., an analyst with FTN Midwest Securities, said that he believes Apple is just being cautious with its outlook and that ultimately, back-to-school Mac sales shouldn't see a hit because of concerns about the switch to Intel.
"A student that's going to school in September and needs a computer can't wait until next spring to buy a machine," he said.
As for the iPod, Apple was quick to dismiss some fears in the market about weakening demand for iPods. Oppenheimer said during the conference call that inventories for the iPod were within the company's target range at the end of the quarter.
Still, Keith Bachman, an analyst with Banc of America Securities questioned the company about whether or not pricing would become tougher in the MP3 music player market.
Several competitors have entered the market with lower-priced offerings and Apple has also begun to sell cheaper versions of the device, most notably the iPod Shuffle, which uses flash memory chips as opposed to a hard drive to store music.
To that end, even though the number of iPod's sold in the third quarter was 16 percent higher than the second quarter, the dollar amount of iPod revenue increased just 9 percent during the quarter. The company would not comment about future pricing trends in the music player market.
But as long as Apple continues to report strong iPod sales, investors don't appear to mind any concerns about the Mac business. After all, revenue from the iPod and other music-related businesses, such as Apple's iTunes music store, now account for 38 percent of Apple's total sales, up from just 16 percent a year ago.
For more about Apple's switch to Intel, click here.
For more personal tech news, click here.