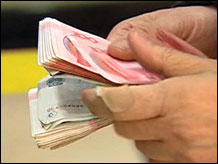 China announces the adoption of a more flexible currency system. CNN's Tara Duffy reports.
Play video

NEW YORK (CNN/Money) - In a move that could trim the trade gap with the United States, China revalued its currency higher against the dollar Thursday and said it would no longer have the yuan tied to a fixed rate against the U.S. currency.
The move, while small at this point, could be the first step to reduce competition for some U.S. companies from lower-priced Chinese imports.
A stronger yuan could also increase the sales U.S. exporters get from business with the world's largest country, one of the fastest growing consumer markets. U.S. exporters could keep their prices the same in U.S. dollars, thus lowering the price in yuan and spurring increased sales. Or they could keep prices in yuan level, and bring in a greater amount of dollars.
Reuters reported that U.S. Treasury Secretary John Snow praised the move in a meeting with reporters Thursday morning. Both the administration and members of Congress have been calling on China to end its fixed dollar-yuan peg. There is legislation before Congress that threatens trade sanctions on China if the yuan did not start trading freely in currency markets.
"This is a good first step, albeit a baby step," said .S. Sen. Charles Schumer, D-N.Y., one of the authors of the legislation, at the start of a hearing of the Senate Banking Committee. "It is smaller than we had hoped, but to paraphrase the Chinese philosophers, a trip of a thousand miles can well begin with the first baby step. If there are not larger steps in the future, we will not have accomplished very much. But after years of inaction, this step is welcome."
Federal Reserve Chairman Alan Greenspan, who was giving his semi-annual testimony to the banking committee, said he basically agreed with Schumer.
"It's the type of step you would want to take when you've had a decade-long fixed structure," said Greenspan. "I think they've been cautious and admirably so."
On the downside for American citizens, it could lead to increased prices for Chinese-made goods such as apparel and electronics. But economists doubt that with a change in valuation as small as Thursday's move that prices will increase.
"The change is pretty slight but very significant because of the fact that they did allow it to revalue. Now speculation is that this will pave the way for further valuations down the road," said Ezechiel Copic, currency analyst for MG Financial Group.
The fixed rate between the yuan and the dollar has been blamed for the soaring trade gap between China and the United States, as it kept Chinese-made goods cheap here.
The trade gap between the United States and China was $72.5 billion the first five months of this year, by far the largest gap of with any trading partner. It was more than the U.S. gap with Japan and OPEC combined during the same period.
Jay Bryson, global economist for Wachovia Securities, said that there is still more unknown than known about the way the new valuation system will work. He doesn't expect it to cause an immediate impact on the economics of that trade, but he said it opens the door to further strengthening of the yuan.
"Will the yuan be 30 percent stronger vs. the dollar a year from now? I doubt that. Could it be 10 percent stronger? Yeah, that's reasonable," he said. "It will help somewhat people who compete against Chinese exporters. It doesn't mean textile jobs will come back to North Carolina, those jobs are gone. But it might help a manufacturer who is still here."
U.S. stock futures soared immediately after the statement from People's Bank of China just after 7 a.m. ET Thursday. But an hour later much of those gains had evaporated after traders had a chance to examine and weigh the statement.
The statement said China will immediately value the currency at 8.11 yuan, down 2 percent from the 8.28 rate previously. It also said it will now peg the yuan against a "market basket" of numerous currencies, although it will keep the yuan in a tight band rather than letting it trade freely. But the central bank did promise that the exchange rate band would be adjusted when necessary according to market developments as well as economic and financial situations.
Reuters quoted another statement from the bank as saying any sharp swing in the yuan's exchange rate would hit China's financial system, and therefore would not be in Beijing's interest.
The U.S. Congress had been threatening to impose stiff trade sanctions on Chinese imports if it did not allow more market-based valuation of the yuan. The move by the Chinese reduces the threat of that kind of trade war, which is one of the factors that likely lifted futures early, said Bryson.
"Obviously they're getting a lot of flak from Congress and the Europeans as well. It was going to happen at some point anyway. It probably happened sooner than it would have if Congress and the administration hadn't said anything," said Bryson.
But University of Maryland Professor Peter Morici, a vocal critic of the Chinese government's policy on currency, said this move doesn't suggest any significant change in the economics of trade is on the horizon.
"This is a fig leaf. It's an attempt by the Chinese to do the least amount possible," said Morici, who estimated that the yuan is about 40 percent undervalued because of the trading restrictions.
"Even a pace of 10 percent change a year will get us there too slowly," he said. "(With this change) China will continue to have very large trade surpluses and cause damage to industries that compete with Chinese companies."
A survey conducted in June by Baruch College's Zicklin School of Business of nearly 200 chief financial officers who belong to Financial Executives International found only a fraction thought a yuan revaluation would have a large impact on their business, and of those who saw a change, they were equally split whether it would represent good or bad news.
The survey found 5 percent who expected a significantly positive impact and 6 percent said the impact would be significantly negative, while 39 percent saw no impact on their companies. Those surveyed include executives at both large and small and both public and privately held companies.
For a look at some of the implications of a revalued yuan, click here.