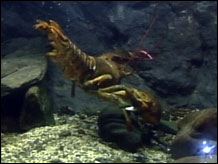 An 18-pound lobster is wowing visitors at a New Hampshire science center. WCSH's Jennifer Rooks reports.
Play video

WISCASETT, Maine (CNN/Money) - When a food trend sweeps through a culinary capital like New York, the locals go overboard.
Once an ethnic or regional cuisine grabs the spotlight, kitchens all over town start turning out versions of it, to bursts of applause.
Soon, they start making lavish claims that the urban adaptation is even better than the original.
Usually, hype exceeds reality.
K-Paul's on Broadway never cooked Cajun as well as they do in New Orleans. The finest Big Apple sushi bar cannot match Tokyo's best. And although I love tapas as much as the next guy, New York City is no Barcelona.
This summer, the taste of the moment in Manhattan is a symbol of Maine: the lobster roll.
Celebrity chef Laurent Tourondel serves a luxurious one at his BLT Fish. At least a half-dozen other New York City restaurants now feature them on their menus, too.
And sure enough, the reviews are bursting with provincial pride.
The city's best rolls may be "twice the cost" of those in Maine, but New York magazine boasted that they are "twice as delicious," too.
"New Yorkers," the reviewer argued, "have made the lobster roll their own."
That's like comparing the arch in Washington Square Park to the Arc d'Triomphe.
Go North, young man
If you're looking for the world's best lobster roll, start at the Empire State Building. Then head about 350 miles north, to the banks of the Sheepscot River.
There you'll find a little stand surrounded by a long line of people. It's Red's Eats, where they make what is almost universally proclaimed the best lobster roll in the state of Maine.
By definition, that makes it the best in the world.
Restaurants in New York bathe their lobster rolls in elaborate concoctions of handmade mayonnaise, diced organic celery and artisanal, seven-grain buns still warm from the hearth.
At Red's, it's a bit more basic. You get lobster and a roll.
And the "roll" is really just a piece of toasted white bread.
In the city, your sandwich will come with wispy, shoe-string potatoes and a salad of frisee lettuce and radicchio, perhaps complemented by a nice Sauvignon Blanc from the Loire Valley.
At Red's, you choose between fries and onion rings. There's also a full selection of beverages, provided you're looking for something in the Pepsi family.
You get the picture: Red's is not fancy, just perfect.
It's a far and welcome cry from the many businesses in Maine that goofily hawk everything from lobster beer to ice cream with lobster chunks in it.
Each Red's roll is a glorious steaming pile of food, which contains the meat from an entire lobster, plus a bit more. Fresh from the sea, it's sweet and succulent, exactly the way it's meant to taste.
The setting may be just a roadside stand along Route 1, but it's worth the effort to get there. This shellfish-loving New Yorker can honestly say that my city has nothing quite like it.
Now please pass the melted butter.
---
The Good Life is a weekly column that chronicles products, people and trends in luxury consumer goods, travel, and fine food and drink. Write to: goodlife@money.com.