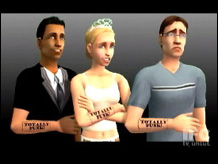 Punk 'Til I Puke is just one machinima short featured on The Independent Film Channel.
Play video

NEW YORK (CNN/Money) - Imagine filming a real-time animated movie for a fraction of the cost of a big-budget Hollywood film. All it takes is some creativity, a little bit of computer savvy and a video game.
A burgeoning film making art form called machinima – think machine and cinema – is slowly entering Hollywood's radar.
With the industry suffering from one of its worst box office slumps in years, Hollywood innovators are looking for the next big thing.
Enter machinima. What started as simple fun by a few video game aficionados to manipulate the actions and create stories around characters in games such as Quake, has now transformed into a full blown underground film industry with its very own association and film festivals.
Web sites that feature machinima videos have boasted over a million downloads when new episodes from popular machinima series, such as Rooster Teeth's "Red vs. Blue" series are posted.
That type of fan devotion is catching the eye of Hollywood trendsetters.
Film mogul George Lucas' Industrial Light & Magic has already used machinima technology to storyboard his Star Wars movies and director Peter Jackson has used machinima as a fight simulator for his upcoming film, King Kong.
One big advantage is that the process is considerably cheaper than traditional animation.
"Machinima is a great new technique for creating cost-effective animated stories," said Cliff Plumer, chief technology officer at LucasFilm. "Our initial use is for previsualization for our feature film work (but) we envision eventually using it for all our production in movies, games, television and on-line."
Katherine Anna Kang, chief executive of Fountainhead Entertainment Inc., which develops the software and tools for creating machinima said a five minute short animated machinima film can cost as little as $600 to produce.
By using movie-making tools to manipulate video game animation engines, film makers can shoot, create sets, characters, insert dialogue and edit whole story lines.
"We can shoot a 3-D segment in 30 percent to 40 percent less time than a CGI in which the computation of one frame can take over a day," said Frank Dellario, president of ILL Clan, a machinima animation house. "We can do a four-minute segment in one day, because we can make changes in real-time."
He said machinima technology allows the producer to manipulate characters, show different points of view and re-edit scenes in one shot. It's like reshooting a movie scene without calling the actors back for a take.
For now, machinima is still very much on the fringes of Hollywood, attracting the attention of more independent film makers and video game aficionados.
Paul Marino, executive director of the Academy of Machinima Arts and Sciences, said while some forward-looking Hollywood players have adopted machinima for pre-production purposes, there is a world of opportunity left for full, long-form production.
"It's hard to put numbers on the type of market this is because its still garage band quality but the market is expanding," he said. "In the next two or three years, we'll see machinima branch out the spectrum of what people want to produce."
But will the mainstream market embrace the indy animation, which Marino admitted at its best is currently more akin to the animation featured in Pixar (Research)'s 1995 hit "Toy Story"?
Some in the industry are skeptical.
"Hollywood looks to all kinds of places for a fan base and given the enormous success of video games, that's a natural place to look," said Jon Richmond, managing director of media and entertainment at Houlihan Lokey Howard & Zukin. "But 'Final Fantasy' was a movie based on video game technology and that was a whopping failure."
Sony (Research) released the completely animated "Final Fantasy: The Spirits Within" – based upon the extremely popular series of video games – in 2001. The film cost over $115 million to make, but grossed a paltry $32 million, according to BoxOfficeGuru.com.
Gitesh Pandya, editor of BoxOfficeGuru.com, said one of the draws of video games is its interactivity. He said that Hollywood had hoped that Final Fantasy-type animated films would be the wave of the future but the film's performance "left a bad taste in the mouths of movie executives."
Still Marino of the Academy of Machinima Arts and Sciences said "Final Fantasy" was the first movie to take the leap. He argues that as machinima advances and gains more of a following, there will be more long-form machinima films going mainstream.
In the meantime, independent film makers and cable television networks are starting to warm up to machinima. Viacom (Research)'s MTV2, for instance, has featured machinima on its show Video Mods, where music videos are produced within video games.
The Independent Film Channel is sponsoring the Academy of Machinima Arts and Sciences Film Festival in New York this November and is also featuring six machinima shorts on its network. The shorts, which were created by Marino, the ILL Clan and Rooster Teeth, are already posted on the channel's Web site and have received positive feedback, said Evan Shapiro, executive vice president and general manager of Independent Film Channel.
He added that while mainstream Hollywood may be slow to adapt, machinima will become more influential as it evolves.
----------------------------------------------------------------------------------
For more about video games and Hollywood, click here