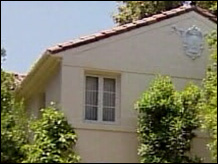 The cost of buying a house is getting more expensive. CNN's Ali Velshi reports on sky-high prices.
Play video

NEW YORK (CNN/Money) - Several once high-flying housing markets in the United States have come down to earth recently. Could yours be next?
The Denver metro area went from consistent double-digit house price gains from 1998 to 2001 to little movement since. In the second quarter, single-family home prices in Denver rose just 2.7 percent from a year earlier, according to the National Association of Realtors.
San Diego has slowed from 29.8 percent in 2004 to just 8.2 percent in the second quarter. Las Vegas from 48.7 percent growth to 11.2 percent.
This may be just the beginning. According to Celia Chen, economist for Economy.com, there could soon be some major pullbacks in the most heated regional housing markets. (See table below for her list of most overpriced markets.)
Ingredients of a home-price boom
Housing booms occur in places with growing populations, vibrant economies, and expanding job markets.
There's also often an X-factor -- whether the area has limited room for expansion, Manhattan island being the classic example.
That also explains why cities such as Dallas and Austin have had more modest home-price gains despite strong population and economic growth. When land gets too expensive, a developer can purchase land down the road for a lot less money.
In Austin, prices have risen just 5.0 percent over the past 12 months. The median priced home there is $166,800. The scene is Dallas is similar.
Outside a few hot markets in the United States, said Chen, there's no housing bubble. She points out that when comparing home prices to income, this ratio is quite small in most of the country: 2.4 to 1 in Wisconsin, 2.2 to 1 in Kentucky, and 2.9 to 1 in Illinois.
Where that ratio gets badly skewed is in Massachusetts (5.9 to 1), California (8.3 to 1), and Hawaii (10.1 to 1).
Only in about 20 metro areas, mostly located in eight states, does the relationship of home price to income defy logic, according to Chen. The bad news is that those areas accounts for roughly half the value of all the housing in the country.
Low interest rates have helped throw those markets out of whack by driving up prices in two ways: They enable buyers to afford more expensive homes and give entry to first-time homeowners who would otherwise remain renters.
Investors and second-home buyers have also entered the market in high numbers, throwing fuel on the fire. Investors increase the potential volatility of local markets; they're more likely to bail when markets stagnate or turn down.
Even in overpriced markets, Chen does not expect huge drops in housing prices. "It's being compared to a stock market bubble, but homeowners can simply take their product off the market rather than sell at a price lower than they desire."
Consequently, house-price growth tends to slow for a good year before any declines appear. The market may remain in a trough for a few years, before the cycle turns up again.
Do you have nightmare stories about your homeowner's association? Or perhaps you love it? Either way, Money magazine wants to hear your story for an upcoming feature. E-mail yourhome@money.com.

1
Fresno, CA
26
Oakland-Fremont-Hayward, CA
2
West Palm Beach-Boca Raton-Boynton Beach, FL
27
San Jose-Sunnyvale-Santa Clara, CA
3
Bethesda-Frederick-Gaithersburg, MD
28
Milwaukee-Waukesha-West Allis, WI
4
Washington-Arlington-Alexandria, DC-VA-MD-WV
29
Chicago-Naperville-Joliet, IL
5
Bakersfield, CA
30
Oxnard-Thousand Oaks-Ventura, CA
6
San Diego-Carlsbad-San Marcos, CA
31
Worcester, MA
7
Fort Lauderdale-Pompano Beach-Deerfield Beach, FL
32
New York-Wayne-White Plains, NY-NJ
8
Visalia-Porterville, CA
33
Essex County, MA
9
Santa Barbara-Santa Maria-Goleta, CA
34
Rockingham County-Strafford County, NH
10
Sacramento--Arden-Arcade--Roseville, CA
35
Cambridge-Newton-Framingham, MA
11
Miami-Miami Beach-Kendall, FL
36
Boston-Quincy, MA
12
Riverside-San Bernardino-Ontario, CA
37
Denver-Aurora, CO
13
Santa Ana-Anaheim-Irvine, CA
38
Modesto, CA
14
Los Angeles-Long Beach-Glendale, CA
39
Minneapolis-St. Paul-Bloomington, MN-WI
15
Vallejo-Fairfield, CA
40
Cape Coral-Fort Myers, FL
16
Santa Rosa-Petaluma, CA
41
Manchester-Nashua, NH
17
Salinas, CA
42
Newark-Union, NJ-PA
18
Las Vegas-Paradise, NV
43
Portland-Vancouver-Beaverton, OR-WA
19
Nassau-Suffolk, NY
44
Tucson, AZ
20
Sarasota-Bradenton-Venice FL
45
Phoenix-Mesa-Scottsdale, AZ
21
Baltimore-Towson, MD
46
Lansing-East Lansing, MI
22
Providence-New Bedford-Fall River, RI-MA
47
Seattle-Bellevue-Everett, WA
23
Lake County-Kenosha County, IL-WI
48
Stockton, CA
24
Edison, NJ
49
Tacoma, WA
25
San Francisco-San Mateo-Redwood City, CA
50
Honolulu, HI