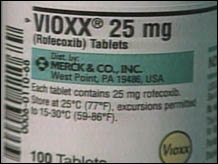 What's next for Merck after Friday's Vioxx verdict. CNN's Ali Velshi reports. (August 22)
Play video

NEW YORK (CNN/Money) - Merck's total product liability from Vioxx could reach $50 billion, the stock research firm Friedman, Billings, Ramsey & Co. said Monday, the largest estimate so far in the drugmaker's ongoing litigation over the once popular painkiller.
The report follows a verdict on Friday in Texas Superior Court that holds the drug giant liable in a wrongful death suit. The jury awarded $253 million in total damages to Carol Ernst for the 2001 death of her husband, a Vioxx patient.
Ernst's lawyer, Mark Lanier, said after the verdict that he expected the punitive-damages award to be reduced according to Texas law. Merck (down $0.64 to $27.42, Research), which vowed to appeal the verdict, saw its stock sink another 2 percent Monday after tumbling nearly 8 percent on Friday.
Merck still faces about 4,200 cases from other Vioxx plaintiffs, most of them filed in New Jersey, where the company is based, and in a federal court in New Orleans. Judge Eldon Fallon, who is presiding over the federal cases, has projected the total number of cases could swell to 100,000.
The Friedman, Billings report, authored by David Moskowitz and other analysts, is based on Fallon's projection. Moskowitz projects average damages of $2 million from 25,000 cases, resulting in $50 billion.
That's considerably higher than a pre-verdict estimate from analyst Chris Shibutani at J.P. Morgan Chase, who had projected that Merck's liabilities could range from $8 billion to $25 billion.
Merck has contended that its drug did not kill anyone and has vowed to fight all the cases.
"We believe that we have meritorious defenses and intend to vigorously defend Vioxx cases one by one," Merck spokesman Guy Bizzoco said Monday. "Each one has a different set of facts and we expect to be trying them for many years."
Merck, based in Whitehouse Station, N.J., pulled Vioxx, an arthritis painkiller with $2.5 billion in annual sales, from the market on Sept. 30, 2004, after a study showed that participants taking the drug for more than 18 months had a higher risk of heart attacks compared to those taking a placebo. The drug represented about 10 percent of the drug giant's annual sales.
But Merck's loss in the case in Texas is not the beginning of the end for the beleaguered drugmaker, according to analysts who have projected a win-some, lose-some scenario for the thousands of cases yet to come.
Bernstein analyst Richard Evans, who rates Merck "neutral," wrote in a report Monday that "Friday's verdict lacks predictive value" and should not be used as a measure "of what we'll see going forward."
Robert Hazlett, analyst for SunTrust Robinson Humphrey, maintained his "buy" rating with "high" risk and warned of knee-jerk market reactions to verdicts. "We expect Merck to both win and lose in additional cases in the future, and the stock to trade in sympathy with the various verdicts," he wrote.
But the stock earned an upgrade from Credit Suisse First Boston Monday. According to Credit Suisse analyst Catherine Arnold, Friday's plunge makes Merck more fairly valued, closer to her target of $27.50. Arnold upgraded the company to "neutral" from "underperform."
"Merck's fundamental outlook remains poor," she wrote in a report, noting the stock price "largely captures this."
Arnold considers Merck's dividend solid for the near term, but that could change depending on the outcome of future cases, she added.
"We expect the dividend to remain safe in the next one to two years, with uncertainly beyond this period related to the scale of Merck's Vioxx liability," she wrote in the report.
To read about the first Vioxx verdict, click here.