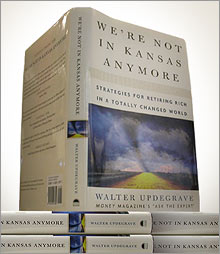 More information on Updegrave's new book.
NEW YORK (CNN/Money) - My mother will be getting a divorce settlement that should come to roughly $1 million. She has never worked and is going to need some kind of investment adviser to help her. Do you have any suggestions?
-- Jason, Warwick, Rhode Island
The first thing many people do when they decide they need a financial adviser is to ask friends or relatives if they know of anyone who's worked with a good adviser. That's fine -- referrals from people you know and trust who've had a good experience with an adviser can be one of many good ways to draw up a list of candidates.
But that's not the first thing I recommend your mom do. Instead, I think she should begin by asking herself a few questions. After doing that, she'll have a much better sense of what type of adviser she should be looking for and what she might have to pay for that adviser's services.
Start with these questions
So what questions should she ask of herself? I'd start with these three:
What kind of advice do I want? Advice comes in many forms. Some people may want only investing advice: Where should I put my money? Which mutual funds should I buy? How do I go about building a diversified portfolio?
Others may want broader financial advice: Am I saving enough for retirement? Will I have enough money to pay for my children's education? If I pay for my child's education will I derail my retirement plans?
It's important that you at least have an idea before approaching advisers about what you want them to do because not all advisers are geared up to offer the same kind of help.
The broker who might do a good job of helping you choose a few mutual funds might not be the person you want to do the more sophisticated number-crunching involved in determining the odds that your retirement nest egg will be able to support you throughout a retirement that could last 30 years. You may want to deal with a financial planner or other adviser who regularly deals with that sort of planning.
So your first step is to think seriously about exactly what sort of help you think you need.
Do you want one-time advice or ongoing help? Generally, advisers are looking for a marriage -- that is, an ongoing relationship. That makes business sense for them since it means a long-term income stream from them and frees them from having to go out and look for new clients all the time.
It can also make sense for you if you really need someone to monitor your finances on a regular basis or manage your investments or both. Of course, you'll have to pay for that sort of ongoing help, usually in the form of a fee couched as a percentage of assets the adviser is overseeing. That fee can vary significantly depending on how much money you have, but for people with $1 million or less a range of 0.75 to 2 percent of assets per year is typical.
But if you're really looking for help for a specific issue that's not likely to need follow-up -- maybe you want help rolling over money from a 401(k) to an IRA or perhaps you just want someone to help you set up an investment portfolio but don't want them to manage it on a daily basis -- then it makes little sense to pay that fee each and every year.
In that case, you may want to pay someone on a one-time flat fee or per-hour basis to get whatever help you need. The fee will depend on the amount of time the adviser must put in. But many advisers will do a full-fledged financial plan -- basically, a comprehensive look at your overall finances -- for anywhere from $1,000 to $5,000. (Many will also do it for less, but beware: you may end up paying more in the form of commissions on various investment products the adviser sells you.)
If you prefer to work with an adviser who works on an hourly basis, you should expect to pay fees in the neighborhood of $100 to $250 an hour.
How do I prefer to get my advice? The traditional notion of working face-to-face with an adviser is still very much the norm today. Many people simply feel more comfortable having someone sitting across the desk or table from them who can answer questions and explain their advice.
But increasingly, many firms are providing advice by phone or even over the net. The main advantage to this is that it's less costly and the savings can, ideally, be passed on to you.
In the case of financial advice that's dispensed over the Internet, there's another potential advantage -- namely, you may be able to access information online, update it and get new assessments of your progress as your situation changes.
Ultimately, though, this is a choice that depends on how you feel most comfortable working with an adviser. If the idea of going over financial data by phone or over the Net makes you uneasy, then you're probably better off dealing with an adviser face-to-face. If you find working by phone more convenient or you like the idea of being able to get regular updates on your situation without having to set up new appointments (and probably pay more fees), then working by phone or the Net may be right for you.
More research
I wasn't kidding when I said I would "start" with these three questions. Fact is, choosing an adviser is not something anyone should do in a hurry. So in addition to answering the three questions above, I recommend that you and your mom do a little more research on this topic before signing with anyone.
Specifically, I recommend you read a feature story of mine that appears in the September issue of MONEY Magazine titled "Take their advice?" This article describes what happened when MONEY sent an "undercover" shopper to three major investment firms -- Fidelity, Schwab and Vanguard -- seeking financial advice. I think you and your mother, as well as anyone else considering working with an adviser, will find this story an informative and useful read.
I also suggest that you read a column I did last year on the subject of choosing a financial adviser. Aside from discussing some of the issues I've mentioned here, this column gives a list of questions you should ask an adviser to assess that person's qualifications.
It also provides links to the section of the Securities and Exchange Commission Web site that offers tips for checking out advisers as well as links to several sites that can help you find an adviser in your area.
You can avoid this upfront research, of course, and just go with an adviser you pick out of the Yellow Pages. And if that works out, the upside is that you'll have saved yourself a bit of time. But if it doesn't work out, the downside may be that mom won't have her million dollars very long.
___________________
Take their advice? Click here to find out if you should.
Click here to see how the three biggest financial advisers stack up.
---
Walter Updegrave is a senior editor at MONEY Magazine and is the author of "We're Not in Kansas Anymore: Strategies for Retiring Rich in a Totally Changed World."