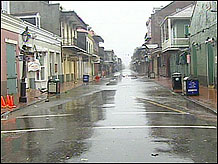 From fuel prices to businesses to homes, Hurricane Katrina's economic ripple will be costly. CNN's Mary Snow reports (August 29)
Play video

NEW YORK (CNN/Money) - Air travelers across the nation can expect to feel the effects of Hurricane Katrina, according to a report published Tuesday.
Gulf Coast airports, including Louis Armstrong New Orleans International and Jackson International in Mississippi, were both closed, and Continental Airlines (Research) canceled 111 flights in and out of the region, the Wall Street Journal reported.
AMR Corp.'s (Research) American Airlines canceled 36 flights, and American Eagle canceled about 65 flights in the area, it said.
The newspaper said travelers in areas beyond the Gulf Coast can expect delays and cancellations well into the week as flights get rerouted to avoid its path.
Major routes like Chicago to New York could be delayed as pilots navigate around the storm, an American Airlines spokesman told the newspaper.
As Hurricane Katrina moves north, major cities that it could hit include Louisville, Ky., Nashville and Memphis, Tenn., Cincinnati, Cleveland, Detroit, Buffalo, N.Y., and Toronto, according to the report.
Travel experts expect about 60 percent of flights to arrive on time in the next few days, compared to the usual 70 to 80 percent, the report said, especially since several airports in the path of the storm serve as important hubs.
Northwest Airlines (Research), for instance, maintains hubs in Memphis and Detroit, while Nashville serves as a former hub for American, the Journal said. Delta (Research) has hubs in Cincinnati and Atlanta, and US Airways could feel the impact of the storm in cities like Pittsburgh and Charlotte, N.C., according to the report.
__________________
How much is Hurricane Katrina going to cost insurers? Click here to find out.